Despite the valiant efforts of both the EU and the UK to uphold confidence in the Brexit negotiations process, it's clear the talks have been deeply unsatisfactory for both sides. Fundamental conflicts of interest and cultural differences go some way to explaining the stalemate. But the deeper roots of the Brexit vote and the shaky course of the negotiations stem from a crisis of representation in Europe's most powerful democracies.
British prime minister Theresa May cannot depend on German chancellor Angela Merkel and French president Emmanuel Macron to fight her battles in Europe. While not insignificant, Brexit is certainly less important to the leading EU member states than May and the UK negotiators imagine.
Macron needs swift action on the reform of the Eurozone if he is to bring about his election promises and achieve a root-and-branch modernisation of the French economy. Merkel must enlist the co-operation of the EU to meet the ongoing migration crisis that threatened to unseat her in September's federal elections. There is general concern about the "democratic backsliding" in central and eastern European member states that threatens the rule of law, the backbone of democratic principles in Europe.
But in other ways, Brexit could not be more significant as an indicator of Europe's political future. It symbolises a crisis of governance that threatens individual member states and the EU itself in the way they function as political communities. This crisis lies in the breakdown of traditional structures of political representation through mainstream political parties. The breakthrough for Macron's En Marche! movement introduces a new era of "post-party" politics in France that gives Macron more freedom from party constraints than Merkel or May and that promises to redefine how national leaders operate in the European context.
A crisis of representation
The current model of the political party in north-western Europe emerged as a means of making representation work in a pluralist system – one where differences of political opinion are understood as "natural" and as a healthy feature of political life. Historically, each political party developed in line with a clientele based on specific, relatively stable social and economic characteristics. In this way, socialist parties developed to represent blue-collar workers, agrarian parties to represent rural communities, liberal-conservative parties to represent employers and the wealthy – and so on.
Over time, two developments undermined the effectiveness and legitimacy of these plural party systems. First, social and economic changes such as mass education and globalisation meant that people conformed less and less to the party clientele stereotypes. This made it difficult for the parties to fulfil their traditional role of representing their political clientele. Instead, getting into power and staying there has become the overriding ambition of political parties. This leaves an increasingly alienated electorate. Trust in the political elite is waning.
While this has fuelled the rise of far-right populism, it has also led to the rise in the personality politician with a minimal party base. These new "post-party" charismatic leaders include Macron and the German Liberal Party leader Christian Lindner. The recently elected Austrian president, Sebastian Kurz, has a similar profile, if a more solid party vehicle.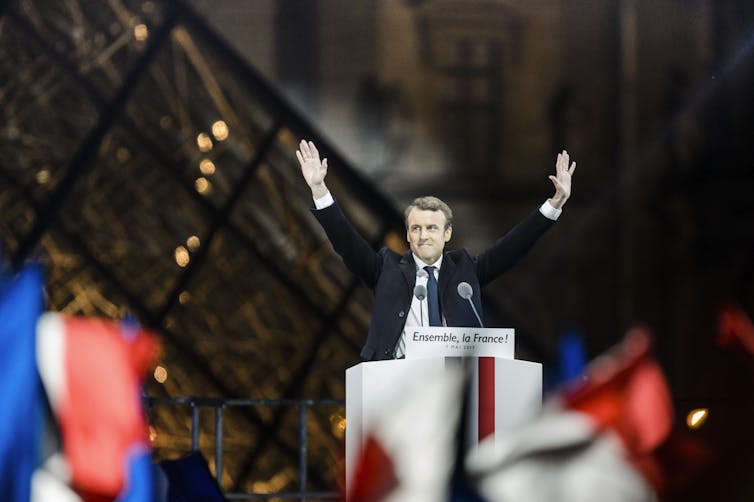 The handling of the Brexit negotiations illustrates a new division in governance practices in European countries. In the UK and Germany, the traditional parties are failing to instil trust in the voting public, but no outstanding "post-party" charismatic leader has emerged to upset the old party dynamic. In Germany, Lindner's party commands only 10% of the vote and is not yet in a position to challenge the operation of the party system.
In different ways, May and Merkel are hamstrung by the ties of their country's ageing party systems. May is the victim of increasingly vociferous pro- and anti-Brexit wings in her party. She must simultaneously talk tough on Brexit and plead for support from her EU counterparts to maintain her leadership. While May's prevarications will not improve her standing in Europe, EU negotiators recognise that if the UK government falls, the Brexit talks are effectively over.
This is why Merkel and the EU negotiators endorsed an ambiguous but potentially optimistic reading of the October negotiations. Merkel must avoid partisan statements while she tries to build a functioning coalition in the Bundestag and has to limit her public input on Brexit to the restatement of EU "red lines" and mildly encouraging comments.
Franco-German axis rebalanced
While May and Merkel are tied by their party systems and need to tread a careful path, Macron represents the new, post-party direction in European politics. As long as his party La République En Marche remains a personal patronage machine, he can afford to play the more robust "bad cop" in his handling of Brexit politics in the EU.
In the wider context of changing party systems in Europe, Brexit appears not as a catalyst for change nor even a crisis in its own right, but product and captive of much deeper and far-reaching European developments. The coexistence of leaders such as May and Merkel who are bound by their parties and those such as Macron who are not is likely to affect other significant relationships and developments.
Macron's freedom of manoeuvre may see the power balance in the Franco-German relationship tip back towards France after a period in which Merkel gained control under his predecessor François Hollande. Macron needs a strong EU to achieve his domestic ambitions. He is less likely than Merkel to entertain concessions to the UK in the Brexit process. This suggests a closer alignment of the French leadership with the EU's institutional leadership and the forging of a power base that would have ramifications far beyond Brexit.