The phrase "sold out stadium shows" is not often synonymous with science. Unless of course you are Professor Brian Cox.
Currently touring Australia, he is the holder of the Guinness World Record for the "Most tickets sold for a science tour".
This is not a record to scoff at, particularly when you look at the details: one physicist filling the 8,700 seats of Wembley Arena in London.
---
Read more: Alan Alda on the art of science communication: 'I want to tell you a story'
---
What is it about Brian Cox that makes people part with their money and go along to hear him speak? Is it his topic? The fact he used to be in a band? Is it his hair?
Let's take a look at the characteristics of a rock star scientist. Because you never know; maybe you could be one too.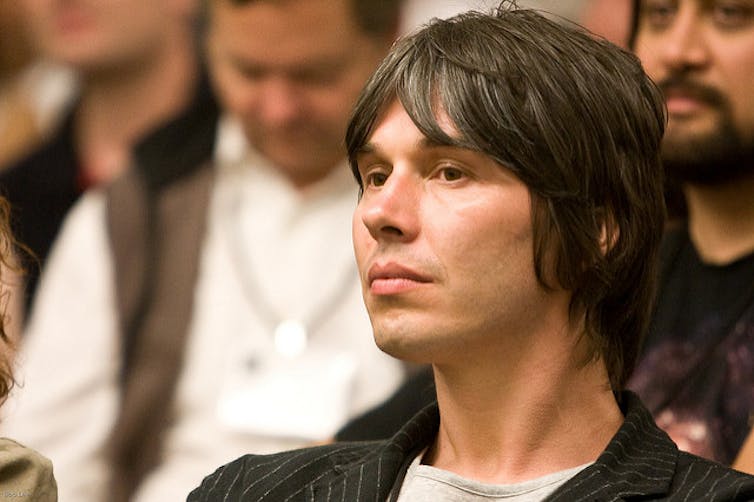 Battle of the sciences
Perhaps being a rock star scientist is all about physics. There is a long list of well known physicist communicators: Brian Greene, Neil deGrasse Tyson, Lisa Randall, Katie Mack just to name a few.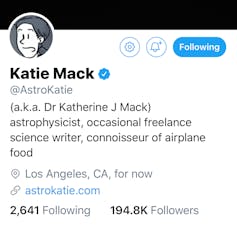 But then equally (or more - depending upon opinion) successful communicators come from other disciplines.
Dr Karl began in physics but then studied biomedical engineering and medicine. Adam Spencer is a mathematician. Bill Nye is a mechanical engineer. Jane Goodall is a primatologist, ethologist and anthropologist.
Arguably the most inspiring science communicator, David Attenborough, has a degree in the natural sciences.
Sorry physics, seems it is not about you.
And – no offence intended – none of the other communicators listed are known for being in a rock band or having great hair either.
There seems to be some kind of 'X factor' which makes these people great communicators. If we can identify the qualities of these science communication stars, can we find - or create - the Next Big Thing?
Telling a good story
What each of the communicators listed above have in common is their ability to tell a story.
A recent opinion piece in a science journal challenged scientists to borrow strategies from the arts and humanities and use the power of the narrative. Better yet, employ techniques that create an emotional response in the audience.
---
Read more: Stories of sex, stars and sharks amongst the best Australian science writing in 2017
---
The two top science stories in 2016 were the discovery of gravitational waves, and links between the Zika virus and brain abnormalities at birth.
The confirmation of gravitational waves is a story spanning decades of hard work, disappointment, setbacks and eventual elation. The triumph of human exertions. In contrast, Zika evokes fear and the desire to protect oneself and others.
For most people, gravitational waves and Zika will have little to no relevance or impact on their everyday lives. However, the stories created an opportunity to engage audiences through the emotional responses they evoked.
Another example is Meerkat Manor. This furry soap opera, which captured imaginations for four seasons, was televised in 160 countries and nominated for two Primetime Emmys. The death of Flower, the Whiskers tribe matriarch, created an outpouring of tributes including numerous YouTube montages set to music.
While Flower was the star of the show, it was the narrative surrounding her that propelled her to icon status.
A successful story meets the needs of its audience. Knowing who you are talking to is fundamental to good communication.
Focus on your audience
Researcher Bobby Cerini interviewed prominent science communicators from around the world, including some of those listed above. She found common themes in how these "scientific superstars" approach their public communication.
They focus on who they are talking to, what language their audience will understand, and what they will find most interesting or inspiring. The most compelling communicators are the ones who can take you on a journey, making the intangible tangible and the complex comprehensible.
---
Read more: Bored reading science? Let's change how scientists write
---
The popular Christmas Lectures at the Royal Institution UK are based on this approach. They were introduced by Michael Faraday in 1825 as a means of engaging a younger audience with "spectacular demonstrations".
By capturing the imagination, highly visible scientists can become sources of inspiration and role models, irrespective of gender, race or creed.
Scientists as celebrities
As the media landscape has changed, so too has the role of visible scientists. Many use their prominence to promote public understanding and engagement with the sciences, like Brian Greene, who co-founded the World Science Festival.
So are these celebrity scientists born naturally gifted storytellers who can effortlessly translate their work to meet the needs of multiple audiences? Or do they achieve their status by putting themselves out there, learning from their experiences and simply practising?
Perhaps they recognise the power and potential of communicating their science, best expressed by Alan Alda, who said:
In my opinion, communication is not something you add onto science like icing on a cake. It's the cake itself, it's of the essence of science.
Want to be a scientific super star? Tell stories, meet your audiences' needs, and be yourself.
And maybe join a band. Just in case.