Brick-and-mortar retailers have been on a bit of a roller coaster ride this holiday season as early expectations of strong consumer spending were weighed down by the uncertainty prompted by the election.
That's on top of the usual jitters about the slow demise of Black Friday and more consumer cash gravitating to online retail.
That has made projections about this year's holiday shopping season more of a guessing game than usual, but one aspect has now become clear: The rush by retailers to deeply discount merchandise will likely not prove to be beneficial to these retailers in the long term.
My research in "business to business" marketing suggests that instead of enacting ever-steeper price cuts that erode margins, both major retailers like Macy's and small mom-and-pop stores would be much better off leveraging their physical presence as a source of strength rather than weakness by focusing on the personal touch that only they can provide.
From robust to jittery
Prior to the elections, analysts were predicting robust holiday shopping with spending expected to increase by 3.6 percent amid a strengthening economy.
It was a smart guess. Even though income remains unevenly distributed, unemployment has fallen, the poverty rate has dropped and housing prices have mostly recovered. Thus, economic factors were looking positive for the holiday retail market.
Then Donald Trump was elected as U.S. president. Immediately, shoppers cut back spending, and some predicted a drop in purchases of big-ticket items due to the uncertainty. Pundits even said that "post-election trauma" meant consumers were too depressed, worried or stressed to shop.
The shift online
Another complication for retailers is the continued upending of traditional shopping patterns.
Some analysts have even been predicting the demise of Black Friday, once touted as the most important shopping day of the year for physical retailers. The Wall Street Journal reported that in-store sales on the Friday after Thanksgiving appear to have declined this year, quoting a retail analyst as saying that in 40 years, "I've never seen the crowds this soft on Friday morning."
But the data suggest we're probably not seeing the death of Black Friday. Rather, why should consumers venture out? If all that was being touted by physical retailers was price discounts, all the real deals – and there were many – were available online. USA Today reported that 44 percent of consumers shopped online during the four-day span of the Thanksgiving holiday, a 4.2 percent increase from 2015. And Black Friday online sales jumped 22 percent to US$3.34 billion, breaking $3 billion for the first time.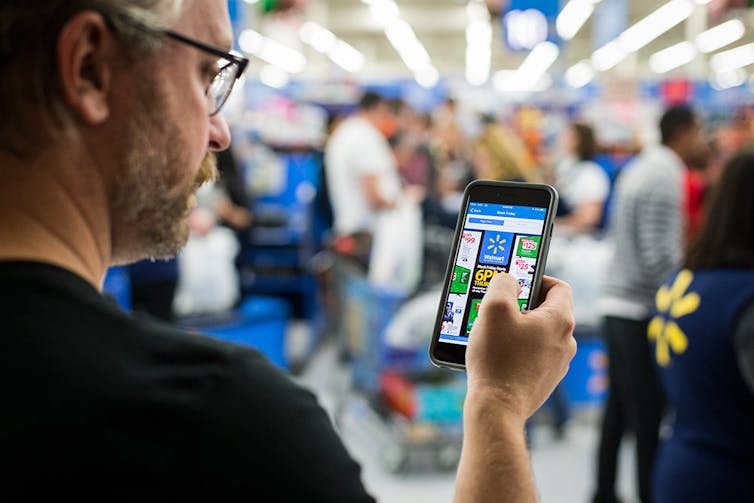 The power of the personal touch
So what can brick-and-mortar retailers do to attract customers?
Certainly not offer more deals – you can't beat the ease of online comparison shopping. But many retailers, fearing the worst, seem to have gone overboard with discounting, even though all the same deals were available online.
So even as consumers were filling their baskets over Black Friday weekend, they may have been spending less due to the multitude of deals.
Having already given deep discounts, retailers should hold the line on additional cuts. Those discounts may be good for customers, but they come at the cost of retailer margins. With repeated discounts, consumers learn to postpone buying in anticipation of imminent deals, leading to a vicious cycle of discounts and deal-buying.
Instead, retailers should employ the human touch – since research shows that discounting is not likely to help much in the long term – and create a holiday atmosphere that gets consumers in the festive mood. Personal shopping assistants who actually talk to shoppers and share ideas and expert advice make the experience more special and enjoyable, as does hiring local musicians to play and entertain those waiting in long lines.
In other words, physical retailers can stand out by selling the "experience" of the holiday – something you can't get with a smartphone or computer. By focusing on crafting the best possible customer experience, retailers can better build brand trust and make it more likely shoppers will choose to come back rather than shift their purchases online.
Growth and uncertainty
In general, retailers face two competing forces this holiday season: generally positive economic news and feelings of uncertainty and unease that prevent these consumers from opening their wallets much. Basically things are better, but many people don't necessarily feel better.
Right after the election, the force of uncertainty was dominant. By Thanksgiving, the pendulum of public perception seemed to have swung the other way. Thus, in my view, it is increasingly likely that we will see that predicted 3.6 percent increase in consumer spending this holiday season.
Brick-and-mortar outlets can share that bounty by going beyond the discount to creating a full shopping experience. Still, as we have learned this year, perceptions can be fickle and could shift before the New Year.