Australia's A$22 billion National Disability Insurance Scheme (NDIS) remains a key policy of the Coalition government. One of Prime Minister Malcolm Turnbull's first major tasks was to sign agreements for statewide roll-outs of the NDIS in Victoria and New South Wales by 2019.
The agreements provide some insights into the interface of housing and the NDIS. They also document that the scheme will complement, but cannot replace, efforts of the housing sector, governments and families. A framework for funding NDIS participants and specialist disability housing providers is due to be released later this year.
NDIS still leaves a housing gap
The NDIS will provide "reasonable and necessary" equipment and supports for Australians with disability. However, the National Disability Insurance Agency has previously identified a significant housing gap for an anticipated 83,000 to 122,000 scheme participants.
The 2015 report from the Senate inquiry into affordable housing described this as an economic issue of national importance. Access to affordable housing, the report said, needs to be a "central and cross-cutting theme" within a whole-of-government approach.
One group that needs lifetime housing and support are people with severe traumatic brain injury (TBI) and spinal cord injury (SCI). Australia has an estimated 1000 new cases of severe TBI and 136 new cases of high-level SCI or quadriplegia every year. Lifetime costs per case are estimated at $4.8 million to $9.5 million.
The Transport Accident Commission (TAC), Victoria's no-fault road accident insurance scheme, has also identified a significant housing gap for its clients. Many live with TBI or SCI resulting from road accidents.
Opening doors to more independent living
The TAC has been developing new models of housing and support through Residential Independence Pty Ltd (RIPL). The aim is to provide options for more independent living.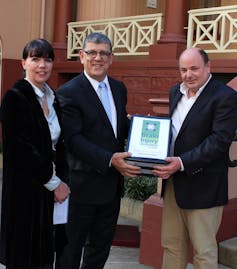 RIPL Project One was a collaboration between the TAC and the Summer Foundation, a non-profit organisation focused on the issue of young people in nursing homes. The project delivered six smart-technology-enabled one-bedroom apartments within a 59-apartment private and social housing development in inner-city Melbourne. An on-site support staff hub provides outreach to tenants of the six apartments.
Tenants of RIPL Project One moved from living with family or friends, or traditional disability group home models. This was an exciting step on a pathway back to community living.
The mother of one tenant – Matthew* – said:
When we see Matthew living independently … we just feel so happy and proud for him … When I see him in his own environment, in his new apartment, it's wonderful.
Continuously refining supported housing
In the past, investment in new supported housing (such as the $60 million federal Supported Accommodation Innovation Fund) has not included evaluation of the effectiveness of housing design and location. Investment in "learning from hindsight" can inform new projects if evaluation is carefully developed and effectively delivered.
The TAC has invested in a large-scale post-occupancy evaluation of RIPL Project One, through the Institute for Safety, Compensation and Recovery Research. This evaluation has been coupled with detailed actuarial cost-benefit analysis to guide future investment. This research was awarded an international Certificate of Research Excellence from the Environmental Design Research Association.
The post-occupancy evaluation findings have been documented in an interactive PDF report. This details key evaluation criteria and includes virtual panoramic tours. Viewers can explore the housing and technology design, the support delivered within these environments, and tenants' access to and use of spaces.
The research findings highlight the potential for an NDIS interface with housing provision. This has impacts on the quality of home life and social and economic participation for Australians with disability.
Creating better homes for people with disability
Key considerations include:
Site location and planning: well-located housing close to accessible shops, public transport and other services builds community participation and inclusion.

Dwelling layout and planning: control of light, temperature and noise improves running costs of a home; layout builds tenant privacy; tailoring of joinery installation increases independence and reduces support needs.

Housing transition: site visits and familiarisation, and building links in the local community, with follow-up monitoring and support for effective routines, foster participation and independence.

Smart home technology: training and consistent use of integrated technologies by tenants and support staff avoid technology abandonment and build autonomy and environmental control.

Model of support: exemplary built and technology design must be coupled with targeted disability supports to build skills for independent living.
As housing and support models are developed, iterative post-occupancy evaluation will build an evidence base of tenant experiences, outcomes, costs and benefits, and opportunities. This will inform well-designed, well-located housing using smart technology into the future.
Turnbull's leadership of NDIS roll-outs must now be coupled with a co-ordinated whole-of-government approach to best-practice housing for people with disability. Strengthening NDIS implementation with a national housing strategy will reap both social and economic benefits for Australia.
---
* You can watch Matthew's digital story here.