Floods are often presented as human interest stories of stranded grannies and rescued pets, but their impact on hidden infrastructure is just as severe. In late 2015 for instance, a number of power systems and phone exchanges were inundated in Leeds and York which cut off thousands of homes, businesses (who were unable to process card payments), bank machines and even police and hospital services on Tyneside, 100 miles away.
But it's not just floods and it's not just phone lines. In fact, a major new peer-reviewed report highlights how, across the UK, the country's infrastructure – services such as energy, transport and sanitation that are essential for modern society – is already experiencing significant impacts from severe weather related to climate change.
Unchecked, the projected increases in flooding will lead to more disruption of infrastructure. Furthermore, gradual changes in our climate, such as a rise in average temperatures, will reduce capacity and increase running costs.
The Climate Change Risk Assessment report, published by independent advisory body the Committee on Climate Change, is the result of years of collaboration by hundreds of leading experts.
I led on the infrastructure strand of the report. Some of the key risks colleagues and I found include:
A significant proportion of Britain's infrastructure is already exposed to coastal, river, groundwater or surface water flooding. This includes more than 40% of the power stations, and nearly one fifth of railway track in England. Across the UK, the number of infrastructure assets exposed could double under expected changes in climate by the 2080s.

Warmer weather will place additional pressures on the rail, road, water and energy sectors. Higher temperatures create a risk of buckling on the rail network, causing electricity cables to sag and operate less effectively, and road tarmac to soften and rut. Components such as signalling equipment can overheat and fail.

Extended periods of low rainfall, and associated low river flows and groundwater levels, coupled with population growth, are projected to lead to water supply deficits across England and in some other parts of the UK by the 2050s. Widespread water shortages are projected by the 2080s.

Nearly 10% of the UK's transport and road network is already at medium to high risk of disruption from landslides. It's likely the UK will see extended periods of rainfall in future, increasing the risk of slope and embankment failure.

Infrastructure networks are increasingly reliant on each other – for power, control (through digital communications) and transport access for deliveries or servicing. Climate-related risks to infrastructure can now have far wider impact on the economy and people's health and well-being as a result of this interconnectivity.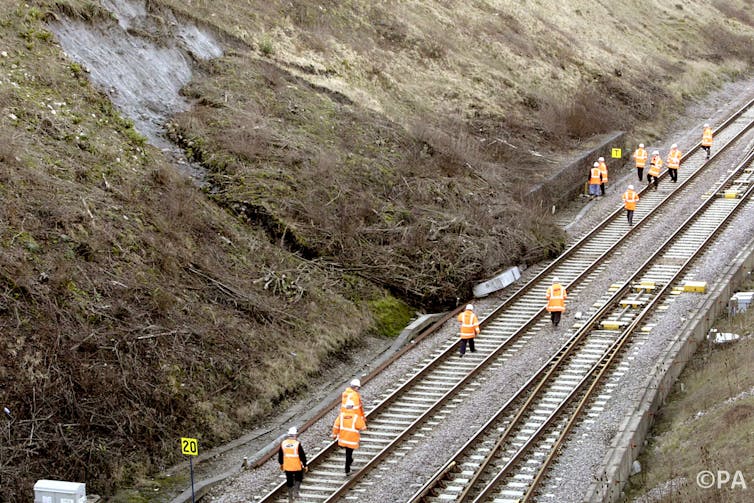 Extreme events, including the summer floods of 2007 and the storms of the past few winters, have exposed the vulnerability of Britain's infrastructure and our limited understanding of how it all plugs together. The Yorkshire phone exchange example above is one of many such incidences, and an increased reliance on "smart" technologies will increase our exposure to this particular risk.
Our analysis also identified other emerging risks from interconnectivity. For example, if a shortage of rain means rivers are running low then drinking water will obviously be affected – but also electricity supplies. Almost a quarter of the energy generated in the UK uses water from rivers to cool power plants. Problem is: no one seems to quite realise just how interconnected our infrastructure has become, and no one seems to be in charge of dealing with this risk.
Most infrastructure sectors are already taking significant steps to manage these risks. Electricity companies have committed to invest around £400m to protect their most vulnerable sub-stations and power lines from flooding, for example.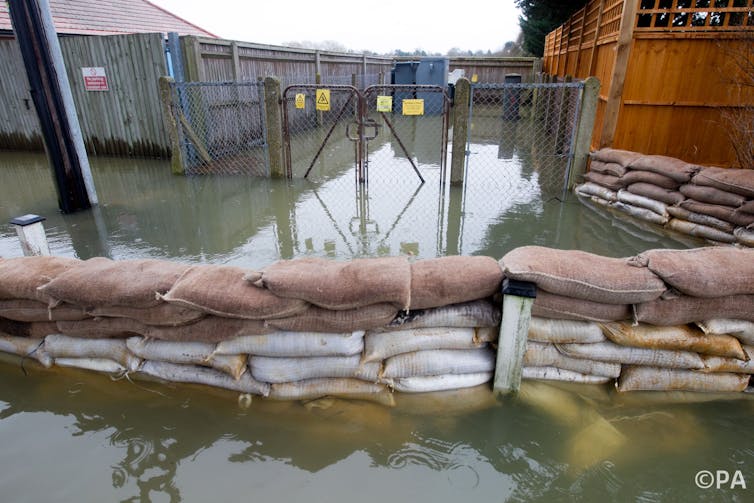 However, many of these adaptation actions are only sufficient for the next decade or two and, while this may seem far away, it can take years to plan and build major infrastructure like bridges and railway lines which might be expected to last 50-100 years, or several hundred years in the case of London's sewers. Climate risks should be considered in all infrastructure decisions – after all, retrospective action decades from now would be more expensive and disruptive than getting it right first time.
The UK needs a common and coherent framework for assessing risks from climate change, to guide everyone from road builders and town planners to power companies and sewage works. It won't be easy. Such a programme will need to draw upon the very best that industry, government and academia has to offer to deliver something that is collectively owned and maintained.
We all know the climate is changing. We know infrastructure will be affected. But without a significant effort to develop a coherent way of assessing the risks from climate change, our response will continue to be reactive and ad hoc.