There is perhaps no greater sporting rivalry than that between Great Britain and Australia – it's like the little brother trying to knock off his older sibling in any pursuit possible, simply for the glory of bragging rights. And track cycling is one of the most hotly contested of those pursuits.
Later this month, at the Olympics, the stage will be set for yet another opportunity to become the hero or the goose. Will hometown advantage help the British gain an edge over Australian athletes?
In sport psychology literature, several researchers have tried to determine whether a home advantage exists when it comes to elite-level sports.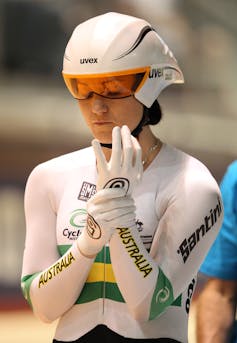 The answer, put simply, is yes, there does seem to be an advantage, particularly when you look at home winning percentage – the combination of games won at home versus games lost at home. The figure provides a quantitative measure for level of success at home based on winning and losing.
Researchers have studied sports such as basketball, baseball, ice hockey and soccer. Most have found evidence that the home team wins more often. But most of the focus was on using winning percentage as the indicator for advantage, and some researchers have called for investigation into other factors that might contribute to the findings.
Home winning percentage explains how well a team plays at home, but it doesn't always account for whether a team plays and wins well when on the road. (For example, what does it mean if you have seven wins and no losses at home versus 11 wins and two losses away? Is home really an advantage here?).
The other variable that has rarely been mentioned is the type of event being studied. Little - if any - attention has been given to international events such as the Olympics.
Before we cry foul at the apparent home advantage our British friends may have, perhaps we should consider the whole picture. Specifically, let's look at what being at home might mean for the might of the British cycling machine when hosting the strength of the Australian cycling program.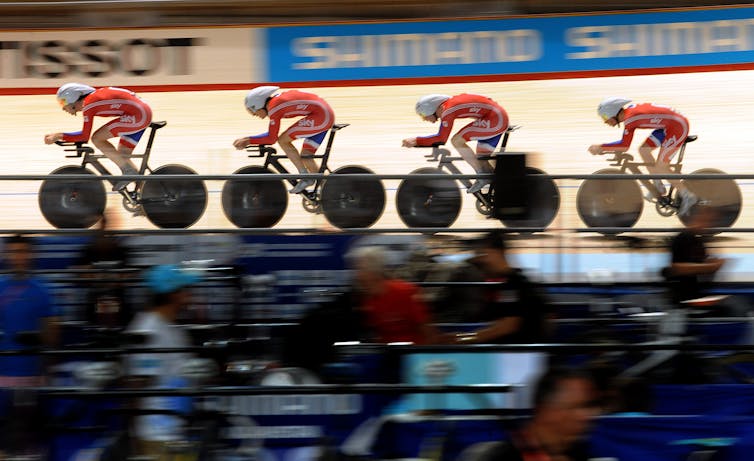 The research mentioned previously looked at teams that have won championships such as the NBA (National Basketball Association) and the NHL (National Hockey League). These sports are played nationally, across some 80 or more games and multiple championship games.
The Olympics is quite different: it's an international mega-event. How do findings on hometown advantage relate to an event that occurs across only a few races (or even one race) and happens only once every four years?
An Olympic cyclist isn't just competing for his or her country: he or she is also competing for something that won't come around again the following season.
Some NBA players have won five championships, and played in several other championship games, yet few Olympians return more than twice. There are (potentially) fewer opportunities to win. With this simple idea in mind, it's perhaps little wonder this historic event carries such prestige. But with prestige often come increased expectations.
Perhaps most relevant to cycling enthusiasts is the research on World Cup soccer and home advantage. This looked at the mechanisms that may lead to advantage, and argued that travel (across time zones), cultural differences in food and language, and familiarity with the playing facility all play a part.
Focusing on these variables could help us get a fuller picture when we try to figure out whether Britain's cycling team will have a home advantage.
Will travel, and being in an unfamiliar stadium, affect the Australian cycling team? Teams will have been in Europe for more than a month before the games. In fact, in professional road cycling many of our Aussie cyclists are even based in Europe during the northern summer season. Travel doesn't seem to be a major disadvantage.
Language, culture and food are unlikely to be an issue. I think the eating options of a developed country, and the kitchen in an Olympic village (coupled with team dietitians) mean foreign riders won't fear being starved of their typical dishes.
Research is important but it isn't everything. We should also look at anecdotal evidence, given the lack of empirical research on home advantage for the Olympics. The previous two Olympic campaigns and events in between are perhaps a good starting point.
The might of the British cycling machine was at its best on the track in Beijing (not at home) and the Australians were incredibly strong in Athens (not at home). Australian cyclist Anna Meares dominated the track world championships in 2011; they were held in the Netherlands. Australian Shane Perkins won his first Men's Keirin world title at the same event.
Cadel Evans won the Tour de France in 2011, and the Green Edge cycling team has propelled its members to the front of many European events. It seems plausible that winning is indeed possible in Europe.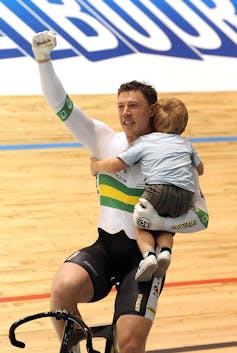 The team pursuit is an event that has been like an Ashes battle between Australia and Great Britain. In February, at the World Cup, the Aussies took gold in the Olympic Velodrome that will host the Games.
The biggest British win on our soil was at the World Championships in Melbourne earlier this year (see video above), in which Britain beat Australia by a tenth of a second.
Teams and individuals may be more likely to win at home, that's true, but equally they will be most likely exposed to more spotlight, home expectation, and potential scrutiny than many of the foreign visitors. Some studies have even found that home advantage disappears as the importance of the event increases.
I've heard countless athletes talk about the pressure of performing at home, and how relieved they were to be playing away from the eyes of significant others.
For our British friends, the eyes of all of their significant others and a whole nation will be closely upon them. Those competitors who don't find this helpful will likely experience more anxiety than ever before.
Ultimately, I think the advantage will lie in the athlete's perception of advantage and disadvantage. Aussie women and men have won in Europe before (even at the same venue). They speak the local language, and will be well adjusted to the time-zone difference.
The Aussies and the British are evenly matched by form. So now we will have to see if being at home feels like a burden or a turbo-boost.