Now we know. The next Conservative Party leader and Prime Minister will be a woman. Following the elimination of Michael Gove from the Conservative leadership contest, home secretary Theresa May will fight it out with the energy minister Andrea Leadsom to take the top job.
They will now go head-to-head in a series of 11 hustings before Tory party members vote in a postal ballot. The result will be announced on September 9.
And yet, the very fact that the contest will proceed to a ballot of party members tells us that the Conservative party has lost its historical reputation for pragmatism. In different times, Leadsom would have stepped aside and allowed May – the firm favourite among Conservative MPs – to become PM.
Making such a move would have unsettled the Labour Party, which is currently embroiled in a leadership crisis of its own. It may also have settled some of the jitters on the international money markets.
There are those who will argue that the next leader needs the legitimacy that derives from holding a leadership contest, otherwise it might appear as a coronation.
But if there is one central lesson from Jeremy Corbyn's troubled leadership of the Labour Party, it is that in the British parliamentary system, the leader must command the support of the parliamentary party. It is worth emphasising that Theresa May now has the backing of 60% of Conservative MPs – far more than David Cameron achieved in 2005.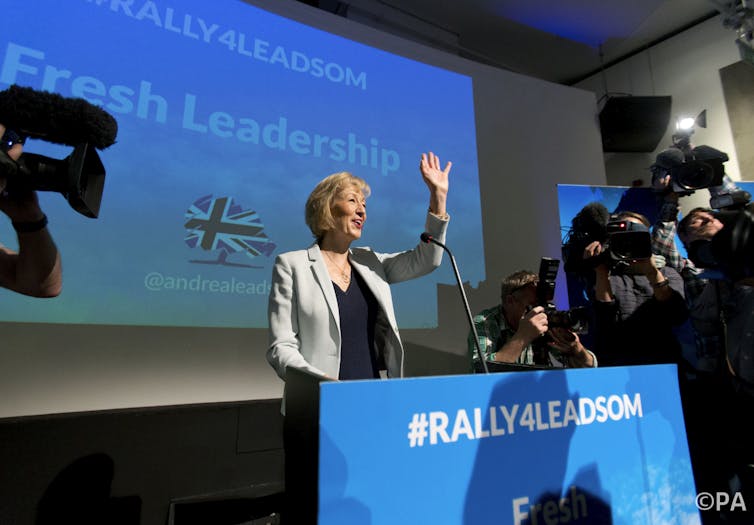 By contrast, were Leadsom to be elected by the party members, she would only have the confidence of one quarter of her parliamentary party – having only secured 84 votes to May's 199.
Looking back to the 2001 Tory leadership contest, Iain Duncan Smith only ever secured the support of one third of MPs, and was constantly undermined by those parliamentarians who did not vote for him.
Still, the chances of Leadsom defeating May are slim. A recent YouGov poll of Conservative Party members indicates that only 30% are adamant that their next leader must be a Brexiteer. Leadsom therefore needs to make her pitch far beyond her hard line position on leaving the European Union. She will also have to answer questions about the accuracy of her CV and the cleanliness of her tax returns if she is to challenge May.
Cases to answer
It seems a long time since the last parliament, when an unnamed Conservative grandee commented: "Theresa's a jolly nice girl with a terrific team, but she'll never be leader. Not a chance". Having endured such blatant sexism, May will have more than one reason to laugh, then, if she proves him wrong.
May's leadership bid has been long in the planning. Back in 2013, we learn from Matthew D'Ancona's excellent In It Together that May made a a couple of speeches beyond her Home Office brief which were interpreted by Michael Gove as stoking up a leadership bid.
Critics of May claim she is a political loner but she was never given a chance to enter the all-male Notting Hill set established under David Cameron's leadership.
Nevertheless, as she takes on Leadsom, May will have to counter claims that she is indecisive. The joke in the last Parliament was "Theresa May – but again, she may not".
The accusation is that she has a habit of acting tough, but not sticking her neck out: opposing the formation of the Coalition in 2010, but not pressing the issue; arguing for mandatory sentences for juvenile knife crime, but folding under opposition from then justice secretary Kenneth Clarke.
Most importantly, she will have to square her decision to argue for remaining in the European Union despite her reputation for being eurosceptic. Note how quickly she dropped her insistence of Britain withdrawing from the European Convention on Human Rights, a decision which will displease the Tory right.
But potentially the most damaging criticism of Theresa May is that she lacks radicalism. The very fact that a vicar's daughter is highly likely to become Prime Minister will allow the establishment to breathe a huge sigh of relief. The defeated Michael Gove, for one, will feel that his agenda of bold reform and a bonfire of deregulation will be cast aside in favour of caretaker government.
May would no doubt respond by pointing out that as Home Secretary she ably demonstrated a radical edge in the forthright way she took on the police over their bloated pay and conditions. She may, if elected, surprise us when it comes to being a reforming Prime Minister.
Finally, let us make a forlorn hope: that this all-woman leadership contest can be devoid of endless commentaries about what May and Leadsom are wearing. Yes, May has cultivated a nice line in kitten heels and once even dressed her husband Philip in colour-coordinated outfits on one of William Hague's ghastly away days, but she and Leadsom deserve to be treated as serious candidates for serious times. Let battle commence.