Now that summer is officially over and there is a moment to stake stock, I find myself once again dismayed that "Brits abroad" still made for ample copy in many tabloid newspapers. Not because of their so-called antics, but because of the way they were reported on.
Every year a number of Britons head to holiday resorts across the Mediterranean with its guarantees of sun, sea and sand. And for many there's a fourth "s" on offer too – sex. Their behaviour seems to attract a great deal of salacious media scrutiny. It expresses both moral outrage and disgust, but at the same time works to titillate the reader.
This summer was no different. For example, in August the Daily Mail asked:

Even in late September The Sun reported: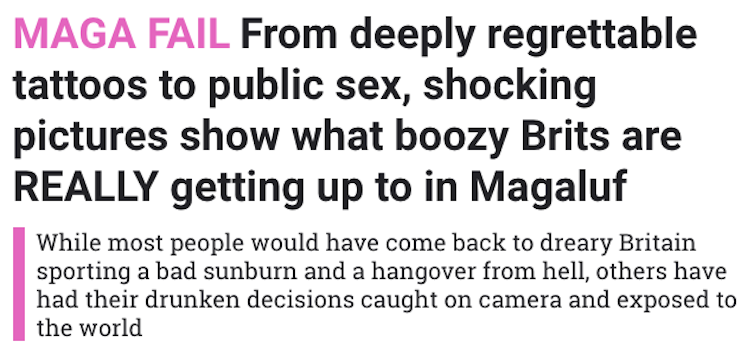 Both of these focus on the so-called party resort of Magaluf on the Mediterranean island of Mallorca, but it could easily be replaced with resorts in Greece such as Malia on the island of Crete.
This seeming fascination with what the Brits do abroad isn't restricted to holiday resorts. The violent clashes between England football team supporters and those supporting Russia at the start of the Euros was a classic example of the press taking the moral high ground. In this particular case, it was the Russian fans who received the brunt of criticism.
But still, images of drunk, bare-chested, fist-wielding men pervaded the UK media, followed by calls for fans to behave responsibly at future fixtures. It is this kind of conduct that goes hand-in-hand with the stereotypes associated with the British abroad – of being over "there" and out of control.
Shock and horror
This image of the Brits abroad reached new heights with what is by the now the infamous "mamading episode" reported in July 2014. Based on an incident that occurred in Magaluf, typical headlines included The Sunday Mirror's: "Magaluf exposed: Sleazy party capital where girls are bullied into sex acts with strangers."
The Mirror's report was based on a video filmed at one of the resort's nightclubs. The footage, allegedly recorded by one of the club's reps and sent to a friend who then put it on Facebook, purports to show a young woman (aged 18) engaged in "mamading". This is the practice of encouraging women (who are usually inebriated) to perform oral sex on numerous different men for a reward.
In this report that caused such horror in the summer of 2014, the woman in question was cajoled into fellatio with a total of 24 men. As for her reward, she is said to have believed her actions would earn her a free holiday. The holiday in question, however, was not a vacation but the name of a cocktail.
Alongside the shock and horror, there followed a number of other revelations in the British press about the apparently lewd behaviour of British tourists in Magaluf. A form of moral panic ensued in which British youth – but notably women – holidaying abroad were demonised for their behaviour.
The events in Magaluf even inspired a TV investigation by tabloid talk show host Jeremy Kyle. When he visited Magaluf for himself and was pepper sprayed by a nightclub bouncer, it added yet more sensationalised outrage to the coverage. The media attention Magaluf attracted during this period built and added to its existing reputation and focused on the shocking and titillating exploits of badly behaved tourists.
Why now?
I first went to Magaluf in the summer of 1997 and continued my research into tourism there over subsequent years. During my first visits to the resort I witnessed behaviour similar to that of the mamading incident, and certainly of British tourists' drunken exploits, but I don't recall the moral outrage and media coverage then that these activities now attract.
My latest visit in 2015 I found that very little had changed in terms of the look of the resort and what it had to offer from when I went in 1997. This begs the question "why now?" Social media is certainly a factor. The ability to instantly upload photos and videos means that what happens on holiday no longer stays on holiday. The ability to transmit behaviour at the push of a button and on a global scale, takes things much further out of the control of the individual concerned.
Another factor is that there is a whole industry based on this material. There is money to be made here by a media that knows how much the moral right enjoy tut-tutting over those Brits who do not travel for what they deem to be the "correct" cultural reasons. But while these moral arbiters express their disapproval their reporting creates an image of the destination that itself helps establish expectations of what people find when visiting and, in turn, how they should behave when there.