Though the Brontës are known as English writers, their appeal has never been limited to the British Isles. From the Italian comic opera Le Sorelle Brontë (1963), by Alexandrian writer Bernard de Zogheb, to Yoshishige Yoshida's Arashi ga Oka (1988), set in medieval Japan, the sisters' work has inspired numerous adaptations across the world.
Perhaps the most peculiar of these spin-offs is a biographical drama from post iron-curtain Hungary. Brontë-k ("Brontës"), first published by Hungarian writers Zsolt Győrei and Csaba Schlachtovszky in 1992, is a curiously playful, topsy-turvy and irreverent play about the Brontë family.
The play's story is truly transnational. Set in late spring 1848 on the Yorkshire moors, it revisits the popular myths and mysteries surrounding the Brontës, but with a neo-Victorian (a modern reimagining what the Victorian era was like) twist. The events take place around the time of the Hungarian revolution against the Hapsburgs. Its language is historically layered, with traces of mock Renaissance and mock 19th-century registers, mixed in with the contemporary Hungarian it was written in.
Little actually happens in the drama, instead its purpose is to be a parodic take on the myths that surround the reclusive authors. Where others have been far more serious in their explanations of the Brontës' lives, this is very much tongue-in-cheek.
Brothers and sisters
Brontë-k's characters are unusual, to say the least. The drama features the three Brontë sisters, their father, "Patrik", and a Belgian educator, Monsieur Heger (who, in real life, was Charlotte's teacher, mentor and platonic love interest from her time in Brussels). It also includes the real life 19th-century Hungarian revolutionary, Mihály Táncsics.
While Anne, Charlotte and Emily famously chose to write under the male pseudonyms Acton, Currer and Ellis Bell, the sisters of the play (Anna, Sarolta and Emília) are actually men who have been brought up by their father as women. At the start of the drama Emília and Sarolta have just been summoned back from Brussels to the moors by Patrik and, with no access to pen and paper – despite asking "Santa"/Patrik for it – they spend their time embroidering their novels into their underwear.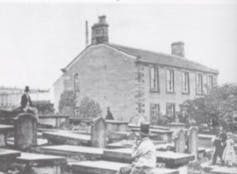 The "sisters" (bearded men) are not allowed to go out, the doors are barricaded with wooden panels. But Emília, the romantic one who longs to be in the moors, goes out in "her" father's clothes – only to catch a cold that later proves to be fatal.
Monsieur Heger, a hopeless bore of a bachelor with a domineering mother, who proposed to Sarolta in Brussels, arrives to elope with her (unlike the real life Monsieur Heger who is reputed to have ripped up Charlotte's letters). Heger wears women's clothing so as not to look suspicious to the protective and jealous Patrik, and introduces himself as Currer Bell, but wants to be called simply "Curry".
Patrik, however, does not tolerate men around his "daughters". He is distrustful of them and wants to protect the "girls" from all men – including himself. He constantly tries to suppress his physical desire for them, while also blaming the "girls" for the premature death of his wife.
Subverting the stereotypes
As Emília longs for a life of passion, the down-to-earth Sarolta cannot wait to get away with the man "she" is not in love with, but sees as an escape route. Emília carries some of the quintessential romantic and idiosyncratic passionate singleton stereotypes of the real-life Emily held by some of her fans. Sarolta, meanwhile, shares some of the pragmatism often mentioned in relation to Charlotte. But, if anything, Sarolta takes this pragmatism to a degree of selfishness and superficiality.
As these events occur, the pensive, sacrificial Anna is corresponding with Táncsics, the Hungarian utopian socialist and writer. Táncsics is in prison for his radical views and – needless to say – "she" has never seen him. If the play rehabilitates any of the Brontë siblings, it is the one whose work has been least read – Anne (Anna in the play). She is presented with almost redeemable features through "her" sacrificial attitude and platonic love for the imprisoned Hungarian intellectual. While this depiction is also recycling the "long-suffering, self-denying, reflective" image of Anne, to use Charlotte's words, the play treats Anna as "her" siblings' equal.
Even though Brontë-k was, on one level, simply the work of two young university students who wanted to write drama differently, there is no denying that it stands on its own in its playful and irreverent depiction of the Brontë sisters. As with Julian Barnes's playful postmodern take on the life of French novelist Gustave Flaubert in Flaubert's Parrot (1984), Brontë-k warns readers against looking too much at the significance of biography. But at the same time it allows them to be fans, devotees, mythmakers (and mythbreakers) who are capable of laughing at themselves.