This article is one in our three-part series on blinding, deafening and sometimes deadly conditions in Indigenous Australian children that have little to no impact on their non-Indigenous counterparts.
---
Aboriginal children have the highest rates of otitis media, a middle ear infection that causes hearing loss, than any other people in the world.
The main forms of the disease include acute otitis media, also known as a bulging eardrum; otitis media with effusion, commonly known as glue ear; and chronic suppurative otitis media, known as runny ear, which describes the pus discharged when a bulging eardrum bursts.
In 1996 – the most recent year comparative global data is available – the World Health Organisation reported that the prevalence chronic otitis media was highest in the Inuit (Eskimo) and Australian Aboriginal populations: at around 12% to 46%.
This was followed by Native Americans at 4% to 8%; South Pacific Islanders, Africans, Koreans and Indians at around 2% to 6%; and was lowest in United States and United Kingdom, at less than 1%.
The World Health Organisation considers a prevalence of 4% in the population of runny ears or chronic otitis media as a massive public health problem requiring urgent attention. Tragically, almost all Aboriginal children (90%) in remote areas have some form of otitis media: 50% have glue ear, 30% have acute otitis media, and around 15% have runny ears.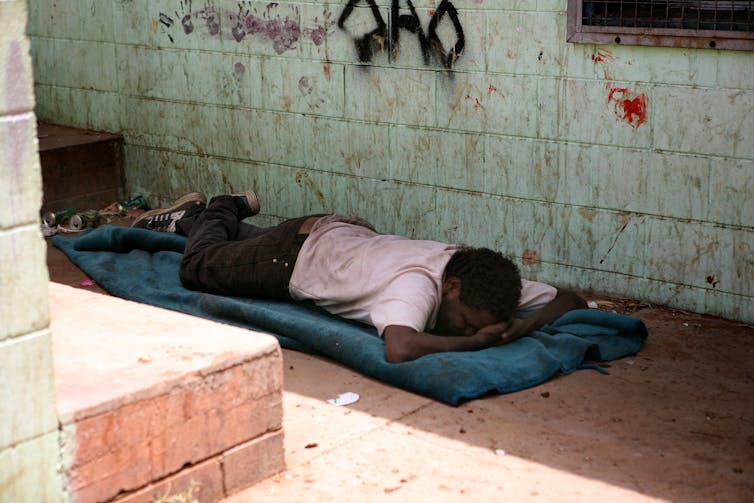 Hearing loss and life trajectory
Otitis media is caused by multiple strains of three bacteria: Streptococcus pneumoniae, non-typeable Haemophilus infleunzae and Moraxella catarrhalis. These are common in the nasal passages of young children.
Indigenous children are at a significantly higher risk of otitis media and hearing loss compared to non-Indigenous children. One study found Indigenous children were five times more likely to be diagnosed with severe otitis media than their non-Indigenous counterparts. During the eight-year period studied, Indigenous children saw the GP for discharge in their ear 40 times more than non-Indigenous children.
The longer the infection is left untreated, the further risk it poses to hearing. The hearing loss associated with otitis media causes delayed language and speech, behavioural problems and social isolation; poor school attendance and low levels of literacy and numeracy; poor employment opportunities and increased poverty.
In fact, the issue of hearing is the most prevalent barrier to educational attainment for Indigenous children in the Northern Territory. In the NT in 2007 to 2011, 53% of Indigenous children receiving audiology services had some kind of hearing loss and 33% had a hearing impairment.
Shockingly, around 90% of Indigenous people incarcerated in the Northern Territory have hearing loss, which may have influenced their trajectory or compromised their communications with the justice system.
---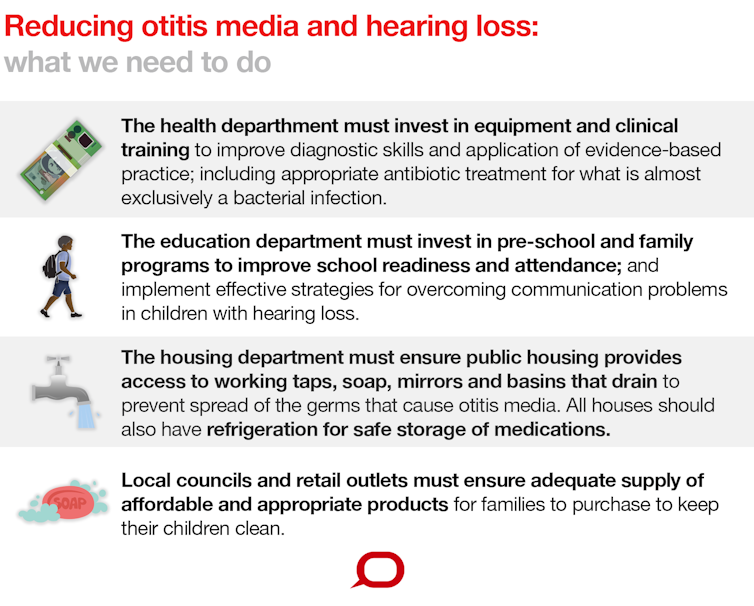 ---
Prevention and treatment
Overcrowded housing and exposure to tobacco smoke can increase the risk of otitis media. There are several methods of preventing otitis media from occuring. As it is a bacterial infection, hygiene is vital to containing its spread. There are also vaccines to prevent infections caused by particular strains of bacteria.
Many otitis media episodes can be prevented by breastfeeding during the first six months of life. Exclusive breastfeeding in this period is associated with around a 43% reduction of acute otitis media in the first two years of life.
Accurate diagnosis is needed to determine the type of otitis media the child has in order to provide correct management. Preventing perforation of the ear drum in acute otitis media is a key goal of treatment, as this causes a higher level of hearing loss and is very difficult to treat.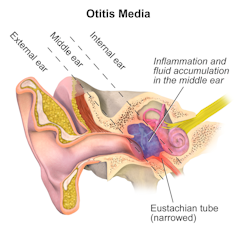 Perforations can persist for months or years, severely affecting the child's linguistic, social and academic development. Children under two with the infection in both ears are at greatest risk of progression to the chronic form of the disease.
To prevent this, acute otitis media (a bulging ear drum) in Indigenous children should be treated with antibiotics; specifics depending on the diagnosis and the likelihood of the condition worsening. The duration and dose of antibiotic (amoxycillin) may need to increase if the infection does not improve.
A child with persistent otitis media for three months or more should have a hearing test. The child may need hearing aids if there are concerns about normal language development or behaviour problems. They may also need surgery, where devices known as tympanostomy tubes (grommets) are inserted into the ear drum to prevent accumulation of fluid.
Perforations with discharging pus are more difficult to treat than other forms of otitis media, due to the extended spectrum of bacteria – nasal as well as those from the external environment – involved. Up to 16 weeks of twice daily cleaning and antibiotic drops are needed.
This can cure the infection, but the perforation is unlikely to heal, so the middle ear remains vulnerable to infections. Surgery may repair the tympanic membrane but these procedures have not been rigorously evaluated for Aboriginal children.
The early and persistent disease throughout childhood is depriving children of the opportunity to learn, to have self esteem and to reach their full potential.