More than 90% of business students in a study on corporate social responsibility said they would be willing to sacrifice some percentage of their future salary to work for a responsible employer. A surprising number of 14% are willing to sacrifice more than 40% of their future income to do so.
However business students who were also employed full or part time were willing to sacrifice less of their future income than other participants. Those employed made up more than 60% of participants (30% occupying management positions).
While it's easy to sacrifice a non-existing salary, these results show how committed business students are when it comes to working for socially responsible companies. It also sends a strong signal to both business schools and potential employers.
As part of a UN initiative Principals for Responsible Management Education, we conduct a biannual global study on the attitudes of business students. The survey asks them about their values and personal responsibility; attitudes towards corporate social responsibility and the importance of working for responsible employers.
More than 1,700 business students from 40 countries participated in the latest survey in 2016. Students were at both at the undergraduate (40%) and postgraduate (60%) level and the most participants lived in Brazil (17%), India (13%), US (13%) and the Netherlands (12%).
Participants were aged between 17 to 69 years, but more than half were in their 20s and 46% were females. More than 60% of the respondents were working either full time or part time and 30% occupied managerial positions.
Overall, it was more important for female students that their employers were ethical, sustainable and cared about their employees.
We defined corporate social responsibility in this study as business decision making that is linked to ethical values, compliance with legal requirements, and respect for people, communities, and the environment around the world. We then asked the students to indicate their level of agreement with 11 corporate social responsibility and ethics statements, from one (strongly disagree) to five (strongly agree).
Most business students we surveyed showed positive attitudes towards corporate social responsibility and responsible management education. Approximately 75% of students agreed with the following statements: "companies should do a lot more for society and the environment"; that "social responsibility and profitability can be compatible"; and that "business has a social responsibility beyond making profits".
Most students disagreed that "the most important concern for a firm is making a profit, even if it means bending or breaking the rules".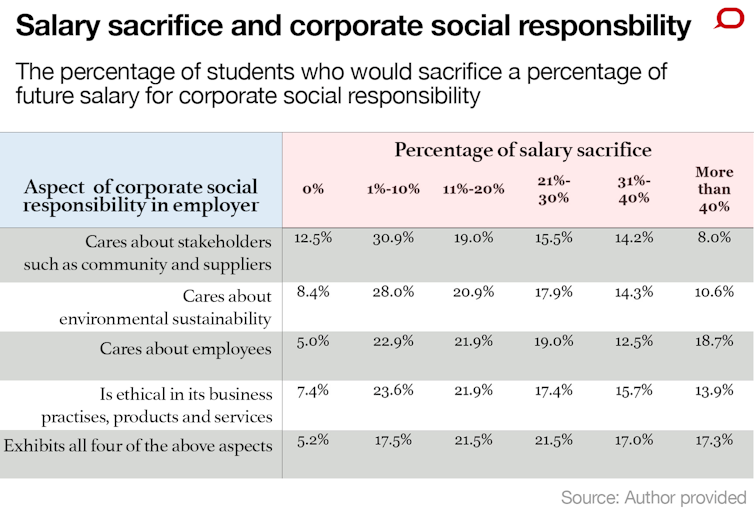 What students see as good corporate social responsibility
In the 1980s and 1990s several studies showed that business students were more unethical and more corruptible than students in any other faculty. They tended to cheat more on exams and thought that it was okay to bend the rules to maximise profit.
The next decade, the 2000s, witnessed some of the greatest business scandals. From Enron in 2001, via Worldcom (2002) and AIG (2005) to the more recent Volkswagen diesel emissions scandal (2015), these business scandals brought people's trust in corporations to a new low.
Fingers were pointed at business schools, by academics, business and the media, for being partially responsible for the lack of ethical business leadership.
As the president of Texas A&M University, Robert Gates, said in a speech in the aftermath of Enron's collapse:
"All of these liars and cheats and thieves are graduates of our universities."
The values associated with corporate social responsibility at that time were neatly summarised in 1991 by academic Archie Carroll. He developed a well known pyramid outlining how employees and business managers saw corporate social responsibility, ranking business responsibilities in importance from financial, then onto legal, ethical and philanthropic. Although he later argued that all four should be achieved together.
Our survey results suggest that this might be changing. Business students who participated in our study demonstrated a set of values that could lead to higher levels of corporate social responsibility in the future.
The students were asked to rank the four business responsibilities in the way they perceived as the right order of importance. The results, shown in the below figure, are an alternative way of seeing business responsibilities, with ethical and legal as the most important and financial responsibilities only following these two.
Interestingly, female students prioritised ethical and social responsibilities while males ranked financial responsibility higher. For working students, particularly in managerial jobs, it was more important to hold ethical and legal responsibilities rather than give money to charity.
The students were also asked to rank ten life goals and values on a five point scale, from "not at all important" to "absolutely essential". Over half (53.9%) the students reported that "living a happy and comfortable life" was absolutely essential, making it the top life goal for them. Only 12.6% ranked "making a lot of money" absolutely essential, bringing it last on this least. However, 39.5% of students said that making money was fairly important. Males ranked "making a lot of money" as more important than females.
The results of the third round of this international study send a clear message to both business schools and companies that want to attract business graduates.
The findings show that the best way to win the war for talent is by genuinely leading sustainable and responsible companies. These companies need to exhibit all aspects of responsibility and communicate this to potential employees.
People who will join businesses in the future, particularly females, hold very high expectations of them. There is a great opportunity to rise to the occasion.