All over the world, leaders are being turfed out of office – or at least being reminded that they can't hold on to it forever.
Bolivia's president, Evo Morales, recently tried to win the right to stand for a fourth term. He has been a very successful president, but the voting public have had enough of a good thing, and he narrowly lost the referendum that would have let him go on.
In Jamaica, a successful government has just been voted out. Debt restructuring and economic growth was not enough for those who wanted fairer distribution of wealth. Jamaica's relative stability owes something to changes in government: administration after administration fails, but being able to vote in a free and fair election sustains the hope of better things to come and staves off despair and cynicism.
There have been elections in Africa as well. Niger's president, Mahamadou Issoufou, almost won a second term outright. But even though his closest opponent, a former parliamentary speaker named Hama Amadou, was imprisoned on baby-trafficking charges, Issoufou was forced into a run-off, capturing only 48% of the vote while Amadou secured 18% from prison.
But elsewhere, The unpleasant theme of harassing or imprisoning opposition leaders was again a feature of the Ugandan elections, where President Yoweri Museveni's long-term opponent, Kizza Besigye, was constantly harassed and repeatedly arrested, while voters were intimidated.
Museveni faced no real problems in his quest for a fifth term in office. His reign has benefited Uganda in various ways, and he could have stood on his record. Instead, the exploitation of fear and the circumstantial evidence of rigging suggest a need to secure not just victory but endorsement by a wide margin.
Though he won with 60.8% of the popular vote, there are signs of a drift of support towards the opposition. Besigye looks to have captured almost 37% of the vote, despite being arrested four times in eight days.
Many hope Museveni will not stand yet again next time around. And perhaps Besigye could, if given a fair run, do much better than 37%. But the question raised is not just "why the same old president?", but also "why the same old opposition?"
The never-ending story
Like too many other African countries with low (or no) turnover among their leaders, Uganda shows signs of becoming a gerontocracy. Museveni is 71. Besigye is much younger at 59; should he finally win in 2021 he will be 64. As the problems facing Zambia and Zimbabwe have shown, fast-changing times make it hard for old leaders to keep up.
But the deeper problem of cynicism in elections is that it degrades voting to the level of a hollow ritual. It becomes an exercise in bad faith, both on the part of those who go to great lengths to ensure they'll remain in power and those who challenge them without hope of victory.
Three decades have passed since Museveni stormed Kampala in 1986, leading an army whose ranks included many boy soldiers. The boys were said to have been the orphans of parents killed by Idi Amin; they were said to have been blessed by the magic light of the Ruwenzori Mountains, but they became cannon fodder as Museveni fought his way to the capital. Yet despite this violent start, his tenure has restored some stability to a country wracked and wrecked by war and ignorant dictatorship.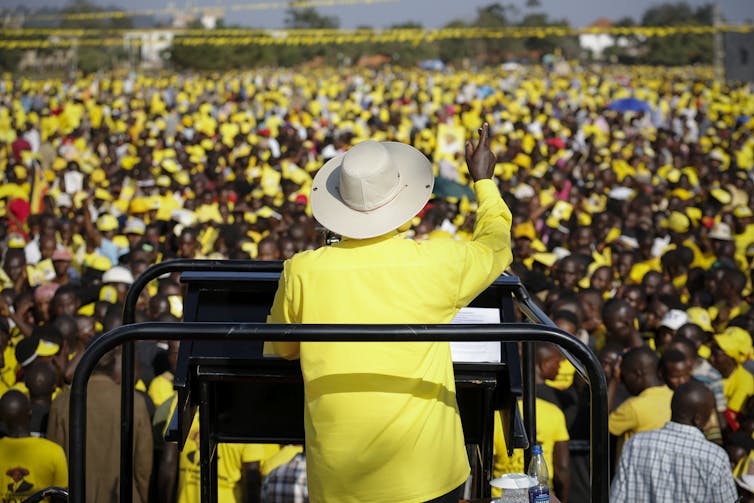 He fought against the magical insurrection of Alice Lakwena's Holy Spirit Movement, and against Joseph Kony's Lord's Resistance Army. Western donors happily provided him with armaments to fight such an atrocious force, and put up with his overlong years in power to keep the likes of Kony from ever obtaining it.
But Kony's campaign of murder and destruction was also testament to the deep difficulties of ethnic politics in Uganda. And as long as Museveni clings to power and allows no-one to challenge him fairly, those difficulties will remain unresolved.
On this occasion, Besigye was allowed to campaign more freely than in the past. But it seems that like Robert Mugabe of Zimbabwe, Museveni intends to be a fixture of his country – a beautiful land that could be truly prosperous, but in which political time has stood still. The risk is that it will start to move forward only through violence.