The kids program for Sydney Festival has been fun and varied this year, but a highlight was Ali McGregor's Jazzamatazz!. The cabaret singer staged her set in the Aurora Room, a mini-Speigeltent with a similar glass, wood and carnie vibe to cabaret shows she's done for festivals in Edinburgh, Melbourne and Sydney before. McGregor is a generous and hilarious host no matter the age-group – playful and joyful either for a midday show for a group of little kids or a late-night punters big kids allsorts.
The Jazzamatazz! set began with McGregor's tight trio playing instrumental standards. The circular room had soft mats set up around it for carers and kids to sit close to the action. It took a couple of tunes before one little girl made her way to the very middle and started jumping up and down in time. She was soon joined by little people coming from all around the circumference.
When McGregor took the stage the little crowd moved a bit closer to look and listen. She introduced herself and the band – and then got ready to give the a basic jazz lesson, teaching "the very important move – jazz hands".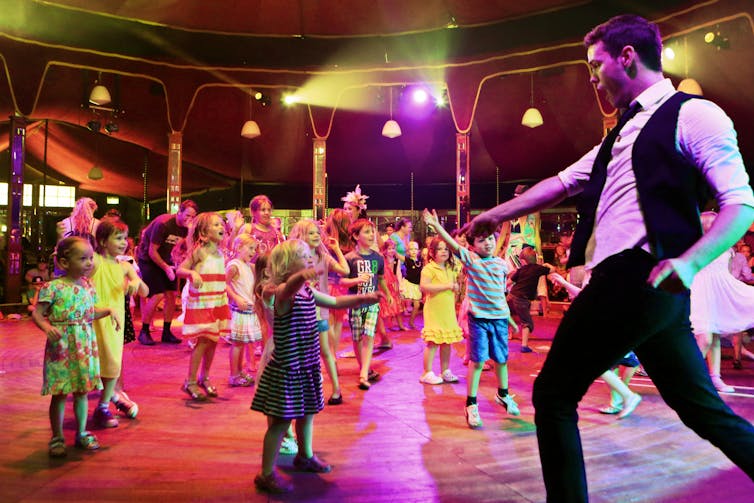 With little fingers in the air she continued to work through a combination of jazz standards and nursery rhymes, including a compilation of Twinkle Twinkle Little Star, Baa Baa Black Sheep, and What a Wonderful World. By the time the Louis Armstrong melody came around all were hooked – no matter how basic the tune, all were given the same fine musicianship and respect.
Jazz-meets-the-nursery continued with a version of A Tisket A Tasket that wasn't quite as grand as Ella Fitzgerald's – but it certainly was in the same vein, complete with a big plastic basket that made its way around the room. Also remade for the kids to interact and call back was The Lion Sleeps Tonight, inviting a chorus from the floor of little lions, monkeys and other jungle animals, as well as Bjork's So Quiet.
The latter ended up reimagined with something of a Wiggles Wake Up Jeff slant (familiar to all parents), but was sung so fantastically that it was hard to hate the transformation.
Midway through, McGregor invited parents and carers to "dance out their holiday frustration" to Rocking Robin and then teased kids to get their grown ups dancing when she played a stripped down version of Beyonce's All the Single Ladies. Kind of bizarre – but also lots of fun. The little barks, wolf calls and whistles coming from the kids jumping, singing and dancing along were hard to resist.
Jazzamatazz! did what the best live shows for kids do – it provided something that let kids participate – but didn't necessarily just come down to their level. McGregor and her band were playing slightly simplified versions of their tunes sometimes, and had clearly made adaptations to speed and lyrics where necessary but they hadn't compromised on musicianship or quality of the setlist.
Every little set of ears heard songs they already knew like Twinkle Twinkle – and they also got exposed to some amazing music for grown ups. By the time Fats Waller's Ain't Misbehavin' was played at the end of the set, there was just an eager group of music fans of ages.
Making a show for kids that's not going to bore their grown-up companions is a challenge, but Jazzamatazz! walked the line adeptly. There were a few little naughty asides to seal the deal, but overall it was the music and skilled performers that held everyone in the room.
Jazzamatazz! plays at the Sydney Festival until January 24. Details here.