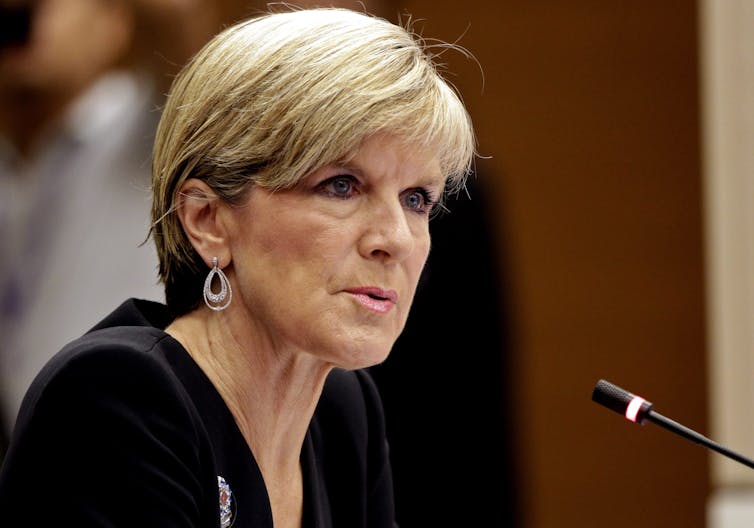 This beauty contest is one with a difference – it's a poll of the performance of the Abbott cabinet ministers a year into their jobs.
Done by McNair Ingenuity Research, it found Foreign Minister Julie Bishop top of the class, and Treasurer Joe Hockey wearing the dunce's cap, with Immigration Minister Scott Morrison making progress since December, while Finance Minister Mathias Cormann became better known but less regarded.
More than 1000 voters rated the performance of each of the cabinet on a scale of excellent (100), good (75), average (50), poor (25), or terrible (0). If they didn't know enough about a minister's performance, people could exclude them. The research was done August 27-30 and results were compared with perceptions at the government's 100-day point in December.
Bishop, who undertook high profile shuttle diplomacy after the downing of MH17, and received acclaim at home and abroad, scored 57.6. This was some 13 points higher than in December and by far the biggest improvement.
Her score was 72.2 among Coalition supporters, and 45.5 with Labor voters (among whom she made a big gain).
Communications minister Malcolm Turnbull - who always does well in preferred leader polls - came in second with 51.1, only just higher than his previous 50.6. He received a 60.6 rating from Coalition voters and 43.1 from Labor supporters.
Bishop best Turnbull for being well known – 90% to 84%.
Hockey's fall, driven particularly by the budget, has been spectacular. Now on 32.2, in December he scored 46.9. Coalition voters gave him a rating of 48.3 while that from Labor supporters was 18.5.
Tony Abbott found himself in the also-ran group, with a rating of 39.1 compared with 41.5 in December.
There used to be speculation about how long David Johnston would last in Defence – he's now considered safe - but those who rated him thought he was doing okay. He came in third on 48.5 (though only 59% knew him).
Others in the 40s were Barnaby Joyce (47.1), Andrew Robb (45), Morrison (44.7 – up from 38.5), Nigel Scullion (44.4), Ian Macfarlane (43.8) Peter Dutton (43.8), Bruce Billson (42.9), Warren Truss (42.6) and Cormann.
Cormann, who is everywhere in the media, has lifted his profile notably; in late 2013 he was one of the least known ministers, with only 48% knowing him well enough to give him a rating. This has gone to 59% - but his rating declined from 45.2 to 40.8.
The scores of Social Services Minister Kevin Andrews, who is dealing with welfare reform, and Attorney-General George Brandis, who took a bath over the Racial Discrimination Act row, have also fallen.
Those with ratings in the 30s were Greg Hunt (39.5), Brandis (39 - down from 42.5), Andrews (37.5 - down from 42.9), Eric Abetz (36.6), and Christopher Pyne (36).
Billson (Small Business) and Scullion (Indigenous Affairs) are the least known of the cabinet.
The average rating of all members of cabinet changed little since December, falling from 44 to 43.