After decades of tragic conflict and bloodshed, Cambodia finally found a measure of peace in 1991, when 19 governments met in Paris to sign the Paris Peace Agreements. This was a pivotal moment in the country's history and it opened the door to what turned out to be a remarkable period of recovery and relative peace.
The agreements covered four major priorities: national reconciliation, the right of self-determination through free and fair elections, a ceasefire and cessation of outside military assistance (including the withdrawal of foreign forces), and the protection of human rights (including the voluntary return of refugees and displaced persons).
An experimental United Nations Transitional Authority was set up to take charge of implementing the agreements. Its mandate ended in September 1993, when the new Constitution of Cambodia was adopted and a general election successfully held.
The Cambodia of today is very different from that quarter of a century ago. Although it took several years for the armed conflict to end, peace and stability has brought dividends. The peace agreements paved the way for states to lift embargoes against Cambodia and a period of dramatic economic growth duly ensued, with a GDP growth rate averaging 7.6% a year. Once one of the world's very poorest countries, Cambodia is classified by UNDP as a lower middle-income country.
Billions of dollars have been invested in aid, rebuilding and restructuring, as well as in development and investment opportunities. During a recent visit by the Chinese premier, Xi Jinping, Cambodia and China signed 31 agreements covering everything from debt cancellation to help modernising the Cambodian armed forces.
The economic benefits of peace, stability and foreign investment are not shared equally among all Cambodians. To transition from a rural subsistence economy to an industrialised one is a huge challenge for any country – and especially for one where land ownership is not well documented. Sugar, cashews, rubber, tourism, even the garment industry all encroach on land once occupied by villages and families who often have little, if any, legal entitlement to their land. Indigenous peoples are especially badly affected on this front.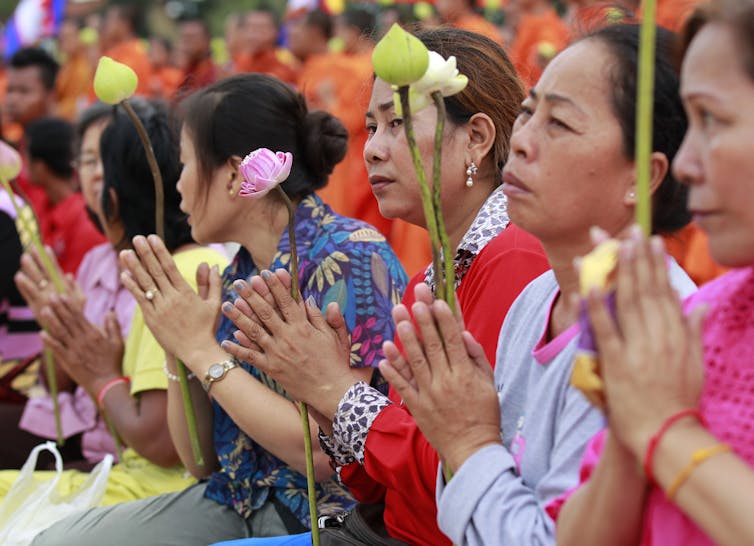 Cambodia has had a period of relative political stability. Elections have been held periodically since 1993, though they've often been marred by disputes and tensions. With local elections scheduled for June 2017 and national elections for 2018, Cambodia seems to have successfully embedded the practice of regularly going to the polls. With the support of foreign states, a National Election Committee is working to roll out electronic voter registration.
All round, the country is making good progress towards ensuring the "universal and equal suffrage" that the agreements demand. But once we look beyond the technical and legal advances, the situation leaves plenty to be desired.
Room for improvement
Cambodia's two main political parties deeply distrust each other. The main opposition party, the Cambodian National Rescue Party, has repeatedly boycotted the National Assembly, most recently for several months following the slew of arrests earlier this year. Its leader, Sam Rainsy, took himself into exile in November 2015, and its deputy leader has been in self-imposed house arrest in the party's HQ since May 2016, both avoiding various charges and prison sentences for a variety of offences.
The law, meanwhile, on paper adequately protects most human rights and fundamental freedoms. The post-1991 constitution obliges the state to respect the rule of law and human rights – it has been augmented by a wide range of laws, many of them drafted with the help of international experts.
However, in reality, many of the country's laws are open to broad judicial interpretation and although they can be be applied in a manner which protects human rights, that is not necessarily the case. Not all Cambodians enjoy genuine equality before the law without discrimination.
Two-and-a-half decades since the Paris Peace Agreements were struck, it's time Cambodia proves its independent sovereignty by revising and clarifying these laws to give better effect to the human rights treaties which it has accepted.
Pessimism about progress is not justified: to go from a near-failed state to a full sovereign independent member of ASEAN, the UN and various other organisations is a major achievement, and it deserves to be celebrated.
There is undoubtedly room for improvement and development – and lessons still to learn. But this international nation-building experiment, and the progress Cambodia has made since 1991, is in many ways quite remarkable.