Cambodia's Prime Minister Hun Sen will no longer be able to use his Facebook page to air threats of violence against opposition supporters – but that doesn't mean he can't still suppress their vote as the country prepares for a general election.
On June 30, 2023, the Facebook page of Hun Sen – who has ruled the country as leader of the Cambodian People's Party for almost four decades – appeared to have been deleted. It wasn't immediately clear whether Hun Sen had removed the page or Meta had taken it down. But it follows a recommendation by the oversight board of Facebook's parent company to "immediately suspend Hun Sen's Facebook page and Instagram account for six months" over a video in which he calls on political opponents who allege vote-rigging to choose between the "legal system" and "a bat." In the video posted on Facebook on Jan. 9, Hun Sen also threatens to "gather CPP people to protest and beat (opposition) up."
The decision comes as a slap in the face for Hun Sen, who had regularly posted on Facebook to his 14 million followers. But as an expert on Cambodian politics, I know it will do little to affect the result of the general election scheduled for July 23, 2023. Cambodia has had Hun Sen as prime minister for 38 years. And recent events have only tightened Hun Sen's grip on power.
Many parties, no opposition
Voters heading to the polls will again be presented with a lack of real choice – as has been the case in the six national parliamentary ballots held since nominally democratic elections were restored in 1993.
It isn't that there won't be many parties that voters will be able to choose among on July 23. In fact, there will be numerous parties on the ballot, along with the ruling Cambodian People's Party. In the 2018 national election there were 19 parties other than the CPP.
The problem for democracy watchers is that the list of parties allowed to run does not include the main opposition party, the Cambodia National Rescue Party. The CNRP was conveniently dissolved on Nov. 16, 2017, by order of the Cambodian Supreme Court – which has as its head a permanent committee member of Hun Sen's CPP.
Further, the Candle Light Party – the last vestige of real, credible opposition in Cambodia – was not permitted to register for the forthcoming election for bureaucratic reasons. The missing paperwork that prevented registration is believed by CLP supporters to have been taken during a police raid on opposition headquarters years ago.
These measures build on decades in which Hun Sen and his ruling CPP have removed real choice from Cambodian ballots. And for Hun Sen and the CPP it has been effective: In the last election, held in 2018, the CPP garnered 77% of the vote and took all 123 seats in the National Assembly.
Khmer Rouge commander to autocratic leader
Hun Sen rose to power after being installed as deputy prime minister and foreign minister by the Vietnamese forces that liberated Cambodia in 1979 from the Khmer Rouge – a murderous regime in which Hun Sen served as a commander – and then occupied the country for a decade.
With his country still under Vietnamese occupation, Hun Sen became prime minister in 1985 after his predecessor, Chan Sy, died in office. Since then, he has used the power of incumbency – along with a large dose of brute force – to remain in office.
Even when the CPP lost the popular vote in 1993, Hun Sen was able to elbow his way into a prime ministership-sharing position as "second prime minister" with equal power to the "first prime minister," Prince Norodom Ranariddh, in a deal engineered by Ranariddh's father, King Norodom Sihanouk.
After falling out with his co-premier, Hun Sen orchestrated a coup in 1997 and replaced Norodom Ranariddh. In an election the following year, Hun Sen resumed the role of sole prime minister and embarked on a campaign of repression – arranging for political enemies to be arrested, jailed and sometimes exiled.
He let his guard down in 2012 by allowing opposition leaders Kem Sokha and Sam Rainsy to form the opposition Cambodia National Rescue Party. The CNRP came within a whisker of defeating the CPP in the 2013 election – some might even argue that it did, but for who controlled the counting of the votes.
Since then, attempts to mount opposition to the CPP have been further blunted by the fact that Cambodia's economy and society have undergone remarkable change – allowing Hun Sen to claim credit as a sound manager of the economy. Until the COVID-19 pandemic, Cambodia's annual gross domestic product growth averaged nearly 8% from 1998 through 2019. Meanwhile, gross national income based on an average individual's purchasing power has also grown sixfold since 1995, from US$760 to $5,080.
It has come at a cost though. Economic and infrastructure growth has been on the back of a land grab that has disadvantaged rural farmers. I heard of one farmer who described economic development as meaning "they build a road and steal my land."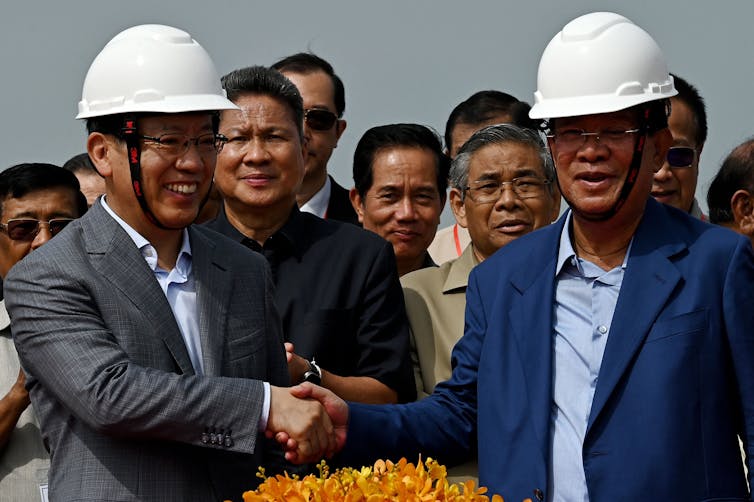 And frequently that road has been Chinese-built with loans that the Cambodian people and their progeny will have to repay.
From autocracy to nepotocracy?
Yet, Hun Sen is unwilling to open his record to the scrutiny of voters or a free press.
In advance of the July 23 vote, the government has cracked down on independent media. One of the last truly independent outlets, the Voice of Democracy, was shuttered by Hun Sen. Its crime? To publish a story reporting that the prime minister's son and heir apparent signed, on behalf of his father, an official government donation to Turkey after the earthquake. Only the prime minister is allowed to sign off on foreign aid packages, and Hun Sen said the report had damaged the government's reputation.
The source had been a senior government official. Yet, Voice of Democracy was nonetheless blamed and told to apologize, which it did, but then was still shuttered.
While Hun Sen has been successful in controlling the media and suppressing opposition in Cambodia, he is unable to prevent international scrutiny and sanction.
Cambodia's anti-democratic rule and human rights abuses have been condemned by the European Union, the White House and the United Nations.
Even prior to the most recent crackdown on opposition parties and independent press, the U.S. had placed some Cambodian generals on the Global Magnitsky Human Rights Accountability list, used to sanction "perpetrators of serious human rights abuse and corruption around the world." The EU, for its part, cut by 20% the number of Cambodian goods eligible for zero duty imports over human rights concerns – a move that will cost Cambodia an estimated 1 billion euros ($1.1 billion) in annual revenue.
But such moves have done little to nudge Cambodia toward democratic practices – and neither will Facebook's decision to deprive him of a social media account.