The merger between Burger King and Canadian coffee-and-doughnuts chain Tim Hortons has sparked a great deal of reaction and much of it has been nationalistic in flavour. There was speculation that Burger King was making an unpatriotic, tax efficient move to Canada. But these suggestions have been refuted by Burger King which instead emphasises that the acquisition is related to "growth" for both companies.
Tim Hortons is an iconic Canadian brand that has done remarkably well in its domestic market, but struggled to develop an overseas presence. Whether or not Burger King's worldwide experience in developing new markets will prove beneficial to Tims, however, remains to be seen.
Canadian king
Tim Hortons was established 50 years ago in Hamilton, Ontario and has grown to account for 42% of Canada's quick service restaurant industry, accounting for nearly 80% of coffees sold in the country. Its 2,500 restaurants can be found from the Atlantic to the Pacific coasts, while it has another 1,000 non-standard outlets consisting of small full service restaurants and self-service kiosks in hospitals, universities, airports, sports stadiums and gas stations. This means that there is approximately one Tim Hortons outlet for every 10,000 Canadians and has understandably raised concerns that this market has reached a saturation point.
The company's Canadian success has been attributed to the consistency of its products, its ability to innovate and savvy marketing. Nothing says Canada like Tim Hortons coffee, so said the editors of Canada's Marketing Magazine when in 2004 the company was named marketer of the year.
This is exemplified by their series of TV advertisements entitled True Stories that are based on customers' lives and their links to the company's products. Beginning in 1997, these continue to air today and are underpinned by a core assumption that Canadians' daily lives includes Tim Hortons.
Marketing the brand has involved linking it to two Canadian institutions, ice hockey and the military. One of the company's founders, Tim Horton, was a Hall of Fame ice hockey player with the Toronto Maple Leafs. Today the company sponsors children's ice hockey teams and uses NHL superstar Sidney Crosby in its advertising. Tim Hortons outlets can also be found on Canadian military bases and when Canadian forces went to Kandahar in Afghanistan in 2006 Tim Hortons famously opened an outlet for them so that they could enjoy "a little taste of home".
The US market is nearly ten times as large as Canada's so capturing even a small segment is potentially very lucrative. But expanding beyond Canada is a challenge since Tim Hortons is so clearly linked to Canadian national identity. It faces the task of competing with Dunkin Donuts, which has already cornered the US market on patriotic branding with its slogan, "America Runs on Dunkin".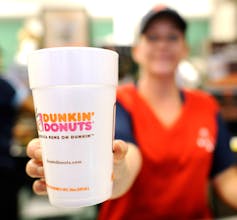 In an era of globalisation it is unusual to think that borders still matter but there is no doubt that the border between the United States and Canada has served to slow the company's US expansion. Although the Buffalo, New York metropolitan area is a mere 50 miles from where Tims was founded it took over 20 years for a store to be opened across the border.
Getting over the border
Today the border still serves as an effective barrier: Sault Ste Marie, Ontario is separated from its Michigan counterpart by the Saint Mary's river. While the Ontario side plays host to six Tim Hortons outlets, there are none to be found on the Michigan side.
And, when Tim Hortons attempted to expand into southern New England, the home of Dunkin Donuts, it ended in disaster. The company acquired 42 stores in Connecticut, Massachusetts and Rhode Island from a bankrupt doughnut firm in 2004. Six years later they closed as they were a drain on the company's profitability.
Then, five years ago Tim Hortons acquired nine locations in New York City with little success. As Douglas Hunter, author of Double Double: How Tim Hortons Became a Canadian Way of Life One Cup at a Time, noted in his review of one of the restaurants: "The coffee tasted the same, but the essential flavor of Tim's was lost."
Tims has opened outlets in the Persian Gulf states and has an agreement with SPAR grocers for the distribution of its coffee and doughnuts in the UK and Ireland. But it's clear that it will require a considerable amount of imagination and effort by Burger King to ensure that Tim Hortons is not lost in translation as it expands outside of Canada.