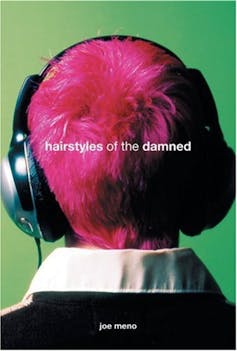 There's a hilarious scene in Joe Meno's novel Hairstyles of the Damned (2004) where the teenaged protagonist, Brian, tried to seduce a Catholic schoolgirl by playing REO Speedwagon.
Hilarious just as much as it was hideous.
While I laughed at the idea of anyone thinking that Can't Fight This Feeling Anymore (1984) could possibly have mystical leg-parting qualities, it's only funny because it's true. At 32, I continue to be as musically seduced – as musically stupid - as that schoolgirl. And most curiously, I still haven't learnt my lesson.
I broke the not judging a book by its cover rule and downloaded Hairstyles purely because I liked the cover artwork. I didn't know anything about it; after reading it and perusing some of the comments on Amazon, apparently I wasn't alone in this. (A lesson to anyone suggesting the irrelevance of digital book "covers").
While I knew nothing about it, it turned out to be about one of my favourite vices: music. It's all about mix-tape making and communicating through lyrics and daydreaming about the perfect super band. I didn't love it like I loved Nick Hornby's similar-themed Juliet, Naked (2009), but I miss the characters now that I've finished it. And seeing The Perks of Being a Wallflower over the weekend made me like Brian and co a little more.
This idea about seduction through music is something that has long fascinated me.
I was in a car recently with a nice enough guy who I wasn't going to see again. We reached my street and either he surreptitiously turned on the stereo or I suddenly realised music was playing. Either way, it was Talking Heads.
I love Talking Heads. No leg-parting – hell, I don't love them like I love The National or Nick Cave, let's not go crazy – but sure, I conceded to a bit of "And She Was" (1985) making out because good songs - like good conditioner - shouldn't be wasted. That, and when it comes to music I'm as wayward as a Catholic schoolgirl.
A little longer back and I was in a hotel room. By midnight and I was convinced that I needed to end things and I was sitting alone and teary in the en suite. Come morning and I heard him in the bathtub splashing away and listening to Peter Cetera. Without any compunction; without a trace of hipster irony. And of course, I swooned, forgave and loved a little harder.
I've made innumerable dodgy purchasing decisions based on music - paying to see Argo, Water for Elephants (2011) and Like Crazy (2011) purely for the songs on the trailers are good examples. These films each turned out to be, in varying degrees, crappy, but at most they cost me $18 and two hours. I have no regrets.
Equally I've made questionable romantic decisions based on music - I have, for example, fallen a little bit for every man who has ever made me a mix-tape. Those relationships that ended badly cost me a lot more than money and time. I'm still pretty sure I have no regrets.
I enjoyed Hairstyles of the Damned but it's very reliant on the reader buying into the idea that music has a range of coercive powers. That it can seduce and persuade and delude. Me, and I was convinced at seventeen when a greasy-haired boy gave me my first mix-tape.