Legendary Melbourne-based band The Avalanches are returning with a new record – 16 years after their only major release. Their first album, 2000's Since I Left You, has been dubbed a modern classic. A joyous, witty and funky melange of more than 3,500 samples, taken from vinyl albums bought in op shops, it sold more than 600,000 copies and influenced a generation of musicians.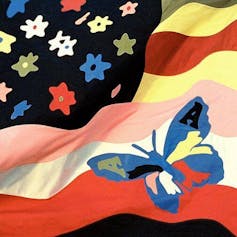 The Avalanches' brand of sample-saturated electronic music was unique in 2000. And their organisation as an enigmatic, amorphous collective challenged conventional ideas of what a band could be.
But they are reemerging to a world of pop music remade in their own image. Sixteen years on from Since I Left You, the music industry has transformed. It brims with samples, superproducers and music that's largely produced and consumed on computers.
The cut-up aesthetic that The Avalanches used so brilliantly in songs like the unforgettable Frontier Psychiatrist (with it's inimitable "That Boy Needs Therapy" line) can be seen all over the Internet, not just in music, but also in the form of memes and GIFs that re-purpose and re-contextualise older media in evocative or amusing ways. Sampling existing material has become one of the most common ways that people communicate online.
Last week, The Avalanches debuted their much anticipated new single, Frankie Sinatra. But the critical reaction was lukewarm. Some reviewers lamented that the song could have been released at any point since at least 2006.
Double J even published a story titled What to do if you don't like The Avalanches new track. ("You think that the track sounds like the Hilltop Hoods remixing the Cat Empire? You think that the song sounds as though it belongs in a cordial commercial?")
Frankie Sinatra includes big name vocal features (from Danny Brown and MF DOOM), something that is unique in The Avalanches' oeuvre, but completely conventional for pop music in 2016. The bands' fans are waiting to hear how it sounds in context of their second album, Wildflower, since the real beauty of their first one was how it held together as an hour of interwoven music and emotion.
Backpacks full of vinyl
In the late '90s The Avalanches were at the cutting edge. Sampling was already a well established staple of hip hop and house music, but the band (along with other musicians, like DJ Shadow) used samples in a more layered and sophisticated way. However, the process took a certain kind of dedication.
The Avalanches sang about this kind of dedication in 1997 (back when they still sang!) on the track Run DNA, a song about carrying obscure seven inch singles and secondhand sampling equipment in – what else? – a backpack.
Today it might sound insanely impractical to lug all that around, but before an infinite amount of music could be sampled and mixed using the phone in your back pocket, The Avalanches' found their samples by dropping the needle on dusty old vinyl.
The fragments of music were largely pieced together by founding members Robbie Chater and Darren Seltmann in the isolation of their individual bedroom studios without anyone so much as playing an instrument. However, The Avalanches were also a rock band that played live, at one point as a six-piece, which gave the project an impish energy.
A performance of Run DNA on ABC's Saturday morning Recovery shows how energetic they could be live: the band members fling op-shop records recklessly at each other, stomp on them and smash them against the floor. By the end, the stage is a battleground of vinyl fragments, an apt metaphor for what the band would be building from.
The lost art of the album
In the '90s, vinyl records were long dead, but still a decade away from their resurrection as a totem of hipster cred. However, the album as a discrete unit of music, a format that vinyl LPs had pioneered, was thriving on CDs.
With Since I left You, The Avalanches hoped to replicate the feel of classic records like Marvin Gaye's What's Going On and The Beach Boys' Surf's Up. Working with desktop computers and floppy discs in their bedroom studios, progress was slow, and their debut missed deadline after deadline.
When the album was finally released in 2000, it was just in time to catch the historical sales peak of both CDs and albums of any kind. Starting in 2001, file sharing, iTunes and streaming services would erode the album market to 70% less than that peak by 2013. The album format is key to the magic of Since I Left You, with songs and samples flowing into each other, like an ocean of forgotten music.
Over the years since the album, the band shed members and the remaining Avalanches, took on interesting projects. (In 2004 and 2006 they produced remixes for Belle and Sebastian, Wolfmother and Franz Ferdinand).
In 2014, Seltmann's wife revealed that he had not been in the band "for some time now", but when or why he left remains unclear.
Last weekend, The Avalanches played their first shows in about a decade at the Primavera festival in Spain, but there were only two Avalanches on stage: founding members Robbie Chater and Tony Di Blasi. James Dela Cruz had apparently rejoined the band, but passport problems have prevented him from leaving Australia.
The Primavera performances were essentially just two solo DJ sets. What The Avalanches sound like in 2016 still remains something of a mystery.
Wildflower will be released next month. Fans, no doubt, are hoping it will resemble something that didn't exist before 2000: an Avalanches record.