In some ways, it is sad news that David Dimbleby is to retire as the host of Question Time, after 25 years in the hot seat. Dimbleby has been an integral part of British political discourse which, at present, needs as many of the old guard as possible. This is because the old guard provide a much needed voice of experience.
Indeed, as British politics faces many of the same kind of debates as it did 25 years ago (conservative renewal; rise/fall of socialism; what role for a current or future centrist party), the voice of experience can provide useful insights into how events played out and how history can help inform the present. History always has much to teach the present.
Having said that, is Question Time really the best place for that voice?
The issue with Question Time over recent years has been the change in tone and presentation in how political figures are quizzed. Social media provides a forum for instant discussion on the arguments being made by politicians. This discussion is often highly derogatory and informed by pre-existing opinions of politicians as individuals rather than as public servants. It speaks to the broader issue of audiences approaching politicians with preconceptions on issues such as corruption (owed in part to the expenses crisis), and also competence and honesty. As a result, politicians appearing on Question Time often struggle to convince their audience about important topics. Their viewers are often unable – or unwilling – to look beyond their preconceptions of a politician's character.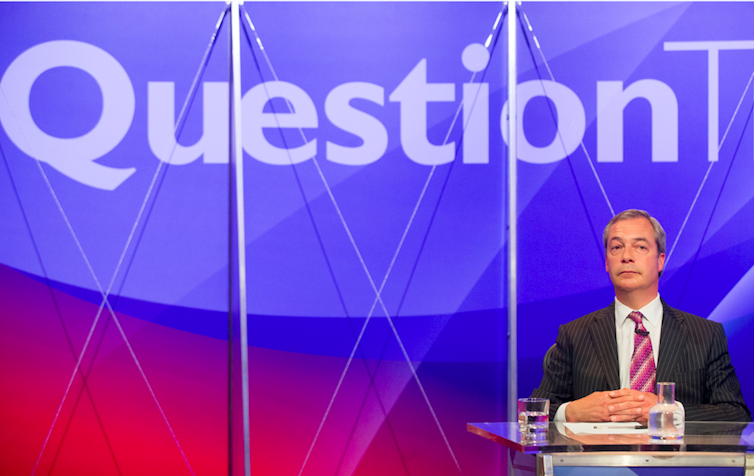 Question Time has also often been mocked for booking the same faces, such as former UKIP leader Nigel Farage. Some might see this as part of a pro-UKIP agenda but it's more likely that Farage is an easy booking for a show that demands regular participants. This suggests a degree of laziness on the part of the producers but it's also a symptom of another problem. Other potential guests have become resistant to facing an audience looking to attack them simply for being politicians.
Put simply, figures like Farage can work a crowd with their rhetoric while most politicians would simply not want to face an audience likely to be hostile for its own sake. The result is a programme that does little to serve the needs or quality of democratic discourse – indeed, it could be argued that it detracts from that quality by turning an opportunity to ask questions into a predictable circus that benefits few.
Predictable playbook
Rhetorically, the audience is treated as an angry yet innocent bystander that has been "wronged" by politicians. Consequently they feel a sense of righteous indignation at those politicians on the "other side" of the political spectrum. Therefore individual audience members aim for that golden moment where they can humiliate an opposing politician for a perceived injustice. The drama of the moment is then likely repeatedly tweeted using the hashtag #bbcqt, thereby gaining a degree of notoriety for the questioner. If the moment was particularly dramatic, it may even be covered by the national press. Viewers become fans of these moments, thereby creating a political class that is resistant to risk being a victim of such a moment.
Dimbleby's departure affords the BBC with an opportunity to look at the format of Question Time to address these longstanding issues. For example, it may be worth considering restructuring the programme into a 40 minute "long interview" followed by 20 minutes of audience questions. Such questions could be based on the answers given. This would provide a deeper form of questioning while providing a useful insight into a single politician's arguments. It would also require an informed audience that listens to the answers as well as the questions being put forward, rather than simply waiting for a gotcha moment. It would also reduce the issue of panel members speaking over each other.
An alternative approach could be to cancel Question Time entirely. At present the problems with the programme rest firmly in the format of the show. To simply continue with the existing approach of creating a forum for humiliating political figures only serves to create a climate where politicians are resistant to participating. This is unhealthy for democracy. The opportunity for change created by Dimbleby's departure must be seized upon.