A leader widely perceived as ideologically hidebound and out of touch is toppled by those within his own party at the second attempt, but big decisions about international climate policy are apparently already locked in ahead of an important global meeting. This happened yesterday and it happened in December 1991 too, when Paul Keating replaced Bob Hawke as Labor leader and prime minister.
The cases are perhaps only superficially similar, but there may be things to learn from the comparison.
The big international pressure for Keating was the upcoming meeting to sign a global climate convention. Pressure had been building since 1988, and formal negotiations had begun in early 1991. Keating was one of the few Western leaders who didn't go to the June 1992 Earth Summit in Rio de Janeiro at which the United Nations Framework Convention on Climate Change was signed, sending instead his environment minister, Ros Kelly.
Malcolm Turnbull, fresh from rolling Tony Abbott, may not be under much pressure to attend December's crunch climate talks in Paris. The French organisers, mindful of the Copenhagen debacle in 2009, only want leaders there for the first few days of the 12-day summit, rather than arriving towards the end as has become traditional.
Domestically, Keating inherited the Ecologically Sustainable Development process which Hawke had begun after the March 1990 federal election, as a way of drawing green groups into his consensus-based style of policy formation. Keating promptly kicked the ESD into the long grass, and the recommendations from business and environmental groups were ignored in the National Greenhouse Response Strategy agreed at the end of 1992.
Keating then almost went out of his way to alienate green groups, despite the fact that preferences of environmentally minded voters had given Labor vital seats in both the 1987 and 1990 elections.
He decided that the environment would not be a priority issue for the 1993 election, which he won. Before the 1996 election, environmental groups met with Labor. According to an interview with a participant conducted by UNSW visiting fellow Joan Staples:
Keating kept them "waiting for a couple of hours" and was "incredibly rude". The group was "lined up along a hugely long table in the cabinet room", and when Keating walked in he pointed at each representative saying, "Don't like you. Don't like you. Don't know who you are. Don't like you. She's alright."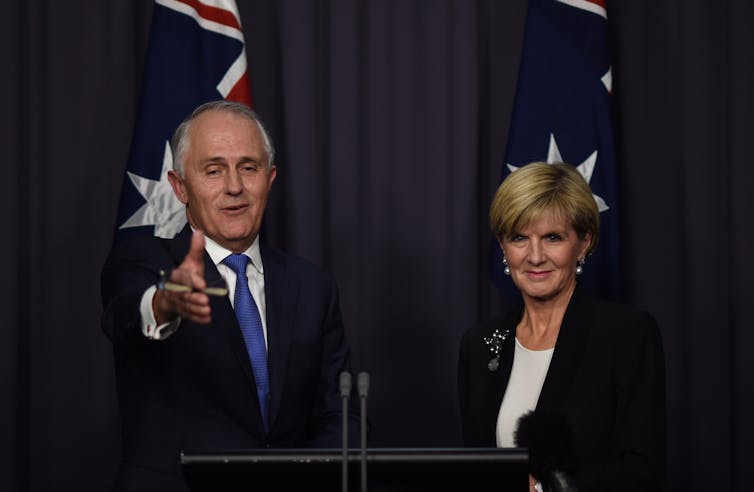 Asked about his policies on same-sex marriage and climate change at his post-spill media conference, Turnbull ignored (or, if we're being charitable, forgot) the first question and on the second said that there would not be any changes to the targets the Abbott government had already put forward.
Turnbull said:
Policies are reviewed and adapted all the time. But the climate policy is one that I think has been very well designed. That was a very, very good piece of work.
He was presumably referring to the taxpayer-funded Emissions Reduction Fund, introduced to replace the previous government's carbon pricing scheme. There was no hint of the man who wrote this in the Sydney Morning Herald shortly after he was deposed by Abbott in 2009:
…any suggestion that you can dramatically cut emissions without any cost is, to use a favourite term of Mr Abbott, "bullshit". Moreover he knows it. The whole argument for an emissions trading scheme as opposed to cutting emissions via a carbon tax or simply by regulation is that it is cheaper - in other words electricity prices will rise by less to achieve the same level of emission reductions.
Yet anyone expecting swift or radical action from Turnbull on either the introduction of an emissions trading scheme (the support for which cost him his previous leadership), stiffer targets ahead of Paris, or support for renewables should realise that Turnbull is regarded as a "warmist" by many in his party, and will have to tread very carefully indeed.
The state of economic thought
The Hawke-Keating governments of the 1980s liberalised the economy, floating the dollar and reducing and then eliminating tariffs in the name of competitiveness and economic rationalism, or as some call it, market fundamentalism.
One tenet of this is that governments can't be allowed to "pick winners", and this dilemma is on display in Turnbull's post-spill speech.
His comments that "we have to recognise that the disruption we see, driven by technology … is our friend" and that there has "never been a more exciting time to be alive than today" could be perceived as signalling support for the renewable energy industry, which is crying out for policy certainty after years of debate over targets, subsidies and commissions.
However, this came immediately after he promised to lead a "thoroughly liberal government, committed to freedom, the individual and the market" - and presumably, by extension, a "small" state. The "Entrepreneurial State" of which the economist Marianna Mazzacato writes is unlikely to make an appearance.
How this tension plays out is only partly in Turnbull's hands, especially if he intends to follow through on his call for collegial and consensual cabinet decisions.
History doesn't repeat, but she does rhyme
In 1991, when Keating toppled Hawke, the atmospheric concentration of carbon dioxide was a little over the 350 parts per million that NASA's James Hansen thinks we should be aiming for.
Since then, climate has become a life-and-death matter for leaders of Australia's two main political parties. Former prime minister John Howard was unable to hold off Kevin Rudd and his "greatest moral challenge". Turnbull was unable to hold off Abbott over emissions trading.
Rudd's decision not to call a double-dissolution election over his Carbon Pollution Reduction Scheme led indirectly to his defeat by Gillard. Gillard's passing of the Clean Energy Future package in 2011 gave her no popularity bounce, leaving her vulnerable in 2013 to attacks on the "carbon tax". And Peter Dutton's "boomgate" comment about Pacific sea-level rise may even have been the starting gun for Turnbull's coup. Climate change shifts political climates, as well as actual ones.
It's not hard to appreciate why. Atmospheric carbon dioxide is now sitting at just over 400 ppm. Keating was able basically to ignore the issue. Turnbull, even if he wanted to, will not have that luxury.