Year 12 exams are in full swing and we are getting almost daily reminders from the media that young people need to think and plan beyond their final days in the classroom.
Even the premier of New South Wales, Mike Baird, has chimed in with his advice to students.
But a focus on exams, ATARs and university offers provides a skewed image of what it means to finish high school.
Less than half of young people finishing school go on to university in Australia. Yet the focus of many of our media and public conversations tends to reinforce university as the gold standard that all young people should strive for.
This is further reinforced by government targets to increase the number of 25 to 34-year-olds completing a bachelor degree or higher to 40% by 2025.
But university isn't the only option. Neither is it the best option for everyone.
This year alone more than 290,000 young Australians aged 15 to 24 were unemployed. So what can be done to support them?
We need to focus on improving careers advice for young people in schools to help them make informed decisions about their future careers.
Careers education in schools
In a labour market context that is increasingly unforgiving to low-skilled young people, the role of career advisers and supportive teachers in schools is crucial.
Career advisers work with young people with diverse backgrounds, varying dreams and ambitions and are often under pressure from systems and school leadership who prioritise certain types of career education activities.
Career advisers are increasingly under-resourced, with research from the Career Industry Council of Australia (CICA) showing that one in three career practitioners is provided with less than $1,000 annually to undertake career development activities across their entire school.
This equates to half of schools with a population of over 1,000 students having less than $3 per student to spend on career education.
As CICA has highlighted:
"Preparing young Australians for an ever-changing workforce is a growing challenge, particularly when career practitioners are under-resourced and under-funded."
The research shows that career advisers in schools are largely female (80%), over 45 years of age (77%), and more than half (52%) work part-time. The age and working profile of these practitioners can have implications for sustainability and continuity of quality provision in schools.
Current approaches to careers education not perceived as useful
Government data shows there is a decline in the perceived usefulness of current approaches to careers advice in school.
Less than a third of Victorian school completers surveyed in 2014 indicated that their career advice was very useful. This was down from 44.4% in 2010.
There has been a steady increase in the number of school completers attending university information sessions and attending presentations by employers, but a decline in students attending taster sessions and presentations by TAFE.
This is consistent with research in NSW which shows there is stronger focus on university courses compared with vocational courses and jobs.
Research from teachers working in VET in Schools programs also indicates a preferential focus in schools on university pathways rather than vocational pathways.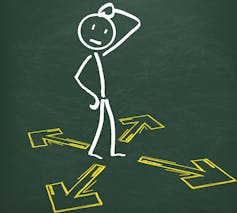 What could we be doing better?
So what can schools do in response to this dynamic and changing landscape to support young people moving from school?
Research from The Smith Family – a charity helping disadvantaged Australian children get the most out of their education – highlights three main ways that recent changes to the Australian economy have been problematic for young people:
A growth in employment in new industries which do not have well-developed career structures means there are not clear pathways to secure employment.
A decline in traditional entry-level jobs for young people has generated greater need for post-school education and training.
Changing recruitment practices among large organisations have led to a focus on a broad set of employability skills that young people may have difficulty developing through school.
As industries and occupations rapidly change and evolve, students and their families need explicit information about the education and training pathways that maximise post-school options and mobility. Engaging with parents and building their capacity to support the career pathways of their children is a particularly challenging task for schools.
Careers education needs to be established early in all schools to introduce students to technical and vocational education pathways as an equal option alongside higher education.
Despite the evident collapse of the youth labour market, there is often confusion or a lack of awareness of the severity of this decline among some families.
There have also been some problematic mixed messages from government regarding the role of school in paving a direct pathway to work.
Many young people may be developing a set of important employability skills through part-time work while at school. But they may not be aware of the value of these skills to future employers and may not know how to sell their skills set when applying for work.
For example, students may have skills (e.g. IT skills, presentation skills, accounting skills) – gained both within and beyond school, which they may not reflexively frame and describe as skills.
Schools need to see the value careers education has in supporting students in developing the skills to navigate the youth labour market.