Haiti is still reeling from the damage wrought by Hurricane Matthew. The UN has estimated that 750,000 people have been affected by the Category 4 storm that devastated the country's southern regions on October 4. It's believed there are 175,000 people without shelter; there are also reports of those who have lost their homes taking shelter in caves.
The recovery is already underway, and a significant part of that effort will focus on women, who are always at greatest risk in emergency situations.
The conditions following the hurricane remind us of our work in Haiti from 2011 to 2013. We visited the country as part of a research team studying gender-based violence against internally displaced women following the 2010 earthquake.
Violence against women in Haiti
We interviewed 200 displaced women living in tent cities and camps following the earthquake. We found that experiences of gender-based violence were extremely high for these women, both before and after the earthquake – 71% had experienced violence before and 75% experienced violence in its aftermath.
These figures presented two surprises: first, we found that gender-based violence prior to the earthquake was considerably higher than was previously thought. Second, there was no significant difference in prevalence before or after the earthquake.
In other words, violence against women is common in Haiti regardless of the situation. Our studies showed that the perpetrators were primarily intimate partners, not strangers capitalising on a chaotic and lawless time for the country – as was reported anecdotally in the aftermath of the earthquake.
Instead, it was the same intimate partners and ex-partners who abused women both before and after the disaster.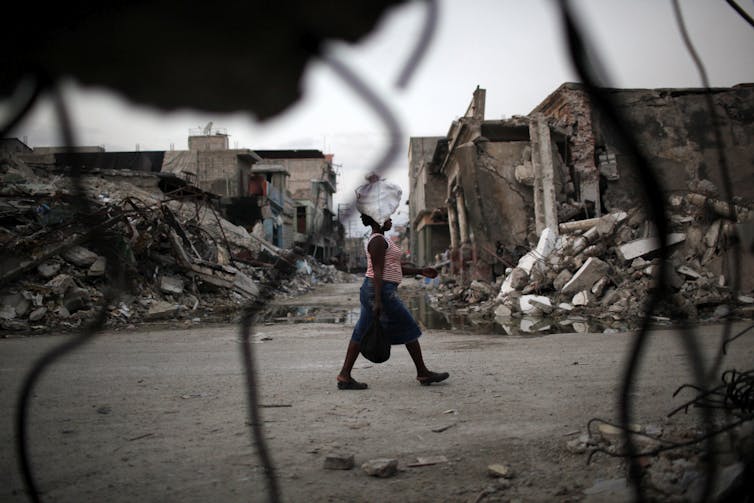 Why is violence against women so common?
The high proportion of women who reported abuse may be related to the low levels of education we found among our sample: 11% of the women we interviewed had never attended school, 38% reported education up to eighth grade level; 43% had not reached high school. In all, only 3.8% were high school graduates.
We also found a 90% rate of unemployment. Both employment status and education level have been found to be associated with intimate partner violence globally.
Higher rates of violence against women are also associated with women having lower status within society, and rigid masculinity norms about male-female relationships.
Although the majority of the women in this study – in both the abused and non-abused groups – did not express a personal tolerance for abuse, there were still higher percentages of women who did so than in other regions, for example the Virgin Islands and the US.
The women in the Haiti sample indicated tolerance for abuse at the following rates: female infidelity (35% of abused women to 23% of non-abused); female disobedience (33% to 22%); belief that it is important for a man to show his wife or girlfriend that he is the boss (62% to 55%).
Symptoms among abuse victims
We found high rates of post-traumatic stress disorder (PTSD) among victims of intimate partner violence. This finding has been reported in numerous other studies globally, but this was the first time it was reported in Haiti.
Although some instances of PTSD may have been a result of the earthquake, we found symptoms significantly more frequently among abused women, and they were more severe. In these cases, the trauma related directly to the severity and frequency of intimate partner violence, rather than the earthquake.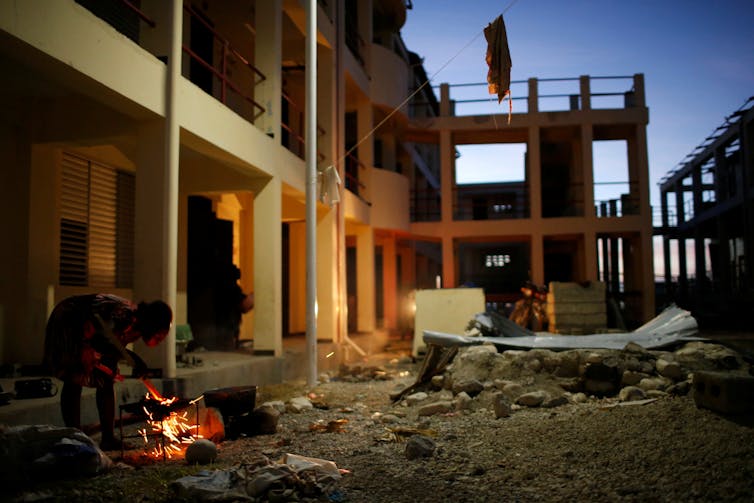 Perceived physical health was low for all women in this sample, but abused women perceived their mental and physical health to be worse than non-abused women, both before and after the 2010 earthquake.
Abused women suffered depression, chronic stress, suicidal behaviour, central nervous system symptoms, face and head injuries, traumatic brain injuries, and gastrointestinal and gynaecological problems. These symptoms have also been associated with abuse in other studies.
What we can do
In a situation where women who are already suffering violence at the hands of their partners are affected by a natural disaster, what should we do?
Collaborating with our Haitian partners, we put together a programme to protect women left homeless after the 2010 earthquake from violence. KOFAVIV, the Commission of Women Victims for Victims, provided clinics and shelter for women, and assisted us in implementing a very successful safety intervention programme for a group of women who had experienced intimate partner violence and abuse. Our results will be published in a forthcoming study.
We collected data on 68 adult Haitian women, monitoring their health before, during and after our intervention. These women had participated in our initial survey and indicated interest in participating in a follow-up safety education and training program.
The women participated in three small group sessions over a three-week period. Discussions helped them recognise types of violence and abuse, understand how and why it happens, and to know that they did not cause it. They learned how to stay safe in a violent or abusive relationship including how to stay safe while still living in camps or temporary housing.
Each woman was helped to develop a safety plan. They learned about the health consequences of abuse and its effects on children, as well as the recovery process and resources available for help.
For women who had taken part in the programme, we found statistically significant decreases in PTSD, depression and the amount of violence they experienced three months later. We also observed a significant increase in physical quality of life after the intervention. Sadly, there was no statistically significant increase in mental quality of life.
The intervention also helped prevent further violence. Before, 73.5% of the women reported emotional or physical abuse; only 10.3% reported abuse after three months. Similarly, 41.2% reported sexual abuse before the intervention; this fell to 10.3%.
Short-term interventions may benefit not only women, but also their children, who may have symptoms of traumatic stress, often from witnessing domestic violence.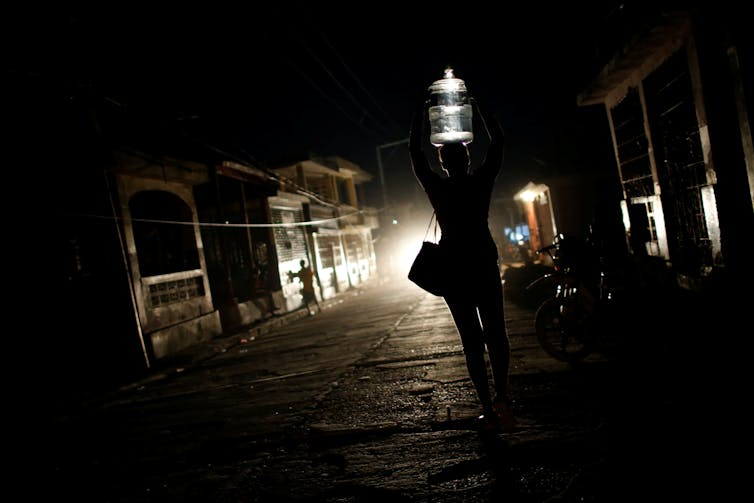 Helping women after Hurricane Matthew
After this latest disaster, it is essential for health-care providers to foster trust, confidence, respect and healing during relief programmes in Haiti. Plans to address gender-based violence should be integrated into humanitarian and emergency relief guidelines.
Balanced health care for women after natural disasters should include sensitivity to the abusive and traumatic experiences that many have already suffered, including attention to privacy and security during sensitive examinations and treatments.
Effective communication between aid groups, and resource sharing could improve health care for abused women after Hurricane Matthew. One of the reasons our intervention was so successful after the earthquake was that it was implemented by trusted Haitian personnel in a supportive environment. A similar approach will be needed following Haiti's latest natural disaster.
The authors would like to acknowledge the contributions of Annie Lewis-O'Conner, Elizabeth Sloand, Cheryl Killion, Nancy Glass, Nicole Cesar Muller, Gloria Callwood, Mona Hassan and Faye Gary.