Mariano Rajoy, the prime minister of Spain, has called a potentially explosive regional election in Catalonia on December 21. This follows his decision to trigger Article 155 of the Spanish constitution to impose direct rule over Catalonia, dissolving its parliament in the process.
Catalan leaders rejected the validity of this move and, by association, the election itself. They argue that Madrid has no right to intervene in their declaration of independence from Spain in the wake of a disputed referendum on October 1.
Rajoy's gamble
Rajoy's decision to send Catalan voters back to the polls is not without risk. His own political fate is now inextricably linked to the Catalan standoff.
He may have calculated that in calling an election, he is presenting supporters of independence with a dilemma. If they participate in the vote, are they tacitly acknowledging his right to trigger Article 155 in the first place? Just as those opposed to Catalan independence chose to boycott the unofficial referendum on the grounds that their participation would lend it further legitimacy, some pro-independence activists may similarly wish to stay at home on December 21. Splits within the Catalan independence camp will be worth looking out for in the run up to the election.
Rajoy must also be carrying out a risk assessment. A clear majority for pro-independence parties in December would perhaps make his position untenable. Alternatively, his authority will be reinforced should those parties opposed to independence emerge victorious.
Now ousted Catalan president Carles Puigdemont's centre-right Catalan European Democratic Party (PDeCAT) and former deputy president Oriol Junqueras's Republican Left (ERC) have, for now, indicated that they will take part in the election. However, Puigdemont's parliamentary majority also depended on support from ten representatives of the far-left, anti-capitalist Popular Unity Candidacy (CUP). The CUP has been uncompromising in its support of independence and it has played an influential role in ensuring that Puigdemont was not tempted to backslide towards a more pragmatic stance on the matter by entering into negotiations with Madrid.
The CUP also played a key role in forcing the resignation of Artur Mas, Puigdemont's predecessor as president. Given its rejection of the central government's authority, it is by no means certain that the CUP will put forward candidates for the December elections.
One of the central government's concerns is that the shift towards independence witnessed in Catalonia since 2012 has served to weaken the more moderate, centre-right PDeCAT. The party dominated Catalan regional politics for the greater part of four decades. Seeking to retain popularity during a time of severe austerity and corruption scandals, the PDeCAT has found the reductionist narrative of Madrid "robbing" Catalonia politically useful.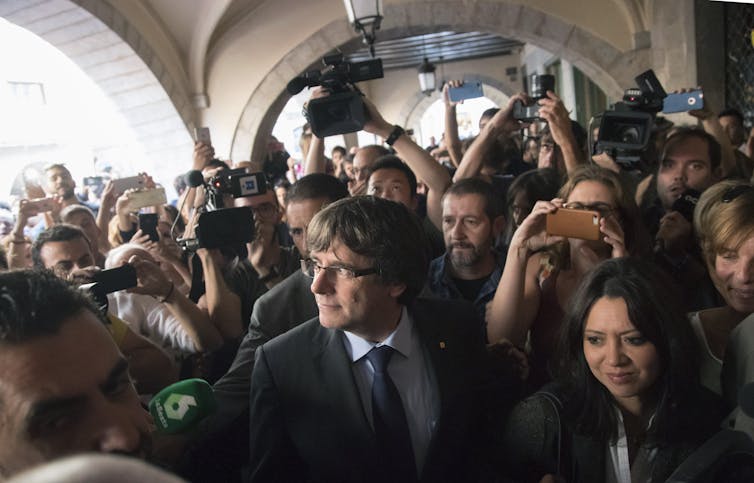 Nevertheless, the PDeCAT has struggled with the dilemmas inherent in its belated adoption of a pro-independence stance. Prior to its shift towards advocating outright independence in 2012, the party, in its previous incarnation as Convergence and Union (CiU), found a subtler approach towards Madrid to be more productive. It may fear that elements within its middle-class support base will be horrified by the current crisis.
Around 1,000 companies are moving their headquarters out of Catalonia amid the recent instability, which may also further dent support for the avowedly pro-business PDeCAT. It's possible that its radical left bedfellows the ERC will emerge as the dominant pro-independence force in the December election.
The pro-Spain camp
The parties in favour of Catalonia remaining within Spain are confronting their own set of dilemmas. Rajoy's Popular Party (PP) has always struggled in Catalonia, where moderate, centre-right voters have instead been drawn to the CiU/PDeCAT. The Catalan branch of the Socialist Party, the PSC, has experienced its own quandaries on the issue of independence.
And Podemos leader Pablo Iglesias has recently had to admonish leading figures within the Catalan incarnation of his party for flouting the agreed party line by unambiguously supporting independence. Podemos supports Catalalonia's right to hold a legal referendum but does not want it to break away from Spain. Iglesias did not back Puigdemont's unilateral declaration of independence and has called for further dialogue between the two sides. He is in a difficult position in that his party may lose support in the region to the unambiguously pro-independence CUP, whose clarity on the issue throws into relief the uncomfortable hedging which has characterised Podemos's position.
Albert Rivera's centre-right Ciutadans (Citizens), whose raison d'être is opposition to Catalan independence, has the luxury of an unambiguous stance on the issue and may be well-placed to do well in December.
Keeping it calm
It is to be hoped that the election campaign will be a peaceful one. Madrid is at least aware that repeating the scenes of police violence which marred the October referendum would play into the hands of Puigdemont and attract yet more international consternation.
Whatever the result of the election, though, it's unlikely to put an end to Spain's worst political crisis in four decades. For that, what may be needed is reform of Catalonia's Autonomy Statute, which may enable Catalonia to obtain a more favourable financial settlement akin to that enjoyed by the Basque Country. An imaginative re-writing of the 1978 constitution may even be necessary. Only then can Catalan grievances be addressed and some degree of normality be re-established.