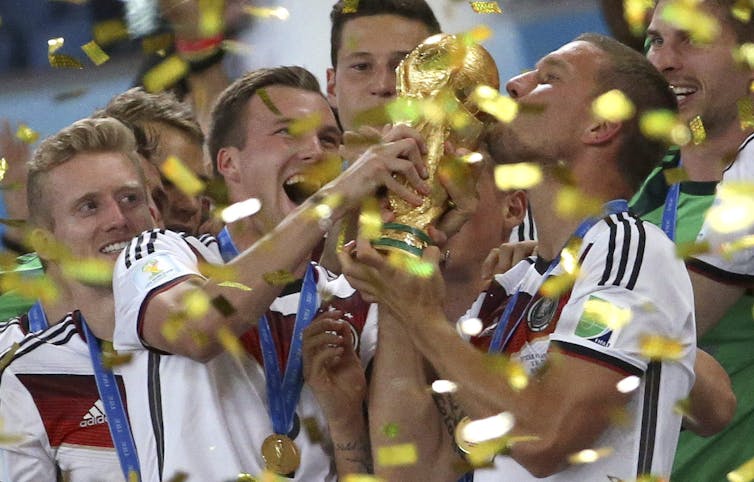 This has been a remarkable World Cup for those interested in the analysis of performance. There has been an enormous growth in the data available in football since the last World Cup in South Africa.
The FIFA website has provided real-time and lapsed-time data for each game. I have been looking closely at the official match reports of each of the 64 games in the tournament. The website has other data for each game that includes estimates of the distances covered by each player. I think these data will nourish a lot of secondary data analysis in months to come.
When I have not been immersed in data, I have enjoyed in particular:
I have been following a small number of Twitter accounts during the World Cup. I have enjoyed the information shared by Simon Gleave and Infostrada. I have looked forward to their momentum waves for each game. This is their visualisation of the final:
I have been distracted by the #WorldCup tweets too. These have been a great source of images of the World Cup and a quantum leap from the 2010 World Cup in South Africa:
The World Cup was won by the highest Elo Ratings team remaining in the tournament. I have been tracking performance against ranking for some time and saw this outcome as most likely after Germany defeated Brazil.
The use of performance data will grow after this tournament. The next four years will see a fascination with knowledge discovery in databases. I am hopeful that this activity will stimulate attacking play and that we will see even more goals than the 171 in this tournament.