Amnesty International's recent publication of a draft policy recommending the decriminalisation of sex work has been received positively by sex workers, advocates, researchers and many feminists, academics, medical experts and human rights groups.
The policy is based on the principle of harm reduction. It is a considered response based on the experience of Amnesty International and other human rights agencies, and on a growing field of social science research. It argues that sex work occurs in a wider social, economic and cultural context and that the criminalisation of consensual adult sex work does not prevent violence. Instead, it exacerbates it.
The draft policy is being debated this week at Amnesty International's International Council Meeting in Dublin.
Opposition to the policy has come from vocal anti-sex work groups, led by the Coalition Against Trafficking of Women (CATW), which has an ideological opposition to sex work in all forms. It believes that sex work is violence against women and therefore cannot be consented to under any circumstances. Because of this, it advocates for the criminalisation of sex work.
In Sweden in the late 1990s, CATW and other radical feminist groups had significant influence in the development of a series of laws that criminalised the purchase of sex work. CATW advocates this approach, called the Nordic Model, as promoting gender equality and protecting sex workers who they believe are victims.
However, this is an ideological position, which is not supported by the bulk of sociological and criminological research.
Amnesty International's draft policy is a good one
Research has consistently shown that the greatest harms experienced by sex workers occur through, and because of, criminalisation. Criminalising sex work makes sex workers more vulnerable to exploitation and abuse. It also makes it difficult for them to leave the industry, if they so wish.
Research also demonstrates that the criminalisation of any aspect of consensual sex work – including through the Nordic Model – increases sex work stigma. This contributes to a cycle of abuse and discrimination against sex workers.
Far from assisting sex workers, these policy approaches instead increase harm, violence and abuse, and entrench sex workers in the industry. Jurisdictions that have decriminalised sex work, such as New Zealand, have demonstrated through rigorous review and research that this approach results in greater safety and human rights promotion for sex workers.
From this perspective, it is clear why Amnesty International, the United Nations and the World Health Organisation have all, in recent years, come to the conclusion that in order to effectively promote the human rights and safety of all sex workers, legal frameworks need to stop criminalising consensual sex work.
The problem with sex work celebrity advocacy
Anti-trafficking organisations have been successful in garnering celebrity endorsement, with sometimes disastrous consequences for rational debate.
In 2011, when actors Ashton Kutcher and Demi Moore's use of unreliable statistics in an anti-sex-trafficking campaign was exposed, it led to a nasty Twitter war. Actor Mira Sorvino subsequently heckled respected anthropologist and sex work researcher Laura Agustin at a BBC trafficking debate as a holocaust denier for presenting research that supported sex workers.
In the past fortnight, the vocal intrusion into the debate by anti-sex-work celebrities – including Lena Dunham, Meryl Streep, Kate Winslet, Anne Hathaway, Emily Blunt and Emma Thompson – demonstrates the dangers of celebrity advocacy. These interventions promote misunderstanding of the sex industry and serve to further stigmatise, marginalise and disempower sex workers as victims requiring "rescuing".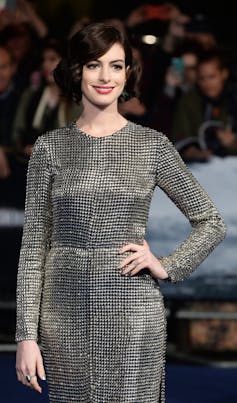 We can readily sympathise with these celebrities, and others who unknowingly advocate similar perspectives. The "tragedy-porn" stories of victimised sex workers offered by organisations such as CATW are appealing in their simplicity. When sex workers are painted as suffering victims, to be saved by the goodwill and intervention of these organisations, and to be protected by laws that criminalise sex work, it presents a compelling narrative. It also presents a black-and-white, good-versus-evil picture of sex work.
However, this is a picture that removes the messiness and complication of real people and real lives. And that is only possible if we ignore the voices of sex workers and sex work researchers.
This is not to deny the existence of harms within sex work and experienced by sex workers, including rape, violence, abuse and harassment. But as Victoria's Royal Commission into Family Violence demonstrates, there is a broader – often gendered – context to violence. In the case of sex work, laws that criminalise and increase stigma contribute to a culture in which violence, abuse and discrimination are accepted, and reporting and prevention of this violence are made difficult.
This is not to argue that celebrities cannot or should not participate in advocacy or advance a cause. But celebrity participation should not come at the expense of experts and those with lived experience (sex workers), and it should come with the expectation of informed opinion. That Amnesty International's draft policy received little media attention before the celebrity bandwagon started should be cause for concern.