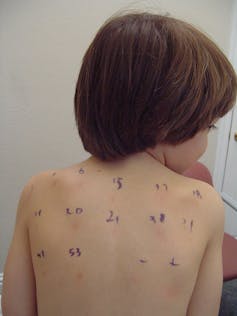 At last, some good news for allergy sufferers: certain allergies have been linked to a reduced risk of cancer, according to new research from Denmark.
Previous studies have examined the possible links between cancer and irritants like dust mites and pollen but this research marks the first study of cancer rates and contact allergens like nickel and certain metals.
In a paper published in the journal BMJ Open, the researchers examined allergy patch test results of 17,000 Danish adults collected between 1984 and 2008.
By comparing the results with a nationwide cancer register, the researchers found contact allergy sufferers of both sexes had significantly lower rates of breast and non-melanoma skin cancer and that the women had lower rates of brain cancer.
"The inverse associations support the immunosurveillance hypothesis (ie, individuals with an allergy are less likely to get cancer due to a triggered immune system)," the researchers said, but admitted that they were unable to prove that contact allergies caused lower rates of cancer.
Professor Ian Olver, Clinical Professor of Oncology at Cancer Council Australia, said the research should been seen as a jumping off point for further study.
"This is definitely new for contact allergies. It's a scientific interest in the sense that it's a new finding but I think it's a preliminary finding that suggests a further line of research," he said.
"The authors believe it adds a bit more weight to the immunosurveillance hypothesis – that is, that the immune system is constantly looking out for the development of cancer. But a lot more work would have to be done to find out if there is a causal link."