In Australia, one woman is killed almost every week by a current or former partner. By now, these horrifying murders are all too familiar. But they are just a small part of the bigger story.
Hundreds of thousands more women are physically and psychologically harmed by men's violence, threats and controlling behaviour. Many suffer long-term trauma and harm to their health, well-being and life chances. Many live in fear.
But violence against women is not inevitable. Rather, it is driven by a series of complex and entrenched but changeable social and environmental factors.
In other words, violence against women is preventable. We can change this story. A new framework shows how.
The world's first national framework to focus on preventing violence against women was launched this week. Change the Story: A shared framework for the primary prevention of violence against women and their children in Australia was developed by Our Watch, the Victorian Health Promotion Foundation and Australia's National Research Organisation for Women's Safety.
What is the framework based on?
Change the Story draws upon the latest international evidence on what drives violence against women and what works to prevent it. Its development included consultations with over 400 stakeholders across Australia. It uses this research and practice expertise to demonstrate how, by working together, we can create an Australia where women live free from violence.
Although violence against women has no single cause, Change the Story points to substantial evidence that higher levels of violence against women are consistently associated with lower levels of gender equality in both public life and personal relationships. For example, a major study found that higher gender inequality predicted higher levels of intimate partner violence across 44 countries.
Within this broader context, Change the Story identifies four specific, gendered drivers of this violence:
condoning violence, particularly by excusing or trivialising it, or "blaming the victim";

men's control of decision-making, and limits to women's independence in public life and relationships;

rigid gender roles and stereotyped constructions of masculinity and femininity; and

male peer relations that emphasise aggression and disrespect towards women.
To illustrate the last two, there is a particularly clear relationship between violence and the dominant, aggressive and controlling characteristics associated with stereotypical ideas of masculinity, which are expressed in some male peer relations. In Australia, 95% of victims, women and men, experience violence from a male perpetrator.
We can't ignore the bigger picture
The framework makes it clear we can't just focus on the violence itself; we must change the bigger story behind it. We must challenge the social, political and economic structures, practices and systems that created gender inequality, and the beliefs, attitudes and behaviours that continue to support and normalise it.
Change the Story outlines a range of supporting actions that can be taken to address various "reinforcing factors". These range from alcohol used in ways that weaken people's positive behaviours, to exposure to, or normalisation and valorisation of, other kinds of violence in society.
The framework provides evidence-based guidance to government, organisations and communities. It outlines a strategic approach to achieve effective leadership, co-ordination, resourcing and support for violence-prevention efforts across Australia.
It calls for complementary initiatives that engage people throughout their lives and where they live, work, learn, socialise and play. These include schools and other education institutions, sporting, social and leisure spaces, workplaces, the media, popular culture, advertising and entertainment, faith-based contexts and transport and public spaces.
What practical steps can be taken?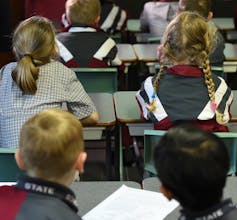 Change the Story points out that prevention activities should reinforce each other. For example, best-practice respectful relationships education programs involve the whole school. These engage not just students, but teachers, staff and the wider school community in conversations about gender equality, respect and non-violence.
School activities can then be reinforced by other programs, such as through sporting clubs or social media. Similarly, adults should be engaged in multiple ways – in workplaces, communities and social spaces. Our media, popular culture, policy and legislation should all support and reinforce the aim of gender equality.
This kind of consistent, comprehensive approach, which reaches and engages everyone, is needed to prevent violence against women in Australia.
At the same time, a one-size-fits-all approach is unlikely to be effective; prevention must be tailored to the diverse contexts of people's lives. Greater effort and resources are required for groups affected by multiple forms of discrimination and disadvantage, or experiencing the cumulative impact of many negative factors – for example, Aboriginal and Torres Strait Islander people.
Small steps can make a big difference. If we reduced the prevalence of intimate partner violence in Australia (affecting 27% of women across their lifetime) to that of Denmark (22%), this small reduction would prevent 6000 cases of violence-related injury, illness and disability. It would also save many millions of dollars in health sector and productivity costs.
With Change the Story, Australia is poised to lead the world by demonstrating the kind of nationwide, cultural and structural change necessary to forever change the story of violence against women.
---
This article has been co-authored by Dr Emma Partridge, Co-ordinator, National Framework to Prevent Violence Against Women and their Children, at Our Watch, and Dr Lara Fergus, Director, Policy and Evaluation, at Our Watch.
The National Sexual Assault, Family & Domestic Violence Counselling Line – 1800 RESPECT (1800 737 732) – is available 24 hours a day, seven days a week for any Australian who has experienced, or is at risk of, family and domestic violence and/or sexual assault. Or you can go online to 1800RESPECT and Our Watch.