With the collapse of Islamic State's (IS) "caliphate" in Iraq and Syria, it is time to think about the next steps for those who have suffered under them. In particular, the children who have been born as a result of sexual violence perpetrated by IS fighters.
The precise number of children born within IS as a result of this violence is difficult to establish. But in March 2016 it was estimated that there were 31,000 pregnant women living within the caliphate. While the circumstances surrounding these pregnancies is unclear, a recent report on the use of sexual slavery within IS highlighted an economic dimension. This includes the payment of an additional US$35 for each child born to a woman held as a sex slave.
These children suffer unique challenges. They are issued birth certificates, but as Islamic State is a non-state actor, they are effectively stateless. Indoctrinated with extreme ideology from birth, current IS fighters consider these children to be potentially better and more lethal fighters due to the normalisation of violence.
These factors pose significant challenges for children who escape IS. These children lack a recognised nationality, bringing problems such as discrimination and lack of access to education and healthcare. They are also often viewed as a threat to security. Rather than being recognised as victims in need of support, children of IS are frequently seen as "guilty by association". When entering a refugee camp north of Raqqa in May 2017, some of these children and their mothers were labelled "the Daeshis", meaning Islamic State families, and shunned by others in the camp.
Further, children born of sexual violence in conflict, which includes children of IS, exist in what the the Secretary-General on Sexual Violence in Conflict has previously termed an "accountability gap". While children born of sexual violence have been recognised as victims eligible for reparations as a result of truth commissions or national legislation in places such as Timor Leste, Chile, Peru and Sierra Leone, there are often strict criteria such as the mother being single. Further, these children have been neglected within the criminal justice processes developed in response to mass atrocities.
So, how should the international community respond? My tentative answer contains two elements. Firstly, the international community has a role to play in helping these children rebuild their lives. Secondly, consideration should be given to how the International Criminal Court (ICC), which integrates retributive and reparative justice mechanisms, can hold IS members responsible for sexual violence and recognise children born of this violence as victims entitled to reparations.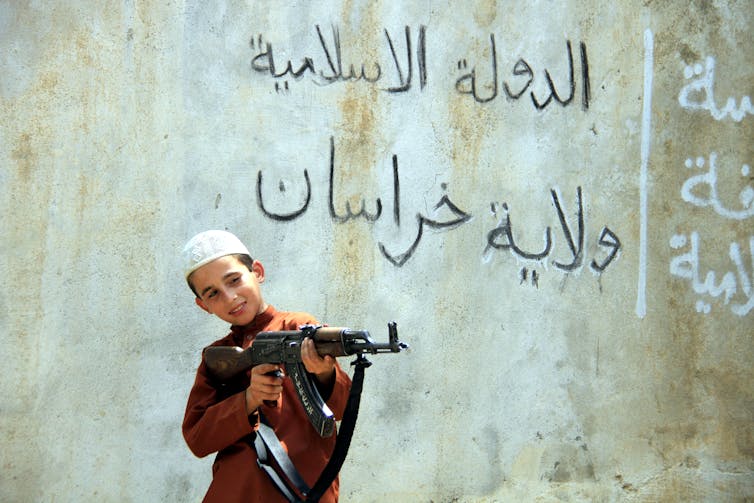 Rebuilding lives
Firstly, these children will require legitimate documentation. Governments should therefore respond to calls by the United Nations to grant citizenship to children born under IS. Some cases may be complex. There may be cases where the child is born of one or two foreign parents; where the mother's home country enforces discriminatory laws denying women the right to transmit their nationality to their children; or where the child is orphaned. The international community must establish cooperation and coordination mechanisms to deal with such cases and ensure the best interests of the child are respected.
Support networks should also be established to coordinate integration into communities and entry into the education systems of national states.
Combating stigma of children born of war is key. Governments should adopt national stigma strategies with specific programmes to support mothers and children born from sexual violence, as recommended in the UK's new principles on this subject.
Criminal prosecution
Then, in order to close the accountability gap, it is imperative that IS members responsible for crimes of sexual violence are prosecuted and that children born of this violence are recognised as victims. While it has been reported that some IS members have been tried in domestic courts, the ICC has yet to play a role.
The UN has recently called for the ICC to exercise its jurisdiction with respect to crimes committed by IS in Iraq. But of course, prosecuting IS for international crimes raises a host of challenges, including jurisdictional issues and lack of precedence.
Should members ever face prosecution at the ICC, children born of sexual violence may be captured within the definition of forced pregnancy, an international crime for which individuals can be held criminally responsible under the Rome Statute. But the main element of this crime is confinement of the mother, rather than the recognition of sexual violence that has resulted in the pregnancy and birth of a child.
Indeed, there is no specific crime of fathering a child through sexual violence. This gap in the legal framework has been identified by international criminal legal experts Patricia Seller and Maxine Marcus as something for future jurisprudence at international criminal tribunals.
Developments at the ICC
Despite the lack of formal recognition of children born of sexual violence in current legal frameworks, such children have featured in cases at the ICC.
For instance, in the ongoing case against Dominic Ongwen, who was charged with forced pregnancy, amongst other crimes in March 2016, ICC chief prosecutor, Fatou Bensouda, drew attention to "a whole category of other victims: the children born in captivity resulting from these forced marriages, who sometimes face hostility and taunts as a result of their parentage".
Bensouda's statement suggests that attention will be paid to children born of sexual violence within this case, perhaps at the reparations stage, where the harms suffered by these children could be addressed.
There are of course limits to international criminal prosecutions. But it is encouraging to see that, should IS fighters ever face trial, jurisprudence is being developed which may allow children born under their reign to be recognised within the process.
Children born under IS raise a host legal and social issues that require a sensitive and coordinated response from the international community. Rather than being punished for the life they have been born into, the cloak of stigma and suspicion surrounding these children should be removed – and they should be supported in moving forward with their lives.