Graphic pictures of South African police firing at striking black workers protesting for a living wage at the Lonmin platinum mine last week is a tragic reminder of Africa's neo-colonial past, that never really went away.
Lonmin is a British company with major shareholders including the giant Swiss-based Xstrata mining. This event is deeply saddening since the recent rediscovery of the richness of Africa's resources presents the best opportunity to escape the desperate poverty, unemployment and inequality afflicting the continent since the end of colonialism.
There are indications of both real economic growth (sub-Saharan Africa is projected to grow 5.1% in 2012) and improving security across the continent, but these fragile developments will fail if they are not carefully nurtured in order that sustainable economies can emerge.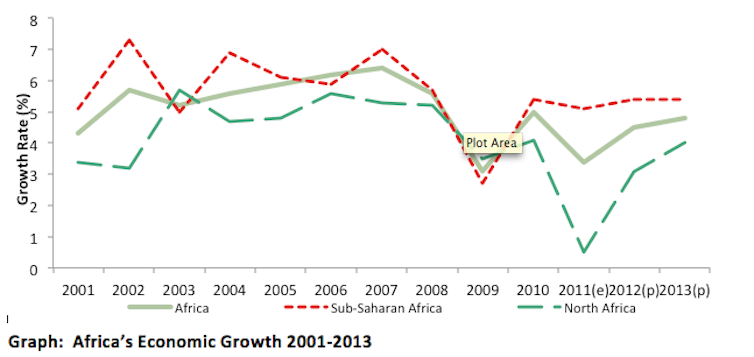 The struggles to banish corruption and secure democratic participation in African governments as an essential prerequisite for economic progress is well documented.
But there is less attention paid to the influence of the multinational corporations investing in Africa's new resources industries.
Originally these came from Europe, then America, Russia, and now China. While it might have been hoped that Chinese corporations would exercise greater care in their investments in Africa, evidence is emerging that the Chinese corporations are even more exploitative than their predecessors.
According to researchers Philippe Gugler and Bertram Boie, unlike other multinationals which are "mostly market-seeking, resource-seeking, strategic asset seeking and efficiency-seeking," the largest outward investments by Chinese multinationals are by state owned corporations with different motivations: "It is the PRC going global."
All this has serious implications for Australia: firstly because many major Australian resources businesses are heavily engaged in Africa - including BHP Billiton and Rio Tinto - and their record deserves scrutiny. But also because when the clarion calls are made for the Australian resources industry to remain "competitive" with overseas miners - to what extent does this mean crudely lowering wages and health and safety standards (rather than more technological and process innovations?)
Neo-Colonialism
During the late 16th to 19th century mercantilist era of the transatlantic slave trade, and then also the 19th to late 20th century era of colonialism, Sub-Saharan Africa's traditional societies were distorted to the point of becoming unrecognisable, while the social networks and social capital of Africans were dislodged and disrupted.
The region lost its autonomy and was reduced to becoming simply the main source of raw materials to boost the industrialisation of the Western economies, particularly Britain, France and America, leaving Africa impoverished and partitioned.
As history repeats itself, the most current Chinese investment and trade with the continent is seen more to favour the Chinese at the expense of the African workers, environment, resources and minerals.
Chinese neo-colonialism?
China has become Africa's largest trading partner with two way exchange reaching $160 billion in 2009. There are now 2000 Chinese companies operating in Africa with investments exceeding $14 billion. In her tour of Africa earlier this month US Secretary of State Hilary Clinton offered a veiled warning of the role of China in Africa both politically and economically.
Is China a particularly rapacious new neo-colonialist, or is China's economic role in Africa largely beneficial? Opinions vary markedly, and China does have some well placed defenders.
The OECD African Economic Outlook attempts a balanced approach with Mthuli Ncube, Chief Economist of the African Development Bank insisting: "Africa is growing but there are risks. Urgent attention is necessary to foster inclusive growth, to improve political accountability, and address the youth bulge". Emmanuel Nnadozie, Director of Economic Development, UNECA emphasises "a race to attract the largest amounts of investment or aid from emerging partners at any cost should be avoided".
But concerns persist. Researchers Kinfu Adisu, Thomas Sharkey, Sam C. Okoroafo have written about the Nigerian experience, where imported textiles from China has forced local factories to close down and resulted in significant levels of unemployment. The Chinese demand to employ their own nationals in the projects they run, has been also been a source of great concern.
In another example, questions were raised over whether Chinese deals worth $8 billion for transport infrastructure in the Democratic Republic- in return for extraction rights - was commensurate to the worth of minerals.
According to a World Bank report by Ali Zafar, Chinese corporations rely heavily on importing their own low-cost labour and do not invest in hiring, training and education of African workers.
Zafar reports that China imports mineral fuels and metals from Sub-Saharan Africa and exports cheap consumer and capital goods with little trade in intermediate goods. But without significant investment in value addition in host nations, how sustainable is this kind of relationship? There is now a significant trade deficit between China and Sub-Saharan Africa.
Finally China does not seem to care much about the level of corruption in host countries of Sub-Saharan Africa, which brings us to the question of how ethical and responsible is the China-Africa economic relationship.
What is occurring with Chinese investment is arguably another episode in the underdevelopment of Africa through resource exploitation and economic colonialism by the Chinese, camouflaged and concealed in the discourse of their state owned enterprises.
Africa, and particularly the innocent youth of Africa, deserves much better than this.