Making Headlines puts Australia's most controversial editor of the past 20 years back in the news, raises more questions than it answers about the relations between media executives and the politically powerful and creates profound doubts about the traditional trust between journalists and their sources.
In revealing his conversations with recent prime ministers, which they might have believed confidential, Chris Mitchell, former editor-in-chief of The Australian, may have compromised future journalists' and editors' dealings with sources. His memoir may lead others to ponder: will this discussion later turn up in a book?
To be fair to Mitchell, Making Headlines is a sometimes thrilling read for political and media tragics as it takes readers through long lunches and dinners at various restaurants, prime ministerial abodes, Mitchell's home and even the sauna room of a Sydney hotel.
And it is not the first to record conversations at least one participant might have thought private. But others who did so - most notably Mark Latham and Bob Carr in their memoirs - were not journalists. They were politicians not bound by the journalist's obligation to protect sources and private conversations.
Mitchell's writing also does readers of Australia's media a favour in exposing the many conflicting issues at work in the mind of a thoughtful editor. But in doing so, he demonstrates the most significant flaw in The Australian, which is mainly a good newspaper. That has been its tendency on his watch to assume a knight-in-shining-armour posture - and then to use its lance to skewer anyone who takes a different view on its issue of the week.
In these scenarios (which are thankfully now less frequent), The Australian presents itself as the sole source of truth, burying its strong newsbreaking and writing credentials beneath mounds of self-justification. And so it is with the Chris Mitchell portrayed in this 240-page love letter to himself and the newspaper he edited until this year.
Mitchell shares his wisdom on economic management, foreign relations, race issues, the welfare and tax system and the future of journalism in this account, which deliberately focuses on his relationship with the nation's prime ministers - from Paul Keating to Tony Abbott.
Indeed, it is hard to find anyone on these pages matching the wisdom Mitchell has carried through the two decades he describes editing The Australian and The Courier-Mail in Brisbane. A handful of journalists he describes as friends have helped, but pretty well everyone else has failed to meet his standards.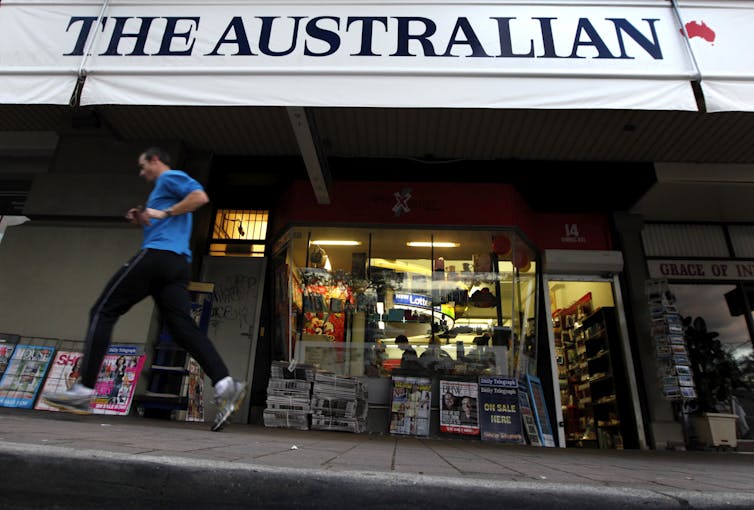 Sound familiar? Well, this was often the tone Mitchell's leadership set for The Australian, which, on its bad days, randomly set itself as the arbiter of everyone else's standards while rarely (if ever) being reflective about its own.
A declaration: Mitchell's and my paths have crossed over the past 20 years. I worked for him at The Australian then succeeded him at The Courier-Mail. I admire his doggedness (particularly on righting the wrongs that afflict Aboriginal Australia) but thought he too often used his newspaper for unnecessary denigration of rivals. Other news organisations and its journalists (including the one I ran) could expect to be accused of laziness or bias in Mitchell's pages by simply not following his newspaper's line.
The unanswered question in this memoir is to what extent editors should pursue personal relationships with politicians. Mitchell admits he became too close to Kevin Rudd in the lead-up to his prime ministership - right down to taking up Rudd's suggestion that he commission the Newspoll that convinced caucus a Rudd-Gillard team was better able to win the 2007 election than the existing Beazley-Macklin team. Yet he now concedes Beazley would have been a great prime minister.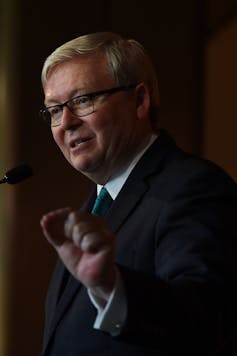 And, surprisingly, he reveals that not just he, but Rupert Murdoch, directly counselled Tony Abbott on how to save his leadership and his government. Does the Australian public think this is the role of a newspaper editor? Unlikely. And will Murdoch be happy at this revelation? Unlikely.
Then there is the question of when or if breaching confidences is justifiable. Mitchell is upfront that before publishing his book he did not tell those affected that he would be quoting them. Paul Kelly would have. So would Peter Hartcher, Dennis Atkins or Laura Tingle.
This pierces the notion of journalistic confidentiality and must likely trouble his successor Paul Whittaker, who was willing to face prison in the 1990s rather than answer questions about his sources on sensitive stories he had written for Mitchell at The Courier-Mail.
Just as troubling must be Mitchell's charge into the spotlight as Whittaker does what all new editorial leaders must, reposition his newspaper, hopefully to make a profit, without the clamour of the old boss beating his own drum.
Defending his book on the ABC's Lateline, Mitchell has said most of the stories in it were not "source-protected". "This is not a matter of sources giving me something that they intend me to publish and want to be protected or cabinet leaks or some such," he said. Mitchell said other private conversations detailed in the book were in the public interest.
Yes, there are shades of difference between stories containing confidential documents provided by a whistleblower and a politician's opinions expressed privately. But in each case the source has trusted the journalist to honour their anonymity.
Little things matter, too, in a book that relies on its author's recollection of verbatim slabs of decade-old conversations. Others will disagree (as I do) with detail of Mitchell's accounts of discussions they have been part of. Rival columnists will find factual errors.
The particularly intriguing relationship in this book is that between Mitchell and Rudd. Mitchell sees them linked through common beginnings - a Queensland childhood, raised by single parents after family tragedies.
He notes Kevin's "controlling tendencies", illustrated by the placement of his office desk several inches above visitors' chairs when running the Queensland Cabinet Office. This might be a Queensland "thing". I moved into Mitchell's Brisbane office the day he moved out and found all the visitors' chairs set low.
Mitchell makes clear he was wrong in supporting Rudd, but we're yet to hear what Rudd thinks of Mitchell. Here's a hint. Two weeks before he lost the prime ministership the first time, I enraged Rudd at a dinner for eight by asking about the Australian of the Year Award Mitchell had given him that year on behalf of The Australian.
Rudd was angrily dismissive but also clear what he would like to do with it. I'll keep the confidence but, suffice to say, its destination would have been in a very dark, and uncomfortable, place for Chris Mitchell.
---
Making Headlines is being launched by Melbourne University Press on Friday 15 September.