For many years, Clarks Shoes has been a mainstay of the British high street. Its position has long been supported by a reputation for robust, well-made shoes and the occasional iconic style: the desert boot was launched in 1950. Innovation too, was part of its brand strength, with technical developments in shoe manufacture and marketing initiatives.
However, the British shoe industry experienced a rapid decline in manufacturing from the 1980s and, at a time of booming retail expansion, focused more on building branded store portfolios. Now retail has also become problematic, leaving Clarks, like many other retailers, with some serious thinking to do about its current store portfolios.
Following a 65% fall in profits, Clarks has announced that it will comb its portfolio of high street shops to identify savings in its 550-store retail empire.
In part, the company's problems lie in changing patterns of consumption and shopping journeys. A trend towards online shopping has gained momentum in recent years – and fashion retailing in particular has felt the impact of changing shopping habits as consumers find online ordering, delivery (and returns) increasingly easy.
Shoe retailing itself has changed as shoes are now regularly sold in multiple clothing retailers, which places more pressure on specialist shoe shops. Moreover, consumer preference for athletic and sports shoes, and "athleisure" generally, continues to erode the market for more traditional styles. Brands such as Nike and Adidas have a strong global presence, supported by powerful endorsement and market communications strategies that are difficult to replicate. By contrast, traditional men's shoe brands, such as Church and Barkers' shoes, which are still made in Northamptonshire, can command higher prices through their quality, worksmanship and niche market positioning.
However, Clarks occupies a more mainstream position, competing with the likes of Office and Dune, which leaves it open to competition for the middle market spend. The brand still claims to be a leader in terms of trust and reliability, and its strengths in childrens' fitted shoes – a particularly British concern – have contributed to its resilience.
Retail recession
Out on the high street, as sales decline, other familiar problems emerge with costs of retailing. Some of these are store-based, others relate to the product. Employee costs are constrained by minimum wages, pension contributions and other regulatory requirements. Rental agreements may have been more negotiable in recent years – there was a time when 25-year upward only rent reviews for retailers were the norm – but they continue to have a significant effect on the viability of a store.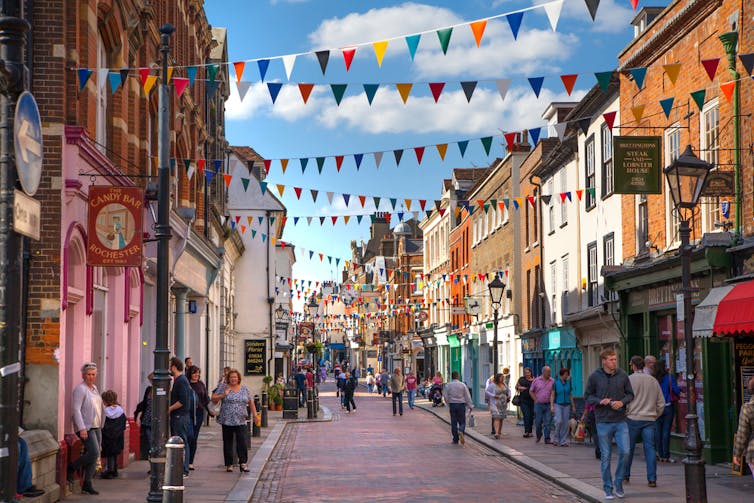 Impending business rate increases will add further, potentially large, increases to store costs. And, if Clarks are locked into expensive rental deals – with higher rates in the pipeline – while customer footfall is declining, it's time to closely review each store's performance.
A further challenge lies with the cost of the shoes themselves. Clarks imports the vast majority of its shoes and the devaluation of the pound by some 20% following the Brexit referendum will contribute to pressure on profit margins and prices. In a shoe shop there are few valuable "extras" to sell to customers, so the possibilities for additional sales are limited.
Squeezed middle
But this perfect storm of cost pressures, price resistance and increasing online competition is not limited to shoe retailing and Clarks in particular. So does the company have some particular problem? It does seem that the company is part of the "squeezed middle" of familiar high street multiple retailers – but the demographics of an ageing population should contribute to the demand for well-fitting, comfortable shoes.
Having said that, compromises are often made: comfort can often be found in a range of lightweight trainers, in more or less sporty styles, canvas and moulded casual shoes – the clunky but practical and distinctive Crocs were a success story a few years ago. Comfort can still sell as well, as evidenced by Ugg boot sales – where a good marketing position, press comment and photo exposure propelled a fairly shapeless sheepskin boot into the limelight.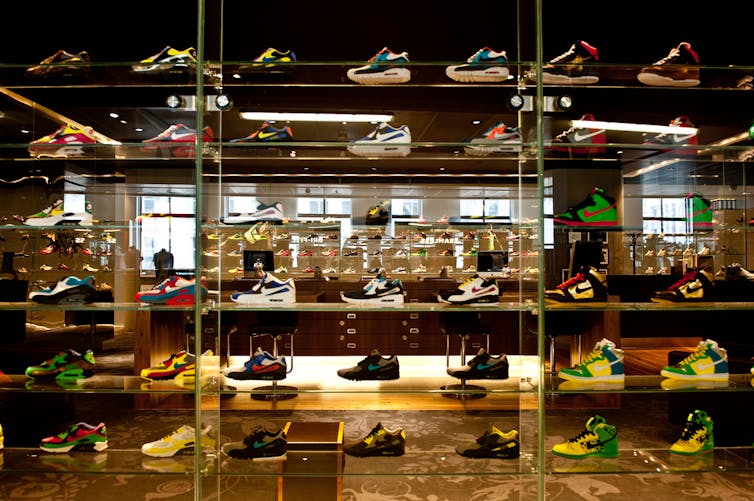 Clarks shops themselves reflect the values of the brand without providing particularly memorable experiences – difficult in a shoe shop compared to the brand experience of a Niketown store. What are needed are locations with safe and dependable consumer markets, sites that maximise customer traffic, offer cross or omnichannel – communication and distribution through both stores and online channels – as well as sales and marketing opportunities and, above all, manageable costs.
The ensuing shake-out of stores that don't meet profitable trading criteria points to a different – and maybe less attractive – high street or shopping centre.