In the summer of 2010-2011 Western Australia experienced an unprecedented heatwave — but not on land. Between December 2010 and April 2011, sea temperatures off the WA coast reached 3C above average, and for two weeks peaked at 5C above average — 28C compared to the normal 23C.
The effects were drastic. Corals bleached, and the makeup of the usually temperate south west marine ecosystems shifted to more tropical — both in fish, and algae.
We're still learning about this extraordinary event. Our recent research published in [Journal of Ecology and Global Change Biology](Journal of Ecology and Global Change Biology shows that the heatwave had a significant, possibly permanent, impact on the seagrass beds of Shark Bay — an internationally recognised World Heritage Area.
With climate change forecast to increase the frequency of extreme weather events, this is a sign of things to come.
A perfect storm
Heatwaves will be one of the bigger climate-related threats facing Australia as we move into a changing future.
The effects of such heatwaves on humans and land ecosystems are relatively well-established, and we have already seen mass deaths in animals resulting from abnormally high temperatures.
However, the risk of extreme heat events in our marine ecosystems is less known.
The 2011 heatwave has been dubbed the "Ningaloo Niña". The Ningaloo Niña was an unprecedented warming event in waters off the coast of Western Australia, driven by intense Leeuwin Current flows, an extraordinary La Niña event, and multi-decadal trends in the Pacific Ocean.
These events overlapped to drive mean monthly sea surface temperatures up to 2-4C above normal in Shark Bay for a period of four months.
Too hot to handle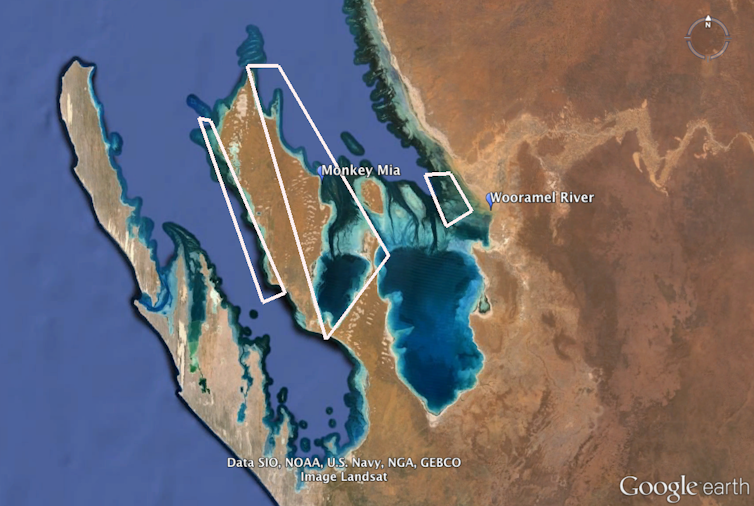 The impact of this prolonged heatwave on the seagrass meadows in Shark Bay was drastic.
The main seagrass species of Shark Bay (Amphibolis antarctica) is a temperate species found only in Australia. In Shark Bay it lives near the limit of its temperature tolerance. The Ningaloo Niña pushed the grass past its limit — 90% dieback was recorded in some areas across the bay.
At the same time, the Wooramel River, which flows into Shark Bay, flooded three times in the summer of 2010/11. These floods delivered over 500 gigalitres of floodwater containing large amounts of sediment into Shark Bay. This reduced light availability resulted in meadows up to 15 kilometres from the River mouth being among the worst affected.
Loss of habitat will be greatest in areas where extreme events overlap with additional stressors, a pattern also noted in coral reef ecosystems.
The seagrass did recover a little over the next two years (measured in weight of leaves or "biomass"), but only to 7-20% of the historical averages for Shark Bay.
Belowground roots and rhizomes decreased over the same period. For large seagrasses, belowground reserves help them persist through unfavourable conditions like high temperatures or low light.
This lowered resistance could therefore increase vulnerability to future extreme events. As extreme climatic events are predicted to increase in frequency and intensity, this points to a worrying future for the seagrasses of Shark Bay.

What does this mean for World Heritage?
Shark Bay was granted World Heritage Status in 1991 for its natural heritage values, and was the first marine World Heritage Site in Western Australia.
Shark Bay boasts one of the largest continuous seagrass meadows in the world, and the seagrasses of Shark Bay are central to its World Heritage Status.
The temperate seagrass Amphibolis antarctica – endemic to Australia - is undoubtedly the foundation species of Shark Bay. It covers approximately 3,700 square kilometres of Shark Bay (85% of the bay's total seagrass cover), and its meadows are rich in biodiversity.
Shark Bay is home to globally significant populations of the endangered green turtle and the vulnerable dugong. Seagrasses provide important habitat and forage for these large animals, and loss of seagrass could impact these populations.
Indeed, Florida International University's Shark Bay Ecosystem Research Project has noted a decline in the health of green turtles in Shark Bay in the two years following the heatwave and seagrass loss, showing the potential impact of seagrass loss on the megafauna of Shark Bay.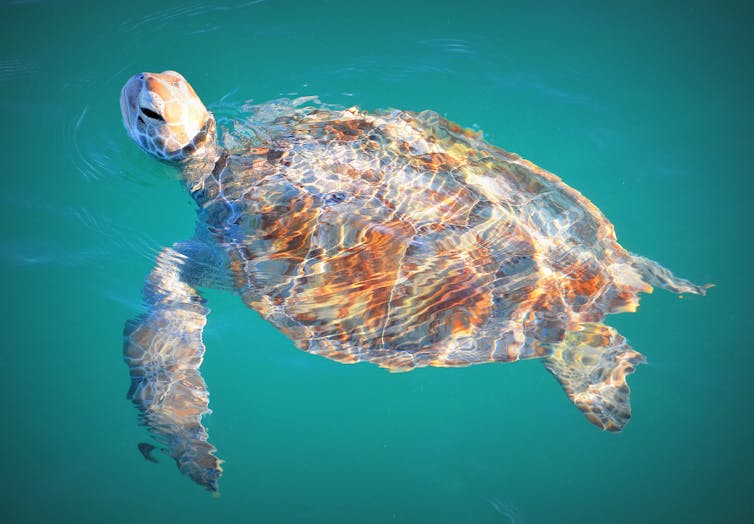 Such impacts could reach even the top predators in the system — tiger sharks — that forage for prey, including sea turtles, over seagrass meadows.
Important fisheries species can also rely on functioning seagrass meadows. Since the marine heatwave, the Shark Bay blue swimmer crab and scallop fisheries (the largest in WA) have been closed due to low abundances, presumably as an impact of the heatwave.
Seagrasses play other indirect roles in Shark Bay's status as a World Heritage Site.
Seagrasses have contributed to the creation of large banks and sills across Shark Bay by increasing the buildup of sediment. These banks and sills have restricted circulation and led to a strong salinity gradient in the Bay — with salinities of 70 ppt found in Hamelin Pool.
This salinity gradient has allowed for the presence of one of the most diverse and abundant stromatolite populations in the world. Stromatolites are rocky structures created by blue-green algae. They represent living fossils, and are examples of some of the most ancient life on Earth — the oldest known stromatolite fossils date over 3.5 billion years.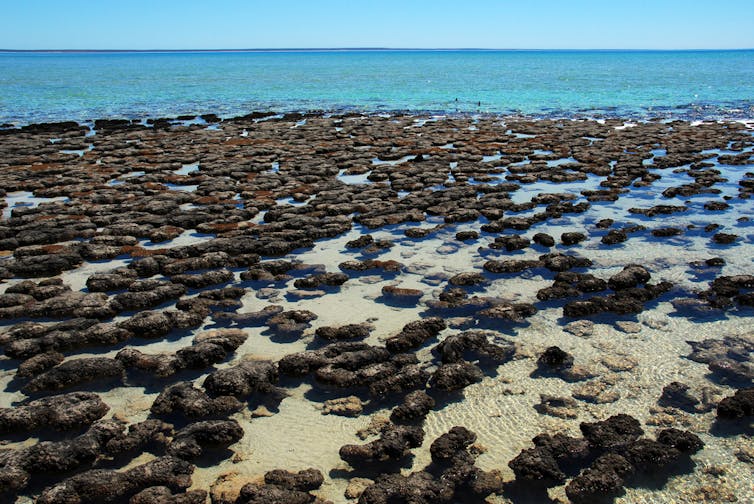 Seagrass loss will impact the long-term stability of these banks and sills, and may directly threaten these globally important organisms that attract many tourists to the region. Climate-driven loss of seagrass in Shark Bay will likely have severe implications for this iconic ecosystem.
Even in areas that are relatively free from human impacts like Shark Bay, these extreme climatic events will change our marine ecosystems.
This article also received input from Emeritus Professor Diana Walker at the University of Western Australia.