Australians have always had to live with bushfires - but climate change is driving that fire danger even higher.
And we're not talking about a distant threat to future generations. According to real observations from around the country - summarised in a new report from the Climate Council - we can see that in Australia today, hot days are getting hotter, and heatwaves longer and more frequent.
Some parts of Australia are already becoming drier. Hot, dry conditions are driving up the likelihood of very high fire danger weather, especially in the southwest and southeast. In southeast Australia, the fire season is already becoming longer, reducing the opportunities for hazard reduction burning.
Be prepared: Climate change and the Australian bushfire threat is the Climate Council's is our first major report since re-launching as a community-funded non-profit group just over three months ago, and it provides a comprehensive, up-to-date summary of the influence of climate change on bushfires.
We have drawn heavily from the peer-reviewed scientific literature, as well as on submissions to several recent inquiries and Royal Commissions into bushfires and their impacts.
Setting new records
This has been a record-breaking year for Australia.
We have just experienced our hottest 12 months on record. New South Wales has experienced the hottest September on record, days well above average in October and exceptionally dry conditions. These record hot, dry conditions have influenced recent fires in NSW.
The 2009 Black Saturday fires in Victoria were also preceded by a decade-long drought with a string of record hot years, coupled with a severe heatwave in the preceding week.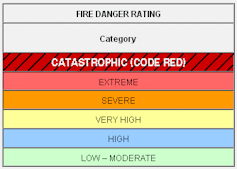 The Forest Fire Danger Index, an indicator of fire risk, reached record levels on Black Saturday.
National fire danger ratings have since been revised to include a new extreme category: "Catastrophic" or "Code Red".
Planning ahead
Australia is very likely to see an increased number of days with extreme fire danger in future.
Fire frequency and intensity is expected to increase substantially in coming decades in many regions, especially in those regions currently most affected by bushfires, and where a substantial proportion of the Australian population lives.
It is crucial that communities, emergency services, health services and other authorities are adequately supported and resourced to prepare for the increasing severity and frequency of extreme fire conditions.
The critical decade
Scientists have been studying human effects on the atmosphere since the 19th century. Our understanding of climate science is now better than ever.
In June this year, the Climate Commission (as we were then) released the report, The Critical Decade 2013: Climate change science, risks and responses.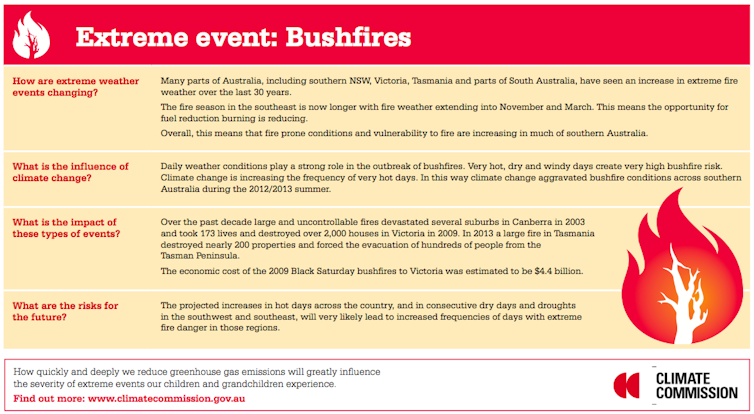 The Climate Council's new report on bushfires and climate change adds to this and the plethora of other research urging us to take action.
The impacts of climate change, such as increased bushfire risk, are already being observed. Whichever metaphor one chooses to represent the risks that climate change represents - rolling a dice, Russian roulette, driving towards the edge of a cliff in fog - it is clear that we have the information we need to act now.
Australia must strive to cut emissions rapidly and deeply to join global efforts to stabilize the world's climate and to reduce the risk of even more extreme events, including bushfires.