The National Drug Strategy Household Survey Report 2010, which indicates the behaviour and attitudes of Australians to drug use, shows reductions in daily tobacco smoking, a range of mixed findings on alcohol and an overall rise in illicit drug use.
The Australian Health and Welfare Institute (AIHW) report found the community is concerned about excessive alcohol use and smoking, and tends to support tobacco and alcohol harm reduction policies.
Director of the National Drug and Alcohol Research Centre (NDARC), Professor Michael Farrell, discusses some of the report's findings.
International comparison
The report found that nearly 40% of Australians have used illicit drugs at some stage in their lives. This figure is a bit lower than in the United Kingdom but still well up there.
It's pretty good-going level of drug exposure and there's no question that it's striking.
Increased cocaine use among young women
We've been aware of the upward trend of cocaine use in the general population. So to find that young women are, as I would describe it, "catching up with the boys" isn't altogether a surprise.
We've seen, in a range of substance consumption trends, that there's often an equalisation of behaviour over the genders over time.
But it's obviously always a concern to see a drug like cocaine, which has very significant problems and harms associated with it, increasing in usage in the general population.
As with all of these types of trends, there's obviously a range from low-level use to more frequent use and you'd expect to see that spectrum reflected and the harms growing with increased quantity and frequency of use.
The issue with a lot of these drugs is that you've got to have disposable income to be consuming them. We know this for alcohol and we know it for other commodities.
Affordability is a factor. Of course there are people who use drugs heavily who cannot afford them and have to resort to crime in order to obtain their drugs.
The other issue is that of availability. For a long period of time there was very little cocaine in Australia but it has grown; so clearly, the issue is why has it grown.
It's obviously being imported and marketed. Whether there are international factors affecting that is another question. For instance, the US dollar is weaker right now and such factors may influence what's happening.
In general, if you see affluence, you see a diversification of the drugs consumed.
Cannabis
Cannabis use has edged up after a previous period of decline, along with other drugs.
The messages around cannabis and mental health that we have seen internationally have had an impact on young people and influenced them to reduce their cannabis use. So it's unfortunate that we haven't seen more of a continued drop in cannabis use, particularly among older Australians.
Pharmaceutical drug abuse
The population noted concern around painkillers but there's not really a big shift. Unlike the United States, prescription opiates remains a modest problem here to date. But it is an area we need to keep a watchful eye on.
Ecstasy
Ecstasy use has declined significantly, particularly among younger Australians. NDARC's own monitoring system, the Ecstasy and Related Drugs Reporting System (EDRS), has also recorded declines among regular ecstasy users in Australia.
The composition or the quality of the pill is one of the factors influencing the fall in consumption among this group. But it's really hard to make associations between these things in a causal way.
One of the issues we've been concerned with over the last few years is around getting the message out about reporting of idiosyncratic deaths with ecstasy. These idiosyncratic deaths happen rarely but it's always a terrible, terrible tragedy when they do. The variable content of the pills clearly increases the risk of adverse consequences.
Although we cannot identify whether people are switching from one drug to the other, one would certainly be concerned to see cocaine use going up while ecstasy use is going down from the point of relative harm and addictiveness.
Cocaine is a much more addictive and problematic drug – not that they're not all problematic but some are clearly more problematic than others.
This is clearly a concern to people, but the issue here is that someone might decide to take cocaine instead and this is pretty much a frying-pan-into-the-fire sort of decision.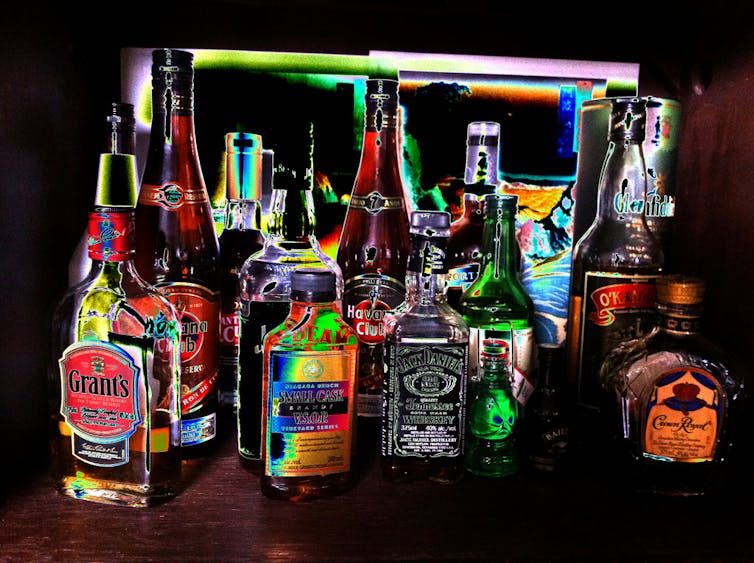 Alcohol
The "alcopops" tax may have contributed to young people changing their choice of drink but their overall pattern of alcohol consumption hasn't changed.
So they've switched away from one product but you're not seeing any sort of overall change. Younger groups are more likely to consume alcohol in quantities that place them at risk. Overall, we have seen very little change in alcohol.
The increase in violence is probably related to binge drinking. There are two main concerns around alcohol – one is about people drinking excessively over a long period of time so that they have a range of physical complications, such as those around liver disease.
But there's also the issue of alcohol and acute intoxication and all of the behaviours and harms around acute intoxication.
In particular, we know that heavy drinking and violence in and around licensed premises late at night is a serious issue and causes community problems, policing problems and physical assaults.
Steady alcohol use but increase in related violence
One has to be careful about these figures because they are self reported. You'd want to verify them, see how they match with reported trends in policing data.
I think there's a perception that there's a real problem around alcohol consumption in the night-time environment. The issues of physical violence and the associated demands on policing stem from that.
Trustworthiness of data
These kinds of surveys have been conducted internationally over a long time and people have become really confident about self reporting, from the point of view that participants do volunteer to be involved in these things and they seem to trust the confidentiality.
From that point of view, I think we get a reasonably good picture. We have to be clear, though, that there are certain aspects of behaviour that are pretty hard to capture with this sort of data. For instance, with alcohol, tobacco and cannabis, we can get a pretty good picture.
But with less frequently used drugs like heroin and even cocaine, it's even harder because we tend to see sub-groups with very different patterns of behaviour.
That's where the Drug Trends monitoring systems conducted at NDARC (for example surveys of sentinel groups of illicit drug users and analysis of hospital and deaths data), complement this kind of national population-level survey.
This allows us to begin to put the jigsaw puzzle together in a different way so that we can see how the different bits fit together and see whether they make overall sense.