After more than 50 years of conflict, the recent peace agreement in Colombia marks a historic ceasefire between the government and rebel groups. It also poses great challenges, as the various parts of Colombian society learn to adjust.
The country's universities have their own special role to play in the transition. This includes admitting former guerillas into higher education and proving real support to victims of violence. Universities can provide opportunities for reconciliation between former enemies.
According to a non-official source from the Agencia para la Reincorporación y la Normalización (Colombian agency for reincorporation and standardisation), around 500 former combatants from armed groups have enrolled in Colombian universities.
There is a great deal of diversity within their ranks – particularly from former members of FARC, the largest guerrilla group. Now students, they are, for the most part, men and women from poor rural communities. Many of them were recruited at a very young age, sometimes before turning 15. And after 50 years of warfare, some have spent most of their adult life in guerrilla organisations.
Given this diversity, some will need literacy and basic education in order to move on to technical and professional education. Others will need to enrol in educational programs to acquire technical skills, which will allow them to apply for jobs and join the formal economy. A smaller group of ex-combatants, who may have had a stronger academic background when they joined the armed groups, will enrol directly into universities.
Whichever part of the education system the FARC ex-combatants join, the main challenge will be supporting them as they develop cognitive, practical and subject specific skills – as well as social skills linked to democratic citizenship.
Universities need to adapt the traditional model of university education to incorporate the experiences of these people. Previous worldwide experiences of working with the marginalised young has shown the importance of acknowledging the social, political and cultural identities of such students – and also taking seriously the knowledge and skills they bring to enrich the university community.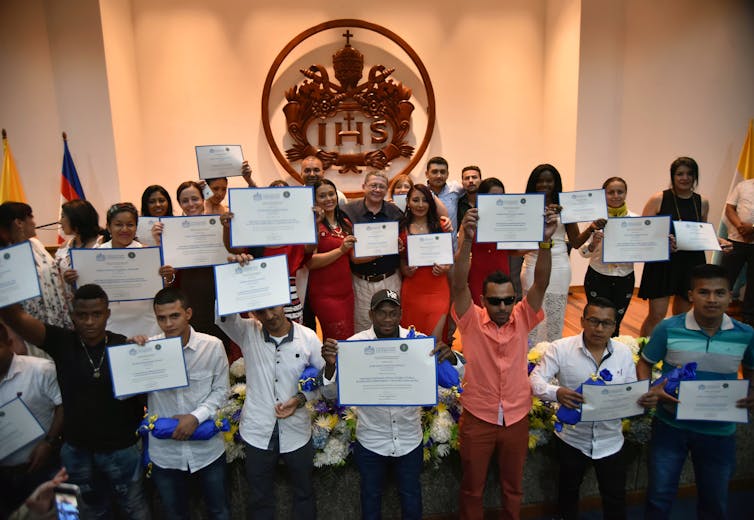 But the universities cannot do this alone. A successful process will require the collaboration of national and local governments, non-governmental organisations and the private sector to ensure education leads to real opportunities and rebuilding lives.
Nor can universities blindly accept ex-combatants without thinking carefully about the wider impact on the university community. The blurred line between victims and perpetrators requires careful thought about communal spaces and possible scenarios of segregation, which could generate new tensions.
The overall aim is to move away from simplistic understandings of "good" and "bad" people and to recognise the complexity of the post-conflict era. In recognising the humanity of the "other", we can make the university community grow among all the differences.
New skills
Universities have the power not only to educate, but also to help transform an unequal social system. This will require training teachers to adopt a more inclusive approach to education, promoting moral reflection and allowing for participation, criticism, creativity – and even protest – as ways to promote innovation and change.
There is no doubt that academic institutions can be a point of convergence between former rebels and society, and assist in the successful reintegration of former guerrillas into civil and political life. The details of a renewed relationship between universities and former rebels are yet to be fully determined – and many questions need to be asked.
Should former combatants be given open admission to universities and be allowed to merge within the student bodies? Should there be preferential treatment treatment or tailored programs to satisfy ex-combatants' specific demands from academic institutions? Rather than simply incorporating ex-combatants, should universities enter into dialogue with ex-combatants as a specific interest group in society?
These debates are just getting started.
While Colombia appears to be a special case, many other countries face the problem of growing numbers of disaffected young men and women who need to be given hope and real opportunities to play a positive role in society. England for example has rising numbers of young people who are neither in employment nor in education or training while poverty, lack of jobs, poor education and family breakdown lead in countries like South Africa to violent youth gangs.
The innovations happening in Colombian universities offer important insights into how universities can transform themselves – and take greater responsibility for educating and reintegrating those who are currently excluded and overlooked.