Suncorp and Alliance are refunding more than A$60 million to over 110,000 consumers after selling insurance that the corporate regulator ASIC said was "of little to no value".
This is just the latest example of how the language and design of contracts make it impossible to understand the terms of our everyday agreements.
Considering how swamped we all are with agreements and terms, from the workplace to just downloading apps, we need to change the way the information regulating our legal relationships is presented, as well as the level of other detail it contains.
Pointlessly complex contracts have to stop. This is why some lawyers are rethinking contract design, using mind maps, illustrations and even contracts in comic strip form, which is the focus of my research.

It all began a few years back when an engineering colleague wanted me to draft contract terms for a student project that were not "the usual godawful alienating lawyer stuff". We worked together on strips like the one above.
The above comic is a full non-disclosure agreement. Three pictures with text. And the result? Users actually read it and get the basic idea of non-disclosure. No more disputes arose.
Are you wondering if this is all legally binding? The answer is yes. Contracts are about intention – and if it is actually made clearer and understandable by pictures then all the better.
A former Chief Justice of Australia, Robert French, recently stated that as long as the meaning of the pictures in contracts is clear, then of course they are binding.
Since the comic non-disclosure agreement, we have been working on a variety of other contracts; agreements for care workers in the home supporting the disabled, as well as employment contracts for a large engineering company.
Legal innovators from across the world are also doing similar things.
Consider Rob de Rooy in South Africa, who has created comic book contracts for fruit pickers, many of whom are largely illiterate. These contracts have led to easier on-boarding, better dispute prevention and a much friendlier employee relationship. Why? Because they can be used as an understandable tool to guide the legal relationship.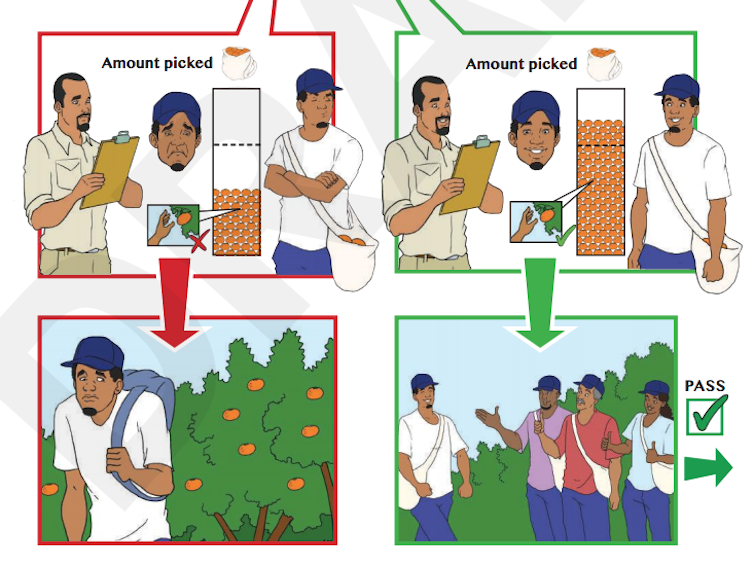 We have just begun to scratch the surface. Comic contracts are potentially usable in all types of agreements. There is no reason why they could not work for the insurance industry, either by creating readable contracts or – at the very least – understandable product disclosure statements.
Unsurprisingly, a study by the Insurance Council of Australia found a majority of consumers don't fully read current product disclosure statements, let alone the full policy documents.
---
Read more: We all enter contracts every day, so why are they still so hard to understand?
---
That people would agree to terms and conditions that include giving away their first-born child shows the problem with current contract design. It is also evident that there is no expectation of any actual reading or comprehension. It would just be too time-consuming. And yet these clauses are likely to be binding.
The need for clearer formats and terms, in insurance contracts as well as many other types of agreements, is obvious.
But there is nothing stopping us from changing the way we draft contracts. Except, possibly, the legal profession itself. It's traditionally driven by a need to cover all bases, anticipate even the most unlikely potential issue and draft partisan agreements.
Change takes courage – and some innovative firms are not shying away.