Mountain bikers took to trails around Glasgow yesterday, with men's and women's cross-country races run at the new purpose-built Cathkin Braes Country Park.
There's more to the event than steep slopes and slippery tracks, though – competitive mountain biking will play a large role in contributing to the Commonwealth Games legacy and transform Scotland for the better.
I'll explain further in a bit – first, though, let's chart Glasgow's cultural renaissance in the 1980s and 1990s.
Tempered by an array of cultural-heritage developments (the Burrell Collection being one) it was also a time when major public events in Glasgow played a significant part in revising the physical and social fabric of the post-industrial city.
It hosted the Glasgow Garden Festival of 1988 and was named 1990 European City of Culture. And more than most post-industrial cities, Glasgow sought to use arts and culture not just to show how Glasgow was "cool", but as a way to integrate communities (multicultural and multifaith) in producing, consuming and enjoying culture and the arts. It is the first city in the UK to launch a dedicated Major Events Strategy (in 2005).
Legacy 2014 (and beyond)
As Commonwealth Games host it is seen not only as safe pair of hands, but also as a place likely to most effectively use the benefits hosting a Commonwealth Games brings.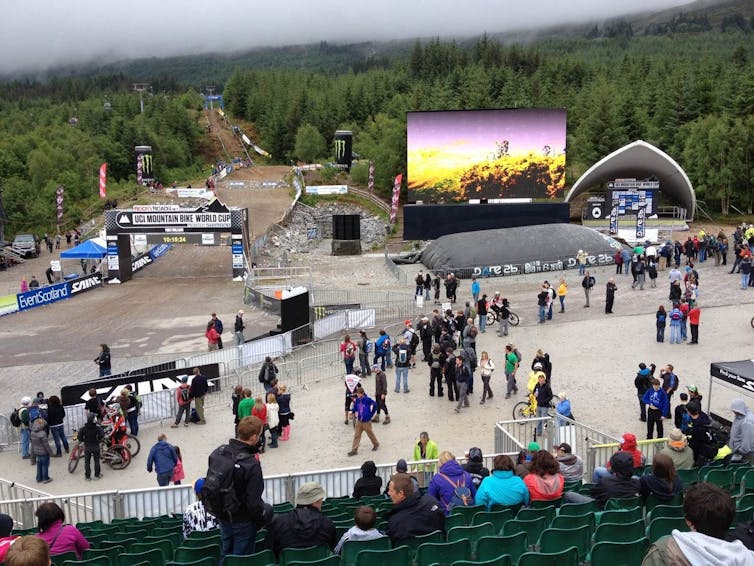 Like Melbourne in 2006, "accessibility", "connectiveness" of services and transport (for visitors and business), "inclusiveness", "environmental responsibility", "promotion to the world and engagement of communities" are writ large in the objectives of the 2014 Commonwealth Games.
In academia – as in the media – we see (and sometimes contest) the capacity for major events such as the Commonwealth Games to provide a long-term legacy.
For Scotland, Legacy 2014 articulates a grounded desire to enable Scottish business, young people, school children and its communities. It also pronounces proudly that it will inspire everyone to be more active. These targets are captured through the four main themes of the legacy programmes:
flourishing: contributing to the growth of the Scottish Economy
active: helping Scots to be more physically active
connected: strengthening learning and culture at home and internationally
sustainable: demonstrating our environmental responsibility and helping communities live more sustainably.
So where does mountain biking come in?
The Cathkin Country Park is one of 14 areas of woodland in and around Glasgow that are part of the Common Woods project – part of Legacy 2014. They are offered to a generation of people to enjoy; to "get involved", "get active" and "be inspired". It brings the countryside to the city.
The races are challenging. Local, national and international viewers (whether present or through television coverage) will get an opportunity to see not just a facility that is both a key component of the games and a resource for the population, but also part of a transformed landscape.
The Developing Mountain Biking in Scotland (DMBS) is a national strategic framework for the sustainable economic and environmental development of mountain biking. As a consortium of national bodies working to ensure a wider aim of increasing tourism, economic benefits, sport development and accessibility, we see further evidence of "joined up" policy action.
This, we hope, will be a success shown in many other developments that articulate with the Commonwealth Games.
As both a Scot by birth and as an Australian by residence, I'll keep secret who I'm supporting throughout the Games. What I can tell you is that the mountain bike races are example of the "trickle down" effect of the Commonwealth Games.
It is not a silver bullet. It is part of a rich mosaic of developments transforming Scotland. As a place to live, do business and enjoy a healthy and active lifestyle it will be interesting to watch Scotland progress after the Commonwealth Games.