At some point in our lives, we have asked ourselves one or all of these questions. What matters most in life? What makes life worth living? What makes you happy? What makes you feel good? What makes you flourish?
Wellbeing can mean many things to many different people. For Yawuru people, mabu liyan is at the heart of what it is to have and to know a good life.
The Yawuru people are the traditional owners of lands and waters in and around Rubibi (the town of Broome). This year marks the tenth anniversary of native title being handed down to the Yawuru. This was recognition that they have continued to maintain responsibilities and obligations through the practice of their traditions, laws and customs as handed down by the Bugarrigarra.
New findings from the purpose-designed Yawuru Wellbeing Survey highlight the integral role connectedness plays in Yawuru having mabu liyan. Strong connection to country, culture, family, community and identity are all fundamental to Yawuru having mabu liyan.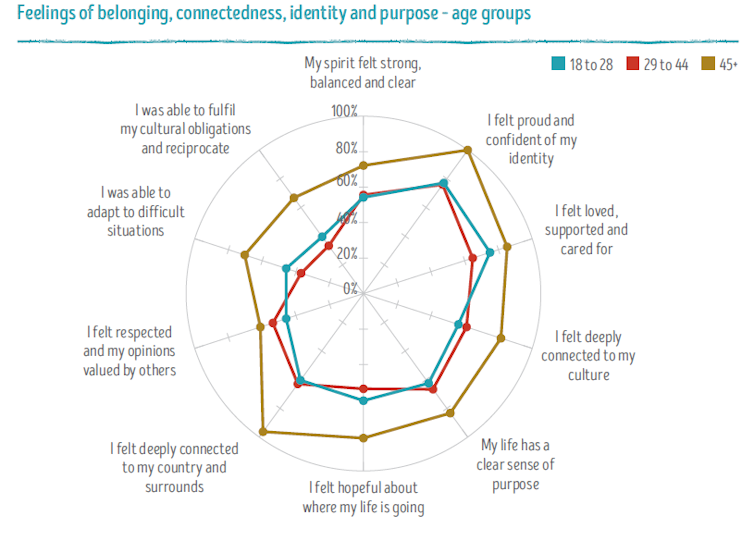 This three-year research project also highlights the importance of the co-production of knowledge in identifying and measuring what constitutes a good life for Indigenous people.
A ground-up approach to measuring wellbeing
How we think about wellbeing depends on where we come from, who we are and our experiences and aspirations. Yet the tendency is to enforce orthodox measures of wellbeing to represent these diverse experiences.
For many Indigenous peoples around the world, this means the parameters of their wellbeing tend to be defined on their behalf. While this in part reflects the power imbalance between Indigenous peoples and nation-states, a more critical aspect of the problem is the lack of informed data on precisely what constitutes wellbeing for Indigenous peoples.
Most commonly, the measures used are chosen because there is a value that we can attach to these measures. Aspects of wellbeing remain invisible in our statistical collections partly due to the fact that we, as a society, don't know the value attached to these aspects.
Using mabu liyan as the foundation, the Yawuru Wellbeing Project has sought to understand Indigenous wellbeing in the context of Yawuru culture, the historical and contemporary challenges faced by Yawuru people, and their strengths and capabilities.
For Yawuru, the purpose of developing indicators of wellbeing is to determine how Yawuru are faring according to their own benchmarks. The approach taken in this work has been one that starts from the ground up. It starts with Indigenous worldviews. For Yawuru, that means starting with mabu liyan to understand wellbeing.
From conception to operation
In our recent research paper, four aspects were presented in order to understand Indigenous wellbeing:
why we measure wellbeing;

how wellbeing is understood;

whose wellbeing; and

how are wellbeing measures decided?
These questions are interconnected. Depending on who defines wellbeing and how, the type of indicators used to represent and monitor wellbeing will differ. This has been echoed on The Conversation by Victoria Grieves. Clearly, process matters.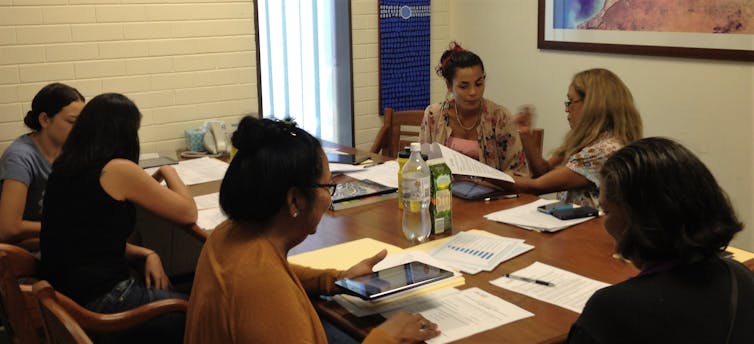 There were two interlinked phases to measuring Yawuru wellbeing. The first phase consisted of narratives and stories of liyan and wellbeing from Yawuru women and men. This informed the pool of potential measures of wellbeing for Yawuru.
These indicators were then selected, refined and validated by Yawuru women and men to lay the foundation of the Yawuru Wellbeing Survey.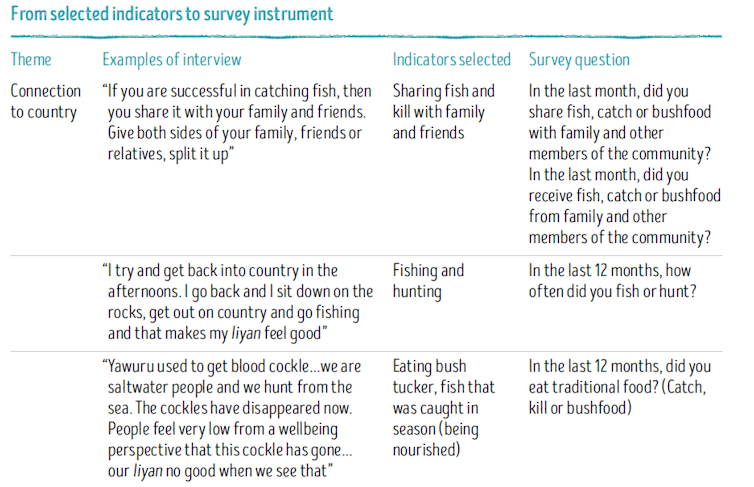 This approach prioritised the voices and inputs of Yawuru women and men from the conception of wellbeing to its measurement. The stories of Yawuru women and men interwoven with findings from the Yawuru Wellbeing Survey combine to paint a localised and multi-dimensional picture of wellbeing.
Where to now?
The Yawuru Wellbeing Project demonstrates the importance of Indigenous participation in all aspects of the knowledge process to ensure that the findings and outcomes are meaningful not only for policymakers but also for Indigenous communities like Yawuru to set their own development agenda.
The research findings are intended to provide a baseline for Yawuru as a collective to plan and design programs that might improve community wellbeing.
It also provides a valuable tool for monitoring wellbeing over time, based on measures identified by Yawuru themselves according to their definitions – the success markers of living well.
We celebrated the launch of the Yawuru wellbeing report in August 2016, after working alongside the community since 2013. True to the title, Community Wellbeing from the Ground Up, the report was the product of their stories and knowledge shared on country, the information collected by a Yawuru research team on country and, finally, the launch of the findings on country.
---
The report is a product of collaboration between the Bankwest Curtin Economics Centre, the Australian National University (ANU) Centre for Aboriginal Economic Policy Research, the Kimberley Institute and, importantly, the Yawuru community.