Australia's residential electricity prices are amongst the highest in the world so it's not hard to see why customers have been up in arms about high prices.
Comparing the charges for electricity retail services in Australia and in other countries, we find Australia's charges are much higher. The difference is particularly stark when comparing retailer charges in New South Wales with those in Denmark, Germany, Italy and Britain which have the highest electricity prices in Europe.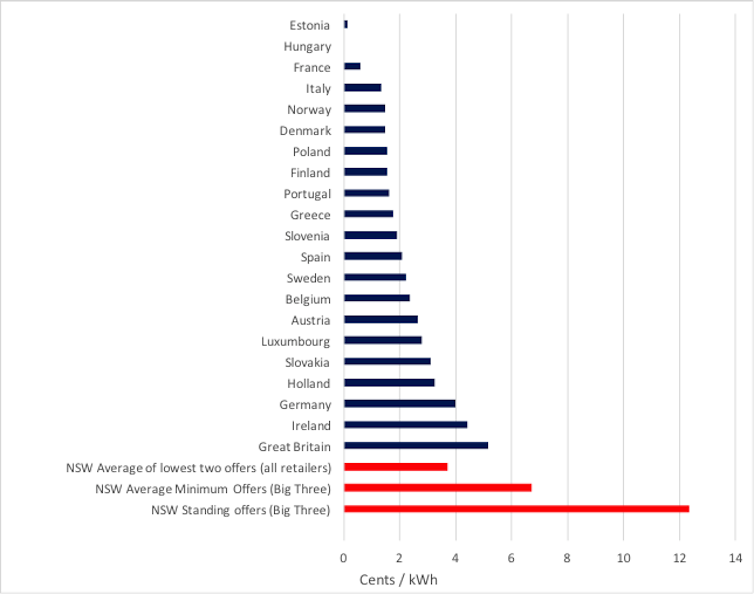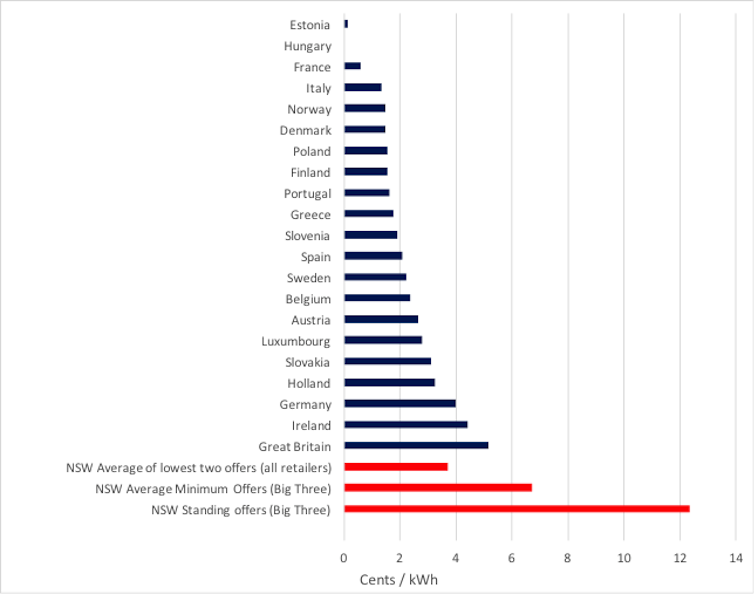 Residential electricity prices in Canada and the United States are typically less than half those in Australia and so the situation in Australia is even more damning in that comparison.
The prime minister's recent request to the ACCC to review the retail end of the electricity market will put this part of the industry under the spotlight. This request follows the Victorian government's appointment of a panel to review the Victorian retail energy market.
But rising concern about retail markets is not unique to Australia. In Britain, retail energy markets have received prime ministerial attention for many years. In what the British government described as the most significant review of its industry in the 30 years since privatisation, their Competition and Markets Authority concluded that significant changes needed to be made, although some ex-regulators disputed their estimates of the problem.
These reviews indicate changing attitudes in government. The Australian Energy Markets Commission reviews Australia's retail energy markets every year and has consistently concluded that they are working well. Similarly, the Independent Pricing and Administrative Tribunal advised the New South Wales government last year that their retail energy market is working well. Evidently the Commonwealth and Victorian government are now seeking a second opinion.
How Australia's electricity retail market is set up
The business of retailing electricity is really finding out what customers want and then offering deals that meet those requirements. More specifically, it's the business of procuring electricity and network services, acquiring retail customers, selling to those customers and then metering, billing and collecting revenue.
Analysis of regulatory filings shows that around 6.5 million of Australia's 10 million households and small business customers (those in New South Wales, South Australia, South East Queensland and Victoria) can choose their retailer. These four deregulated markets are dominated by three retailers that also own sufficient generation to supply those customers.
After more than a decade of retail competition, the three big retailers typically still supply at least 80% of all customers in each regional market. While in some of the regional markets, customers can choose amongst 24 retailers, the new entrant retailers have invariably grown their customer base slowly, if at all, despite powerful incentives to the contrary.
Social services organisations, customer advocates and some independent energy economists have long voiced concerns about retail energy markets. Their concerns centre on the amount that the retailers' charge, that customers are not happy and that electricity is becoming increasingly unaffordable.
The Grattan Institute recently published a blunt critique that went one step further. It suggested that not only are retailers charging a great deal, but that this is explained not by high costs but by excessive profits.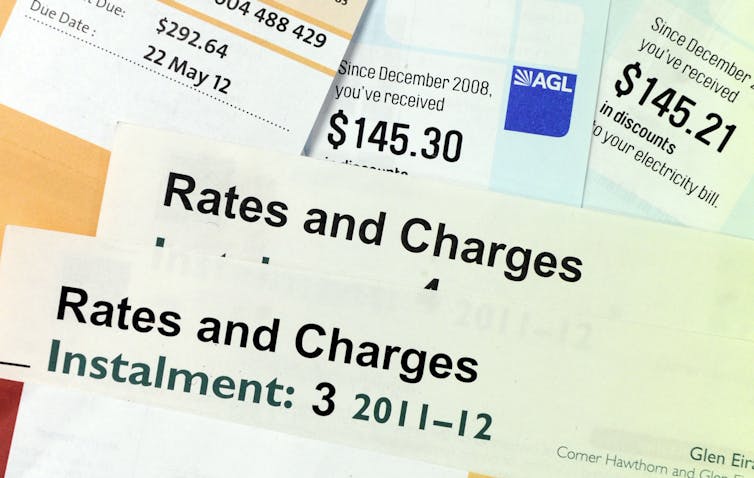 Competition and consumer choice
The official reviews in Australia hitherto have taken the line that if customers don't engage in the market they can't complain. But electricity is complex and customers need skill and a great deal of effort to reliably evaluate the market.
Since it's a repeat purchase, active engagement means ongoing effort. Even customers with the necessary skills seem to often conclude they have better things to do with their time, as evidenced in switching rates. Pervasive advertising and the profitability of the commercial switching websites provides additional evidence of the challenge new entrant retailers face in acquiring customers.
Why would it be so hard and expensive for new entrant retailers to attract customers if they were not loyal? Therein lies an explanation for Australia's incumbent retailers' apparently extraordinary profits.
Andy Vesey, the chief executive of Australia's largest electricity retailer AGL described the retail market as one that penalises customer loyalty. While such candour is admirable, even hardcore market economists question the effectiveness of a market in which retailers profit most from their most loyal customers.
The issue is non-trivial: in its cost of living surveys, customer advocate Choice has found that electricity prices are consistently the top cost of living concern for households. Electricity poverty payments to deal with affordability problems, are understood to now be costing state governments several hundreds of millions of dollars each year.
Next steps
While it has been a long time coming, the ACCC's review in addition to the Victorian government's review, is to be welcomed.
A great deal of effort will need to be made to get to the heart of the matter. Retail energy markets are complex and the amount that a retailer charges a customer for its services is not known for certain – it has to be estimated by subtracting the charges for network services, wholesale production, metering and environmental charges from the customer's actual bill.
Not only do customers' bills differ greatly but the components of the bill differ greatly for different customers and so obtaining reasonable estimates of retailers' charges across the industry requires effort and care.
Fairly evaluating retailers' offers and how much of their offers are explained by the retailers' charge, is the place to start. Then finding out what customers are actually paying, and what retailers' costs and profit margins are, is essential in assessing the nature and extent of market failure.
The reviews will need to cover tricky ground in assessing the economies of scale in retailing, and the value to electricity retailers of also owning electricity generation businesses that supply them. The extent to which high customer acquisition costs provide an advantage to the dominant incumbent retailers who don't incur those costs unless they are seeking to expand their market share must also feature in the analysis.
There is reason to be hopeful about the ACCC and Victorian government reviews. Done well, they can allow sunlight into this part of the industry. As they say in regulatory circles, sunlight is the best disinfectant.