Transdev, which operates about one-third of Melbourne's buses, recently had 33 buses taken off the road due to safety defects.
Transport Safety Victoria's action coincides with a review of a three-year rollover of the French company's A$1.7 billion contract. The contract was announced in 2013 following competitive tendering.
This confluence of events raises at least two questions about contracting for transport services. Australian state governments should reflect on whether competitive tendering necessarily delivers the best outcomes for the public, and on the role of operator performance in contract renewal.
---
Further reading: Why touted public transport savings from competitive tendering are too high
---
Does competitive tendering deliver?
For private bus operations, the challenge for government is to achieve a contractual arrangement that delivers three things: a quality service for users, a fair price to government, and a viable business for the private operator.
A comprehensive 2008 review found no substantive empirical evidence to support competitive tendering as a superior method of contracting route bus services compared to a performance-based arrangement negotiated between operator and government.
A major risk with competitive tendering is that the pursuit of lower costs to government for service provision are often associated with poorer service quality. Operators look for ways to cut costs to sustain the low bid price needed to win the contract.
Such risks were noted in the media before the Transdev contract was awarded.
This issue is not unique to Melbourne. Five years ago concerns were raised about competitive tendering for about half of Adelaide's bus routes.
Pioneers of the competitive tendering process for the city's bus contracts recognised the risk that the lowest-price option could come at the cost of poorer services for passengers. They had argued, unsuccessfully, against further tendering and in favour of negotiated performance-based contracts.
Internationally, the same story is increasingly being heard. For example, a recent analysis of competitive tendering versus negotiated contracts for bus services in Barcelona province found no cost differences. The cost savings argument for competitive tendering is losing traction.
---
Further reading: Victorian budget splash raises questions about privatisation
---
Performance falls short
Expectations were high when the large bus service contract was awarded to Transdev. The company promised major improvements.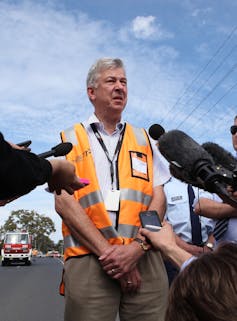 Public Transport Victoria's then CEO, Ian Dobbs, said Transdev had made it clear its priority was to deliver the highest-quality bus services. It would do this by continuously improving punctuality, reliability, safety, customer service and information, and by increasing bus patronage.
These ambitions appear to not have been achieved. This year, a Freedom-of-Information request by The Age found that Transdev had never met its contracted monthly punctuality target of 85%. The decline in bus users numbers tens of thousands a year.
These service failings are in addition to the safety concerns reported above. Two years into the contract, the Victorian auditor-general reported that it had not delivered value for money.
It would appear that Transdev has largely failed to meet its performance targets. It seems reasonable to ask why the Victorian government would then negotiate to extend or rollover the contract.
Don't reward failure
Meeting performance benchmarks should be a pre-condition for rolling over any contract. And the expectations for extending a contract should be clear and transparent when the contract begins. Accountability demands nothing less.
The 70% of the Melbourne network operated by other bus operators generally continues to perform effectively and efficiency. These services are contracted via a transparent negotiated process. Yet it is reported that the government is considering opening these routes to more competition to improve services.
The Transdev experience, and increasing international evidence about competitive tendering not meeting expectations of service price and quality, cast serious doubt on this approach.
The benefits of competitive tendering of the rights to provide urban route bus services are generally overstated. State governments need to better recognise the societal value-for-money opportunities from negotiated bus contracts.
Passengers, especially those who lack alternatives, need a safe and high-quality transport service. That would encourage greater bus patronage, thus reducing traffic congestion, pollution and carbon emissions and their associated costs.
However, no matter whether competitive tendering or negotiation is used, operators that do not meet clear and transparent service benchmarks should be shown the door, not have their contracts extended.