This is the tenth article in our Contested Spaces series. These pieces look at the conflicting uses, expectations and norms that people bring to public spaces, the clashes that result and how we can resolve these.
---
Inner-city streets have historically been a site for challenges to the conventional, disrupting the flow of business suits and shoppers. Clashes can occur on many levels.
Noise, smells, pollution, garish billboards or even the jostle of bodies are aspects of the city that can excite or repel us. Among disruptive street users are the homeless sleeping rough with their bundles of belongings and graffiti artists painting murals in alleyways at night.
Our reactions to alternative practices on the street depend on what meanings we inscribe on the city, and what we are there for. Disruptions can challenge our sense of order and control, and so can make us feel insecure. However, many people are drawn to the city for the rush they experience from its diversity and possibilities.
Occupy
Some disruptions on the streets are overtly political, such as the Occupy Movement. Occupy Melbourne protesters camped in the city square in October 2011. I was part of this protest – a group of people giving voice to citizens who felt left out by the surging corporate profits on display in the city.
This clash of values was resolved after one week, when police gave two hours for the square to be vacated, before moving in with riot gear and pepper spray.
The next day, the Herald Sun published an article by Melbourne Lord Mayor Robert Doyle, "Selfish rabble got what it deserved". He wrote that:
… the city must return to normal at some point. Our streets belong to everyone, not a self-appointed rabble.
The question remains, however, as to what is "normal" and whether a city's strength lies in its ability to nurture diverse and creative uses.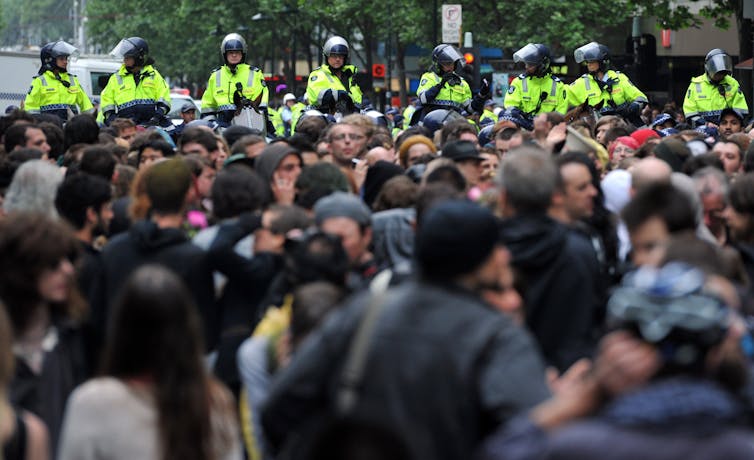 Flash mobbing
An example of a less overtly political form of disruption is flash mobs, with their playful pop-up challenges to order and restriction. Flash mobs began in the increasingly surveilled spaces of post-9/11 New York.
Flash mobs can be characterised as a unique form of game, using internet and mobile technologies in their organisation but playing out in public urban spaces. The idea is to "jam" public space like a disruption to a radio transmission.
Technologies are changing city space. Mobile devices have allowed the online world to become a part of the city street. Ilan Talmud and Gustavo Mesch write that "the online/offline comparison is … becoming a faded and even false dichotomy". The "entwining of people, place and software" creates complex new relationships, which reinterpret spaces.
Mobile technologies augment the city with a "secret" space known only to the gamers. The Pokémon Go phenomenon was a short-lived but very visible example of this augmented reality. Less obvious to the public is geocaching.
In the case of flash mobbing, remaining disguised before a timed eruption is essential.
Don't walk, dance!
On Facebook I received an invitation from a guy I'd met at a party. It gave directions on how to participate in a "portable dance portal" at the intersection of Flinders and Elizabeth streets, at 5.55pm on 5/5/11.
I jumped on the Flinders Street train, excited by the invitation and not wanting to be left out. In my carriage I noticed a girl dressed in brightly coloured, alternative clothes.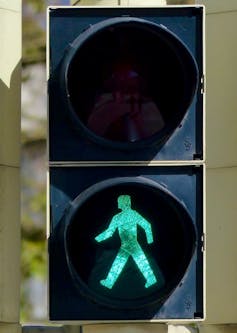 Twenty minutes later, I was dancing with her in the intersection of two of the busiest streets in Melbourne's CBD. Like a storm appearing in the summer sky, swirls of people skipped unexpectedly into the intersection as the crossing lights changed to green. They emerged out of the peak-hour suits as though drawn by an invisible thread, cavorting and pirouetting, dancing to the tunes on their MP3 players until the lights changed to red.
I, caught in the current, felt a strange connection with my new friends, although no words were exchanged. The dancing went on for about an hour – the crowd swelling to a peak of about 150. It was not a large mob, but this made it perfect.
When the light turned red, the mob had the ability to melt into the sidelines, and appear again as if by magic at the sound of the walk signal. Astounded commuters stared, but continued in a frantic beeline for the next train.
I wondered whether seeing the spin of whirling dervishes made them question their hurry and consider joining in. Perhaps life doesn't hinge on catching the next train…
This was my very first flash mob, up close and personal. According to Bill Wasik, the inventor of the phenomenon, flash mobbing was dead before the end of 2003. However, as reported by Giles Hewitt, flash mobs have taken on "a life of their own" and this was confirmed for me on the streets of Melbourne in 2011 and again in 2017.
Pussy hats
On March 8, 2017, a group of Melbourne women, and a few men, took to the streets in a "pussy hat" flash mob.
They joyously sang the song Quiet, which has gained international popularity with guerrilla protesters #ICAN'TKEEPQUIET, who gave an impromptu performance of the song in response to President Donald Trump's inauguration.
The Melbourne mob was celebrating International Women's Day. The group was a smiling, singing vision in pink and lavender, many wearing pussy ear hats like those worn in the Washington flash mobs.
Via creative and playful practices assisted by mobile technologies, flash mobs can provide spaces where the marginalised or unconventional can become visible and resist the conformity of suits and shoppers.
Flash mobs have the power to not only disrupt flows of traffic but also assumptions about norms of behaviour in public spaces. Their disruptive quality exists more in the psyche, in their ability to provoke questioning of public behaviour and to momentarily slow the city's rush.
---
You can find other pieces published in the series here.