Maritime security is a major challenge for the poorer coastal and island countries of the Indian Ocean Region. In particular those that have large zones of maritime jurisdiction. The Indian Ocean is the world's third largest ocean. It has an area of around 73.5 million square kilometres. Unlike the Pacific and the Atlantic, it is enclosed on three sides by landmasses.
The Indian Ocean region comprises all the littoral and island states of that ocean. Some of these nations also share borders with the Persian Gulf and Red Sea. There are forty‑eight independent countries in the region including hinterland and landlocked states of East Africa and South Asia. There are 18 in Africa, 11 in the Middle East, seven in South Asia, six in Southeast Asia, five island states, and Australia.
The island states of Madagascar, Mauritius, Maldives and Seychelles, for example, have maritime zones of around 1 million square kilometres or more. Some west Indian Ocean states, notably Somalia and Yemen, also have large maritime zones that are fish rich. They are open to illegal, unregulated and unreported fishing. But also other forms of maritime crime, including piracy, drug and arms smuggling.
Managing maritime security is a challenging endeavour. It requires cooperation between regional countries, and between those with a stake in regional security. Maritime security is no longer the sole prerogative of navies with more non-military agencies now involved.
Maritime security is a priority for the Indian Ocean Rim Association, currently the main regional organisation for economic and security cooperation. It recently committed its members to working on increasing cooperation among navies and other maritime security forces in the region. The plan is to do this collaboratively with the Indian Ocean Naval Symposium, a voluntary initiative to address shared maritime security challenges and threats. The threats include illegal trafficking in drugs, arms and people, piracy, terrorism, illegal, unregulated and unreported fishing, and the risks of natural disasters.
But there are many challenges with developing effective management in the Indian Ocean region. The diversity of interests among regional countries is a problem. There is no agreement on what encompasses maritime security. African countries in the region are more concerned about local issues of governance, poverty, disease and internal security than the broader strategic issues that concern the wider region.
The African Union has developed the 2050 Africa's Integrated Maritime strategy. It makes a clear link between maritime security and human security. It does this by drawing attention to threats in the maritime domain.
This strategy provides a framework for cooperation but much more still needs to be done. Obstacles to effective cooperation include, lack of capacity and political will, as well as maritime boundary and sovereignty disputes.
Much more cooperation needed
There is clearly a need for enhanced civil maritime security cooperation. This must include coastguards and equivalent national agencies of regional members. In April 2016, a consensus was recognised, looking at the importance of cooperation between navies, coastguards and other agencies. The aim was to develop cooperation to tackle traditional and non-traditional threats in the region.
Many countries in the region have separate navies and coast guards. Exceptions include Madagascar, Mozambique, Kenya, Tanzania, Myanmar, South Africa, Thailand and Timor-Leste that only have navies. Mauritius, Seychelles and Maldives only have coast guards.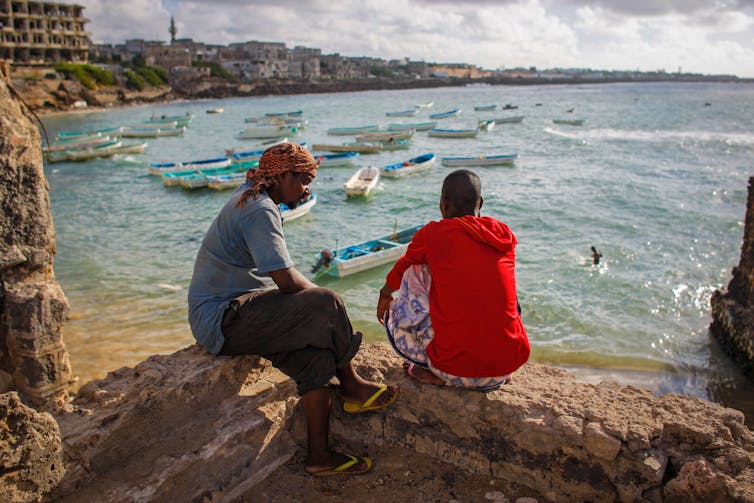 Indonesia has recently established a coast guard despite some reluctance by other agencies to concede responsibilities to the new force. Kenya has rejected its earlier plan for a coast guard. Instead the country chose to boost inter-agency coordination. The South African Navy performs the coast guard function and shows characteristics of a coast guard rather than a navy.
France and its Indian Ocean territories, like Reunion and Mayotte, are an interesting case. France uses its navy in coast guard roles along with some other European countries, including Portugal and Spain. A similar principle has been followed by former French and Portuguese colonies in the region, like Madagascar and Timor-Leste. Even former British colonies Kenya and Tanzania display a strong institutional impulse based on the colonial legacy to maintain distinctly military structures.
Regional architecture
Another hurdle is the lack of effective regional architecture for the task. The Indian Ocean Rim Association has broad oversight, but most initial effort is through the Indian Ocean Naval Symposium. However, there is some scepticism about the symposium's ability to make a broader contribution to maritime security. There is too much focus much on naval cooperation risks, diverting attention from real requirements.
These include maritime governance, capacity-building, developing national legislation, development, and poverty alleviation. A regional forum of civil agencies involved in maritime security might help overcome this challenge.
The involvement of extra-regional countries in regional arrangements is also a challenge. The major powers of the United States, China and Japan have legitimate interests in regional maritime security. But there are sensitivities as to how involved they should be.
Given these challenges, sub-regional cooperation may be more achievable. For example, cooperation through organisations like the Indian Ocean Commission in the Southwest Indian Ocean, the Gulf Cooperation Council and the African Union. This may be the most effective way of taking regional maritime security management forward.