Social services minister Kevin Andrews claims his A$20 million Stronger Relationships Trial will save the government money in the long run by reducing family breakdown. But will it work?
The trial, which began on July 1, provides a $200 subsidy per couple for up to 100,000 couples to access counselling or education. Its stated aim is to strengthen committed couple relationships by making relationship counselling and education easier to access.
But factors such as financial stress, the extent of unhappiness and the low quality of many counselling services all come into play when considering whether counselling will be effective.
The cost of separation
Family separations do cost the public money in all sorts of ways. These include the costs of increased child support, running the Family Court or loss of work productivity. But not all separations are bad. For example, leaving a violent relationship is often the wisest path to follow.
On the other hand, about half of all separations are not highly troubled relationships. Instead one or both partners feel a loss of energy in the relationship.
So can people be helped to have the sort of relationship that they choose to stay in?
Pros and cons of counselling
There is lots of evidence that high-quality counselling works quite well to re-energise relationships. About 60-70% of unhappy couples who get such counselling improve their relationship.
Some of the remaining 30% to 40% negotiate lower-conflict separations than they might have without counselling.
That is the good news about couple counselling. The bad news is that relatively few couples try counselling. Probably less than 25% of separating couples have sought any sort of help for their relationship. Making counselling cheaper might get more couples to try it.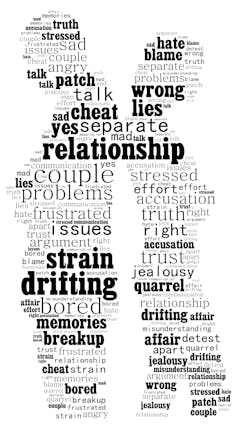 One limitation of counselling is that most couples who attend do so after years of unhappiness. The longer couples have been unhappy, the less likely the counselling is to work, so getting couples to seek counselling early is important.
A second limitation is that much of the counselling available to couples on Australia is, in my 30 years of observation, not high quality. Quality counselling involves couple being carefully assessed to screen for problems that often co-exist with relationship problems, such as depression, alcohol and drug misuse, gambling and parenting problems.
Many - or in my opinion, most - Australian marriage counsellors do not have the mental health training to conduct this screening. Sometimes treatment for the individual's problems can be more appropriate than couples counselling, or is needed in conjunction with couples counselling.
Quality counselling also means applying approaches that have been shown to work by well-conducted psychological research. Too often, in my experience, Australia counsellors provide what they are familiar with, rather than what has been shown to work.
Is it better to prevent or cure?
Relationship education is different to counselling. Education is briefer and is focused on teaching happy couples how to strengthen a good relationship. Most education tries to help couples build relationship commitment and develop key relationship skills like good communication.
There are limits to the effects of couple education. The Building Strong Families trial in the US evaluated couple education with poor unmarried parents. It found only very small benefits for the couples.
The least likely to benefit were those who were in severe poverty. Learning relationship skills does not ease the enormous stress of not being able to pay the rent.
But for those of us not in poverty, education looks promising. More couples are willing to attend relationship education than attend counselling, but less than one-third of couples do any sort of relationship education.
There is a lot of evidence that just ten to 12 hours of relationship education produces benefits for couples that are evident years later. A 2012 University of Queensland study, which I co-authored, found that relationship education for at-risk couples doubled the chance those couples would maintain happy relationships in the first three years of parenthood.
The benefits of education are strongest for couples who are reasonably happy, but who have indicators of future risk for problems. Indicators of risk include couples in which the partners' parents divorced when they were young, or partners who have suffered from depression or anxiety, or people with children from a prior relationship.
What delivery method works for you?
Couples who don't attend relationship education often say that attending education is hard to fit into a busy lifestyle. Educators are gradually responding to this criticism by offering education programs couples can complete at home, or online.
Religious organisations pioneered relationship education in Australia and continue to be major providers. Some couples see relationship education as too religious or conservative for them. However, secular providers are seeking to broaden the appeal of education to the less religious.
The Stronger Relationships Trial will include independent evaluations of the effects of the services offered. This increased accountability is likely to nudge service providers to increase innovation.
If providers do improve the quality of counselling and the accessibility of education, more couples are likely to have happy, stable relationships. It's a big "if". The next year will clarify if the $200 per couple subsidy is an effective way to promote this innovation.