The ABC was established along BBC lines as Australia's first national public broadcaster in 1932. Both organisations – publicly funded – claim independence from government and other vested interests, including commercial imperatives.
As current ABC managing director Mark Scott was keen to stress only a few days after the Zaky Mallah incident on ABC TV's Q&A, and responding perhaps to the perception that the ABC might be caving in to governmental interference:
It is the ABC's independence from government that shapes the ABC as a public broadcaster, not a state broadcaster.
As public service media institutions and not voices of the state, the ABC and the BBC both have evolved sets of guidelines, policies and principles that aim to ensure high standards, the accountability and integrity of their productions and staff, as well as uphold journalistic values of accuracy, objectivity and impartiality, particularly in respect to news and current affairs.
These institutions, answerable to their publics and critics, have in general been able to withstand the pressures and (less common) interventions of governments or media barons. But both institutions' histories reveal battles lost and won around censorship, concessions made in times of crisis and independence compromised or overturned.
Historical evolution
Of the wartime ABC, historian Ken Inglis wrote:
Virtually every word spoken had to be scripted and approved before it was read.
The Postmaster-General put the ABC station 3AR off the air for various perceived breaches of censorship. Also at this time, a newly formed Department of Information "censored all news reports". It was not until July 1, 1947, that the ABC was granted an independent news service, having its own staff supplying news for the first time.
The BBC also conceded its independence often enough under pressure for the greater good of the war effort.
The BBC – constituted through Royal Charter and so far renewed every ten years – and the ABC – established via an act of parliament as a statutory authority which, by definition, should "not to be subjected to government intervention in its day-to-day activities" – have developed from their earlier emanations into robust and widely trusted, ethically driven organisations.
The outlets have been enabled – through law, advocacy, or charter in the BBC's case – to speak to their publics (hopefully without fear or favour). But they have also been granted the great privilege – and responsibility – to nurture a media culture that can, and must, take risks.
These risks might be creative as much as political or ethically charged. There is a risk in broadcasting programs such as Q&A. But this is key to the special "service" and leadership role that public service media outlets are able to play within, and across, modern democracies. Programs such as Q&A, where creative and political risks are taken, have delivered often exciting and unpredictable television.
Scott defended the offending Q&A episode on these grounds while offering an apology that Mallah had been permitted to be part of the live audience. Scott said the decision by Q&A's producers should have been "referred up".
The apology, however, appeared to indicate new limits to the risk-taking that Scott and his director of television, Richard Finlayson, are prepared to take. It may appear to some as evidence of self-censorship or buckling under government pressure, as has occurred intermittently in the past under other ABC executives. This was the case in 2004, even as the ABC's independence was being defended, when then-foreign minister Alexander Downer lobbied the ABC to pull a promotion from broadcast.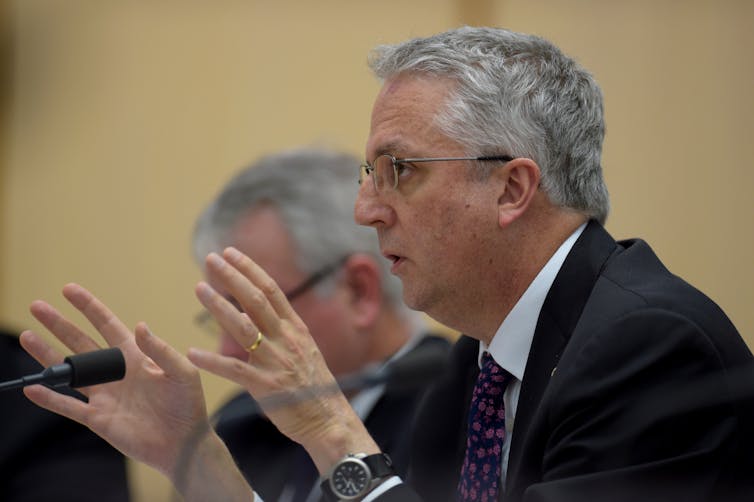 What now for Q&A?
How does the ABC's position, represented in Scott and Finlayson's apology and the board directive over the Mallah episode – to move Q&A into the news division – fit into public service media's role of creative risk-taking, and keep with its independence?
There is no clear picture of what Q&A's producers think thus far. They have been effectively gagged, with no opportunity to defend the show or their decision to include Mallah in the live audience that night. The board's directive to move Q&A has been made, although the argument goes that this shift was already in the pipeline – even decided upon.
Contrary to government conviction that Q&A's new home means greater controls over its guests and content, some insiders take the view that it is probably a good idea.
Why might this be? In the past – at least from the 1970s to 2000s – and some will argue more recently again, the ABC's news and current affairs heads and other executives tended to fight fiercely for their journalists and producers on matters of principle, and especially where there has been evidence of government interference or pressure. Then-TV news and current affairs controller Peter Manning did exactly this when the ABC was pressured by the prime minister, Bob Hawke, during the 1991 Gulf War.
This division might even be said to operate as a distinct "family" within the ABC, fiercely looking out for its own against external pressures, and even the wider ABC ecosystem.
Perhaps this is where this will end. Q&A must be seen to be more "accountable" – that's the political reality – even if this means that the board and the managing director might be perceived as downplaying or compromising that almost-holy directive to "maintain the independence and integrity of the corporation".
It might be worth recalling, however, the words of caution from a previous ABC chairman, Mark Armstrong, from 2000, when faced with similar levels of pressure:
Accountability sounds like a good thing, but of course it can be used to give respectability to any form of intrusion or interference.
Armstrong was commenting in response to a lengthy campaign of criticism directed at the ABC by then-communications minister Richard Alston.
The result of the current action may be expediency at work, satisfying the government by moving Q&A. The show's producers may not be so compromised either, having clearer methods for handling potential conflicts or controversy, and the move may even strengthen the program's independence.
There are so many unknowns, however, regarding Q&A's future in its new "home". The composition of its team has not been publicly discussed, but will the news division under new leadership be happy with it as it stands? Will changes be made possibly on the back of another coming round of cuts or through executive timidity in the face of more government critique and interference?
These questions are legitimate worrying points in the face of imminent leadership changes. News director Kate Torney, undeniably a warrior for the division, is moving on. The threat and reality of government cuts has always had significant implications for the ABC's independence in a way that it hasn't for the BBC. The BBC's funding has, to date, been guaranteed through licence fees.
Q&A has developed into exciting TV, increasing its audience share and mixing traditional audiences for current affairs programming with new publics. It has taken current affairs out of its possibly over-controlled, safer, pre-recorded comfort zone. It engages "the live" in genuinely new ways, contributing to democratic participation and understanding. It pioneered Twitter as a further tier of audience commentary. Pioneering in risk-taking as public service media should be, it has:
… come to function as an "obligatory passing point" in the enactment of the ABC's wider power as a news and current affairs source.
No wonder so much is at stake – even with a small apology and a change of address.