Organised criminals are often portrayed in media and popular culture as ruthless, violent and intent on making money at all costs. Think The Godfather, or the Kray twins. But these stereotypes are unhelpful and often don't ring true. Such exaggerated depictions can also act as a barrier to police trying new approaches to tackle organised crime.
Given that organised crime is estimated to cost the EU economy up to €110 billion (£96 billion) a year and has been classed as a threat to national security by the National Crime Agency, perhaps the time has come to explore alternative, innovative methods to deal with it. Could restorative justice – the process of getting offenders and their victims to talk about the crime – provide a better, satisfactory form of justice for victims and offenders, or even reduce re-offending rates in cost-effective ways?
How restorative justice works
The Restorative Justice Council defines restorative justice as bringing:
Those harmed by crime or conflict and those responsible for the harm into communication, enabling everyone affected by a particular incident to play a part in repairing the harm and finding a positive way forward.
Restorative justice can take place prior to sentencing, as part of – or instead of – a community sentence, or run alongside a custodial sentence. It all depends on the views of trained professionals about what is appropriate in each case, with much depending on the seriousness of the offence and the severity of the impact on the victim.
Interventions can take a number of different forms of dialogue between offenders and victims. These may include face-to-face meetings, shuttle mediation – where trained mediators assist offenders and victims to have a dialogue without either party having to be in the same room – or letters of apology.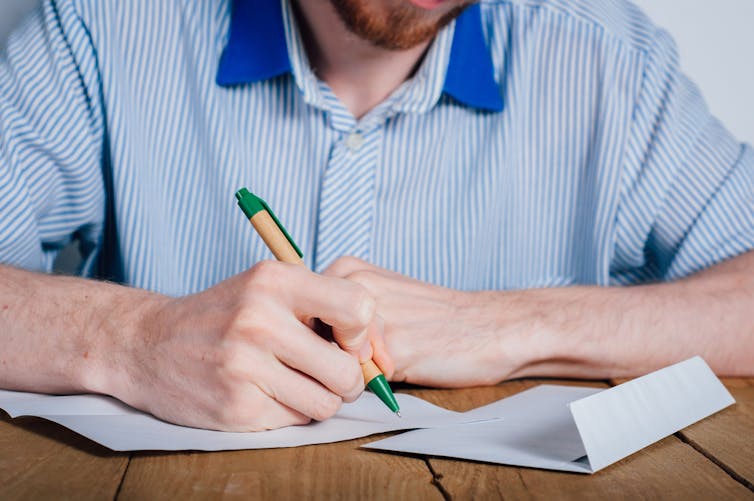 Research suggests restorative approaches can be successful in reducing reoffending and alleviating the fears experienced by victims. They can also help to reintegrate offenders into the community and make efficiency savings when compared to the cost of dealing with future reconvictions.
Restorative approaches have also been tried, with mixed success, in serious and complex cases such as domestic violence and hate crime. But there are no reports of this kind of approach being used before for organised crime cases.
Offenders on board
Our new research, which consulted 44 people, found a mixture of enthusiasm, scepticism and cautious optimism about the idea of restorative approaches being used for organised crime cases. One of us, Nikki D'Souza, went through the prison gates to interview convicted organised crime offenders and into the homes and businesses of victims of organised crime. She also spoke to practitioners who work in the field of restorative justice.
Of the 16 organised crime offenders we spoke to, almost all of them were enthusiastic about the prospect of engaging with restorative justice approaches. With different forms of restorative justice explained to them, offenders pointed to a number of reasons why they would be keen to take part. These included a desire to apologise to victims due to deep regret for their actions, to think more deeply about their offending with a view to shaping future behaviour, to reassure victims, and to use the process as an opportunity to reintegrate themselves into society. One offender summarised the thoughts of others when he claimed:
Yeah, 100% [I would be willing to take part] … If I was offered something along them lines I would have obviously took it because I was remorseful … So had I been offered it yeah, I'd have jumped at the chance.
Victims less sure
Victims of organised crime activities, however, showed considerably more reticence. They raised doubts as to the possibility of getting offenders to take part, since offenders were characterised as remorseless, career criminals who would be unwilling to engage. One told us:
I just feel as though you might hit lucky with an odd one or two … but I think a lot of these criminals, that's how they make their living and they just don't know anything else.
Some were concerned about potential repercussions from associates of the offenders, but others conceded that were an offender willing to partake in a form of restorative justice, they would also consider such a possibility and that they may "benefit from hearing their side of the story, why they did it, what was going through their mind". This means that victims may be willing to engage if they are reassured of the benefits of a restorative approach and that they will not be at risk.
Practitioners cautiously optimistic
Those practitioners who are trained in facilitating different forms of restorative interactions between offenders and victims were overwhelmingly in favour of the idea. One said that "the possibilities are endless" when it comes to restorative justice.
They did point out that extensive preparatory work and risk assessments would need to be carried out before such an approach was tried with an organised criminal offender. This is due to the complex nature of such offending and the fact that there are often multiple victims of organised crime, who may face different sorts of challenges, for example, due to their age or the specific impact of the crime on their day-to-day lives and well-being. They also said the person carrying out the intervention would need to have the right training to ensure the safeguarding of all involved.
Restorative approaches are currently not being used with organised crime offenders in any systematic way. Ultimately, this discussion is hypothetical until criminal justice agencies are willing to explore this untapped opportunity to use an innovative approach to tackle organised crime and its pervasive impact.