The Liberal Democrats have released the front page of their 2015 manifesto, featuring five key policy points. The design makes full use of the traditional Lib Dem rhombus, which is a part of their electoral visual identity.
This is in marked contrast to the plainer, four-point "Fair" manifesto cover of 2010. This plain white cover featured the party's traditional dove of liberty logo in orange and "Liberal Democrats" in dark blue at top left (a hint at the coalition then to come?).
It displayed single colour bands, each containing the following commitments: "fair taxes that put money back in your pocket; a fair chance for every child; a fair future creating jobs by making Britain greener; a fair deal by cleaning up politics" in dark blue, pale blue, yellow-green and orange respectively.
At the bottom right, "change that works for you", with a gentle orange wave which matched part of the top left dove logo bearing the tagline "building a fairer Britain".
Save for the words "Liberal Democrat Manifesto", all text was in lower case, espousing the principles of fairness by treating typography with minimalistic equality and avoiding differential or hierarchical capitals save where grammatically or conventionally necessary.
As we know, in coalition the tax threshold was raised; aspects of school funding for children were guaranteed; there has been marginal progress in matters green; and I shall make no judgement here on the cleaning up of politics.
This time around, the 2015 manifesto goes one better in terms both of the number of promises and of its slightly more visually sophisticated presentation. It retains the dove of liberty logo, and the party name is in evidence – though not prominent – in the top right-hand corner. But beyond these familiar features, the page is an interesting exercise in seeking yet again to appeal to all.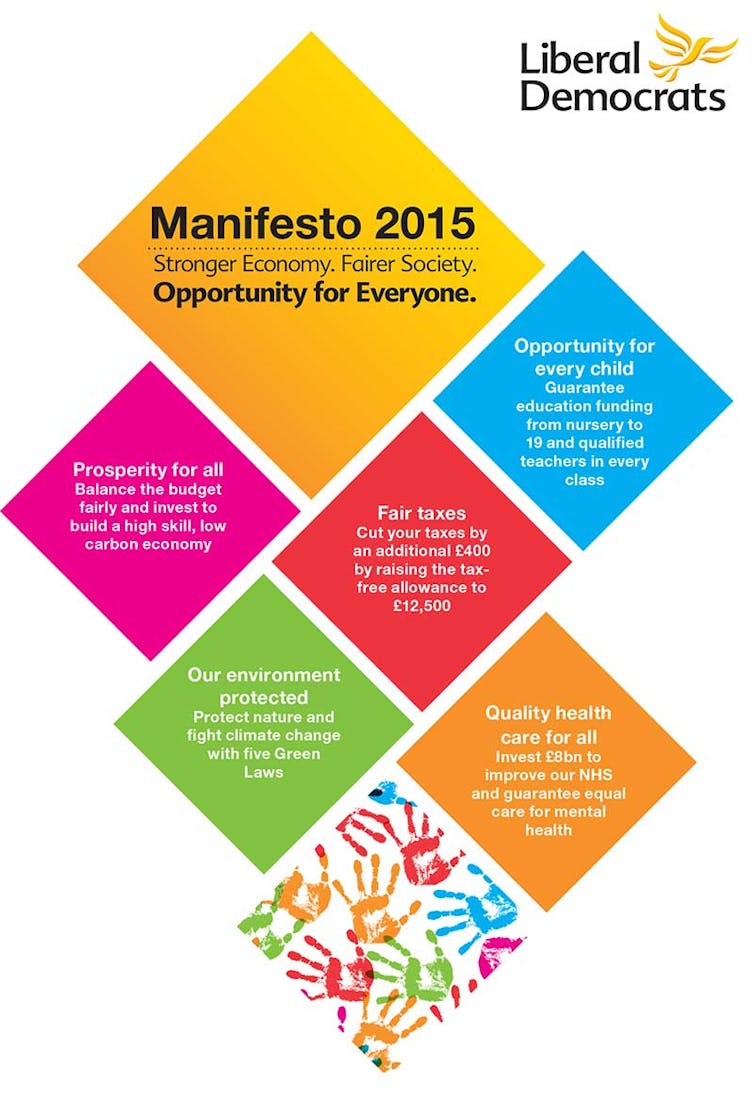 The colours used in six of the seven rhomboi subtly reproduce those of the main electoral contenders: blue for the Conservatives, red for Labour, green for (surprise) the Greens, orange the Lib Dems, and a not-quite-UKIP-purple for the others.
The largest rhombus is of course in Lib Dem orange (like the dove) and bears the announcement "Manifesto 2015" in bold with three simple points beneath: "Stronger Economy", "Fairer Society" and then, in the same bold type as Manifesto, "Opportunity for everyone". A classic three-point syllogism, stating principles to which nobody could reasonably object. But, like previous Labour Party slogans, no verbs. Nothing "doing".
The phrase "opportunity for every child" appears in Conservative blue. This produces a variant of the manifesto's tagline, then goes on to "guarantee" education funding across the piece, along with "qualified teachers in every class". The latter is a subtle reprise of Tristram Hunt's message from Labour.
The next section promises "Prosperity for all", in not-quite-UKIP-purple. It commits to balancing the budget "fairly" (thereby suggesting that it is not currently fairly balanced) and to the building of "a high skill, low carbon economy". These are useful current buzzwords, drawing also on the idea of harnessing a better qualified workforce, hinted at in the education opportunities of the blue rhombus.
"Fair Taxes" in Labour red (again, suggesting they are not fair) with a direct appeal to the voter: "Cutting your taxes", followed by the details. The Lib Dems are thereby hoping to remind the informed reader of their coalition intervention; raising the tax threshold to £10,000 in recent budgets. In other words, conveying the message that they have delivered on the previous commitment and can be trusted to do so again.
Next: "Our Environment Protected", in green (naturally). "Protect nature and fight climate change with five Green Laws", as detailed in the party's pre-manifesto. Motherhood and apple pie; totally reasonable.
"Quality Health Care" for all in Lib Dem orange: "Invest … to protect our NHS and guarantee equal care for mental health" – the cosy and comforting all-in-it-togetherness of "for all" and "our", subtly underscoring the inviolability in electoral terms of the NHS. The mental health guarantee reproduces commitments already made.
Talking hands
The seventh rhombus has hand prints in all of the previous colours, including a hint of pinky-purple. Do these hand prints indicate a school paper-chain making approach to manifesto drafting, or a demonstration of the party's desire to get its hands dirty in taking its policies forward? Difficult to tell.
Also difficult to see any indication of radical proposals permitting the party to differentiate itself from the others. Rather, the page is an attempt to appeal to all. In numerical terms, there are equal numbers of Labour red and Lib Dem orange hands, with a lesser presence of Green green and Conservative blue and only the slightest of pinky-purple. A hint at potential future coalition planning?
In short, the Liberal Democrats' manifesto front page is colourful, seeks to appeal to all, and does little more than reproduce current thinking and policy trails.