Ah, festivals. We love 'em. Around Australia, festivals spring up like mushrooms after rain. But as the cultural sector faces a serious budget squeeze, how can they survive?
Tomorrow, on November 25, this question will be, if not answered, then at least canvassed by a panel of festival head honchos as they discuss the Future of Festivals as part of Victoria University's Game Changers conversation series.
As Australia's festival roster grows ever larger, organisers must grapple with relevance. How does each festival justify its existence, financially and culturally, in what is increasingly a saturated market?
Let's look at Writers Festivals as an example of this growth. In 1960 the first Australian writing festival, Adelaide Writers Week, featured in that city's inaugural Festival of Arts program.
By by 2012 there were some 30 literary festivals across the country. That figure has since climbed close to, if not past, the 100 mark – more than two dozen of those in Victoria alone.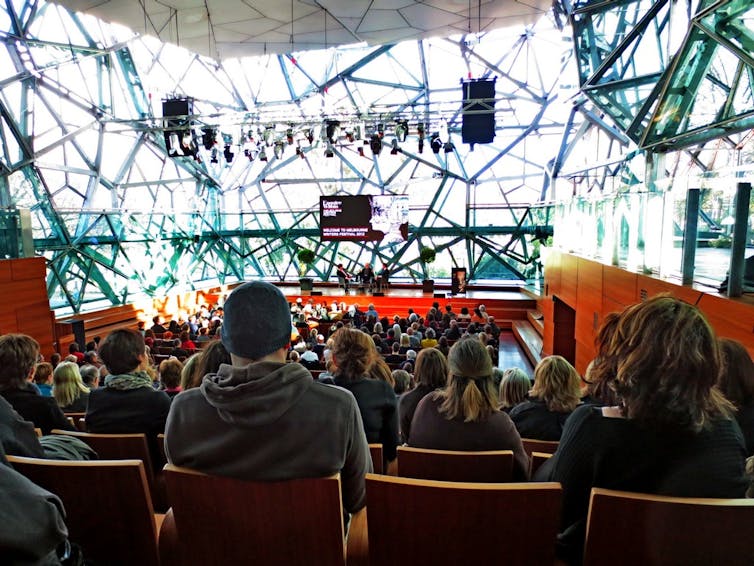 Why do we need so many? How can they all justify their position? Sure, there's an appreciable difference in scale between, say, the Melbourne Writers Festival and the Brimbank Writers and Readers Festival, but they both set out to stage the same kind of event and to attract and serve elements of the same audience.
On the verge of merging?
World Vision CEO Tim Costello called last month for charities to consider merging or to pool resources in order to survive rather than continue to compete for limited attention and resources. Is it time for festivals to look at a similar model?
It's not a cure-all, but at the very least the sector can consider synergies and redundancies. In the last week, I've spoken with Georgie Meagher, artistic director and CEO of the Next Wave Festival and festival and theatre director Ian Pidd.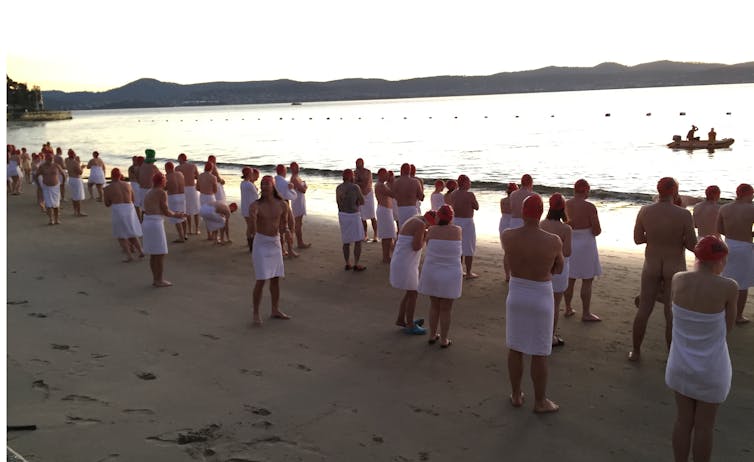 They both agree that the Melbourne festival scene is at or near saturation point. To survive, organisers need to continually investigate who they are serving and why.
Pidd argued that:
it's important that there are niche art form festivals like Dance Massive, which is a hot-house environment that generates a conversation focused purely on contemporary dance. But the larger flagship festivals need to ensure they reach out beyond singular arts communities.
They need to achieve what Jonathan Holloway, artistic director of the Melbourne Festival, calls "cut-through": the ability to create spectacle and entertainment, but also define and transform a city or a population through art, celebration and challenge.
The East Meets West Lunar New Year Festival has adopted this self-reflective approach. Originally a cultural bridge-building celebration of the Asian Lunar New year based in Melbourne's west, this festival has changed and grown with its community.
It now welcomes African, Indian and other more recent migrant populations into its fold. It is still focused on building links between cultures, but its organisers recognise that a simple east-meets-west dichotomy no longer speaks to their entire audience.
The digital disruption is further changing festivals' relationship to their audiences. It used to be the case that festivals were a lot like circuses: they'd come and go each year offering a few days of glamorous spectacle, leaving behind only memories and a circle of yellowed grass where the big-top was.
Now, according to Holloway, festivals must play a year-round role via "probing, prodding and engaging with community online". He likens festivals to soccer clubs:
It's not just the 90 minutes on the pitch each week, it's a continual contribution to the promotion of community, health and wellbeing, and social cohesion, ambition and possibility.
Yes, there is still the annual physical event – the festival itself – which offers an engagement with art and entertainment that can't be replicated online, but festivals can no longer focus solely on that.
Moving away from the festival
Marcia Ferguson, artistic director of the Big West Festival, sees this change in focus as crucial. She argues that in order to stay vibrant and relevant, each festival must reconsider what it delivers, moving away from annual platforms for artistic celebration and display:
What next? How do we ensure that the artists we showcase are introduced to networks and economic pathways that lead to self-employment? How do we help them, outside of the festival, develop strategies that might free them from a reliance on funding bodies for support? Otherwise I ask what is the festival for?
Pidd suggests, perhaps controversially, that sometimes the best way to achieve this or to "invigorate the cultural life of a town" might be by eschewing the idea of a festival and investing money in infrastructure instead:
Is it better to spend A$2 million each year on a festival, or would it be better to build a recording studio that will still be there in 10 years time, or to refurbish a theatre space or seed an ongoing dance project?

Don't get me wrong, I love festivals, but it's great to have the opportunity to get together with other festival directors and have this conversation.
Hopefully the Future of Festivals conversation starts a larger movement of self reflection in Australia's ever-expanding festival industry.