This May, Wiradjuri woman Denni Francisco and her label Ngali will be the first Indigenous designer to have a solo show at Australian Fashion Week.
This is a long time coming for the First Nations fashion industry and the designers and artists who have laboured in the fashion space for many years.
In 2003, Dharug woman Robyn Caughlan was the first Indigenous designer to show her ready-to-wear collection at Australian Fashion Week. Over the past 20 years, many Indigenous designers have shown their work in group shows. Francisco's solo show is an important step forward for the industry.
But First Nations fashion is not just about the catwalk. It is a politically charged practice. We need to have a discussion on what we mean when we say "First Nations fashion".
---
Read more: How Indigenous fashion designers are taking control and challenging the notion of the heroic, lone genius
---
What is 'fashion'?
During the European colonial reign from 1788 into the 1860s, Australian administrators were shocked at the appearance of Indigenous populations, often imposing new forms of clothing.
To them, Indigenous peoples were generally seen as wearing insufficient, "unsophisticated" and "static" clothing.
From the 19th to early 20th century, sociologists argued only modern, urban societies like France had a fashion "system" of production, business and the trickle down of styles.
By the 1970s, UK and US researchers started to use the word "dress" instead of "fashion" to connect wider forms of clothing, bodily and cultural practices.
"Fashion" has, however, been used as far back as the 1970s to describe Australia's emerging First Nations textiles, garment and runway shows.
Recently, First Nations researchers in Canada and the United States discussed using "Indigenous fashion-art-and-dress" to describe First Nations clothing practices, fashion design and integration of art.
In Australia we have not yet had a conversation about a term that could encompass fashion design, textiles and art. Important First Nations fashion associations, organisations, groups, and projects have attempted their own terms and strategies.
We need a phrase which includes everything from wearing Aboriginal flag t-shirts in the city, self-designed outfits in the Tiwi Islands and commissioned garments in galleries and museums.
Many First Nations designers are not designing for the fashion industry or galleries which sell their work as art. They are designing to break colonial bonds, share cultural stories, and provide a wearable form of wellbeing.
A matter of style
We have been exploring the words that Australian First Nations fashion researchers, designers, artists and producers use to describe their work and the industry.
The new millennium has motivated a great flowering of new First Nations designers and artists.
They describe themselves using words such as fashion designer, artist, curator and their work as fashion and art and fashion labels.
They variously describe their work as being Aboriginal, Torres Strait Islander or First Nations owned, or specifically emphasise their cultural Nations and groups.
Artist Elisa Jane Carmichael (Quandamooka) calls traditional and cultural clothing and adornment "the first creations of Australian fashion".
Writer Tristen Harwood (First Nations) has written about the difference between "style" and "fashion". He defines First Nations fashion as the marketing and buying of Indigenous designed fashions. By style, Harwood means the dynamic process of dressing that touches on identity, politics, self-creation and culture.
Style is about wearing attire, in all its complexity, and includes the long history from forced clothing to the revival of cultural garments and looks.
This distinction between fashion and style also informs Magpie Goose co-owner and director Amanda Hayman (Kalkadoon and Wakka Wakka). She notes how "Aboriginal cultural identity was systematically repressed" from the early 1800s to the late 1960s. With this repression, she argues, "cultural expression through dress was significantly impacted".
Now, a new generation of fashion figures such as teacher and designer Charlotte Bedford (Wiradjuri), National Gallery of Victoria curator Shanae Hobson (Kaantju) and @ausindigenousfashion founder and curator Yatu Widders Hunt (Dunghutti and Anaiwan) prefer the terms "Indigenous fashion" or "First Nations fashion".
Moving forward
While there is a wide range of terminologies and languages used within the First Nations fashion sector, it is time for a bigger discussion about a collective and holistic term.
By embracing a holistic term, First Nations fashion would have a new and inclusive definition. It could acknowledge both traditional and contemporary practices of our First Nations peoples, including the role of artists, and encompass everything from fashion runways to creating garments for galleries, as well as everyday First Nations style.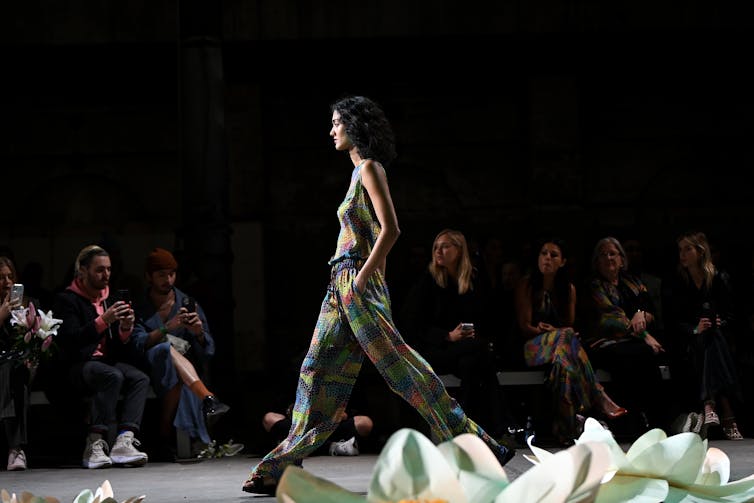 First Nations fashion is political. If you dig deep into fashion stories you will also hear many tales about racism, exclusion and discrimination, as well as survival and healing.
We are moving into a new chapter of truth telling and the sharing of how racism and discrimination have influenced First Nations clothing practices and the fashion industry.
In landing on a collective term we might better represent First Nations peoples' fashion, art and style stories as well as their community, cultural and design contributions – the business of fashion in Australia itself.
---
Read more: Indigenous Fashion Week Toronto designers are showcasing resistance and resurgence
---