This is an article from Curious Kids, a series for children. The Conversation is asking kids to send in questions they'd like an expert to answer. All questions are welcome – serious, weird or wacky!
---
Why can some cups go in the microwave and some not? What happens if you put the wrong cup or plate in the microwave? – Edie, age 8, Melbourne.
---
Good question, Edie!
The short answer is that it depends on the material the cups and plates are made of, and even what shape they are.
Microwave ovens heat up the food from the inside – using what scientists call "microwaves".
What are microwaves?
Microwaves are a kind of electromagnetic radiation – just like sunlight, radio waves, and x-rays (like the ones they use to take photos of bones in hospitals).
When you put your food in a microwave oven, the microwaves make the water molecules in the food vibrate or jiggle around really fast. This is how the food heats up.
---
Read more: Curious Kids: If a huge huntsman spider is sucked into a vacuum cleaner, can it crawl out later?
---
Why are metals dangerous?
Putting metal in the microwave oven is generally a bad idea. In metals, the electrons – the tiny, negatively charged parts of the atoms – are free to move around. This is why metals conduct electricity, meaning they can carry electricity from one point to another.
The microwaves push and pull the electrons around. With metallic objects that have sharp edges or tips – like aluminium foil or forks – the electrons can build up on the tips. This can lead to sparks and fire.
Other metallic objects may not spark but they can get very hot. That can also lead to a fire depending on what else is inside the microwave.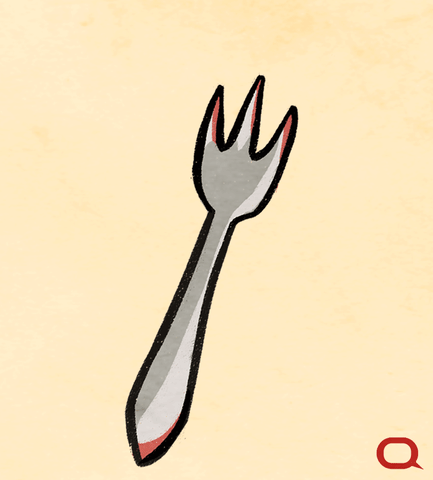 What materials are microwave safe?
Materials like plastic, glass or ceramics are usually safe to use in the microwave because they don't contain water and the electrons aren't free to move around. But we still need to be careful: some plastic containers are too thin and can melt or release plastic into the food.
The bottom line is: it's hard to tell exactly how something will behave inside a microwave without testing, so the rule of thumb is to only use containers that have been tested and are known to be microwave-safe.
What about the metal grate on the inside of the microwave door?
You're right! There is a metal grate on the inside of the metal door, with tiny holes in it. I'll explain why it's there and why that metal grate doesn't cause sparks or fire.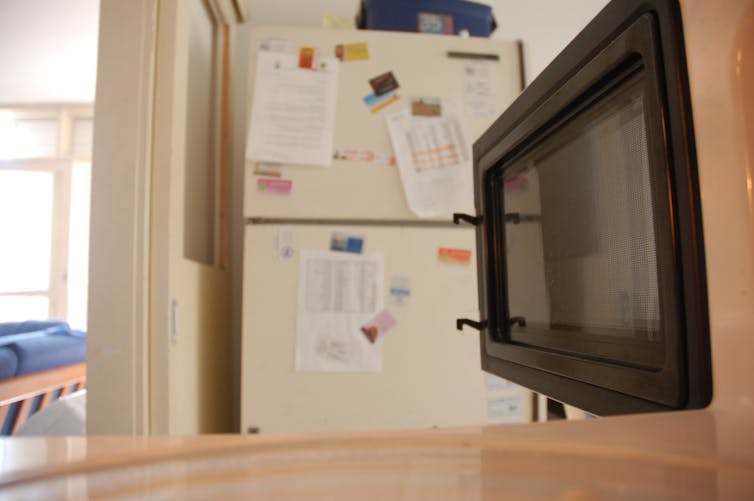 Electromagnetic radiation – like sunlight, x-rays and microwaves – all differ in their "wavelengths". Like waves on the ocean, this is the distance between the peaks of the waves.
Sunlight and microwaves only differ by how far apart are the peaks of the wave. For light, this distance between peaks, that we call the "wavelength", is very tiny – a thousand times smaller than the width of a hair.
---
Read more: Health check: is it safe to microwave your food?
---
In a typical microwave oven, the wavelength is much larger – about 12cm. This is why they have small holes (of about 1mm) on a metal plate in the door.
The wavelength of light is smaller than the holes and it can get out (so we can see inside), but the wavelength of the microwaves is too big for the hole and they bounce off the metal plate. The microwaves cannot escape.
---
Hello, curious kids! Have you got a question you'd like an expert to answer? Ask an adult to send your question to us. You can:
* Email your question to curiouskids@theconversation.edu.au
* Tell us on Twitter by tagging @ConversationEDU with the hashtag #curiouskids, or
* Tell us on Facebook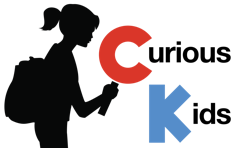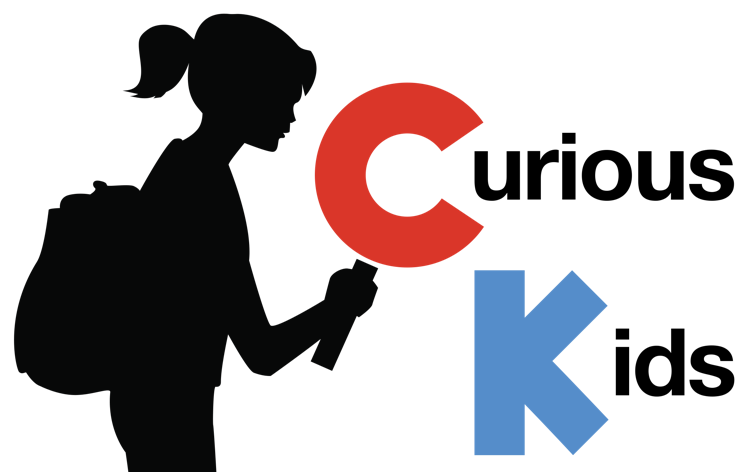 Please tell us your name, age and which city you live in. You can send an audio recording of your question too, if you want. Send as many questions as you like! We won't be able to answer every question but we will do our best.